What separates hard-core Arsenal and Tottenham fans?
Even in a season in which the Premier League is bloated with London teams, the rivalry between Arsenal and Tottenham Hotspur still crackles. The teams first played in 1887, back when Buffalo Bill was swinging across Europe with his Wild West tour, and the erratic nature of their current form means Saturday's game bears an extra dimension. Both clubs covet fourth place; at least one of them will prove deluded. The match at the Emirates should be akin to an action-movie fight on a cliff face, "North by Northwest" style. Each team hopes to play the Cary Grant role, dispatching its rival off the edge to plummet into free fall as a "club in crisis."

Both clubs stagger into this game. Spurs have lost three of their past four games, the glory of their splendid September triumph against Manchester United at Old Trafford now fading fast. Arsenal are facing their own demons. The 16 points they have mustered from the first 11 games is their worst-ever Premier League start.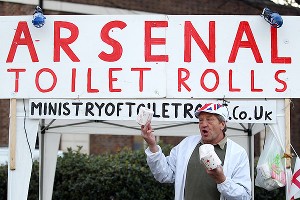 Julian Finney/Getty ImagesSome touching memorabilia is sold outside White Hart Lane.
Few Premier League fans extract such delight from their opponents' misery. The North London Derby thrives off unrestrained spite -- a product of a rich history of identity, pride and injustice that has festered since the very first clash, an inconclusive tussle which was abandoned due to darkness with 15 minutes to play and Spurs leading 2-1. To this day, Tottenham fans feel aggrieved about that very first fixture.

This deep-seated animosity is one of the great curiosities of the English game when you consider that both teams draw their core support from the same North London market. It begs the question: What separates a hard-core Arsenal "Gooner" from a self-proclaimed member of Tottenham's (increasingly controversial) Yid Army?

-Video: Press Pass on the match
-An Arsenal love affair
-Lineup to beat Arsenal
-Apocalypse, or a season saved for Arsenal?

"This game is one of the most important days of the year for me," said Ian Stone, comedian, broadcaster and co-host of cult Arsenal podcast The Tuesday Club. "It ranks just beneath my children's birthdays, but I am only saying that because they are sitting in the room besides me right now."

Stone has been following his team since he was a 7-year-old boy in 1971. "My Dad took me to watch Spurs one week and Arsenal the next," he explained. He chose to follow Arsenal. "It was the red shirt which got me hooked, and thank God it did, because it would have been tantamount to child abuse if he had made me a Spurs fan."

Though the initial attraction was arbitrary, it has proven to be life-changing. When asked to describe Spurs fans in three words, Stone needs only two. "Bitter inbreds," he said. "They are like Data from Star Trek -- seemingly human but with something missing emotionally on the inside."

Stone requires four words to describe Arsenal fans: "Decent God-fearing people."

"We are eternally optimistic and always like to think there are trophies over the horizon," he said, pausing momentarily, perhaps to consider his team's current form, before adding the qualifier "…at some point."

The derby has provided Stone with a bounty of memories. "When we killed them 5-2 last season after going 2-0 down, it was one of the highlights of my entire life," he said. "But I also loved the 1987 league cup semifinal when we won a replay 2-1 at White Hart Lane."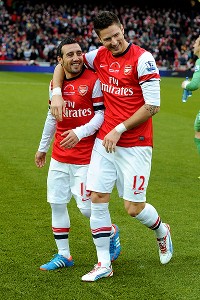 Stuart MacFarlane/Getty ImagesOlivier Giroud (12) scored two goals against Fulham last weekend, bringing his league tally to three.
When forced to articulate what pleased him so much about that distant game, Stone giggled through an explanation which captures the vindictive nature of the Derby. "It is just the memory of shafting them at White Hart Lane after receiving so much abuse," he said. "We had been outplayed the entire game and nicked the win with two goals in the last eight minutes, the first of which was scored by Ian Allinson, who was one of the worst players ever to pull on an Arsenal shirt. Football does not get any better than that."

Forced to revisit low points, Stone dodged the question. "I blot them out, to be honest," he said. "Losing 3-2 at home two seasons ago was horrible. But we have not had many disappointments. This fixture used to feel like an easy three points, but over the past 10 years, we have gotten a bit worse and they have improved. St. Totteringham's Day [the day on which it becomes mathematically impossible for Spurs to catch Arsenal in the league table] has moved closer and closer to the end of the season. It used to occur in January, then March, but last year it all went down to the last day of the campaign."

In Stone's mind, there is no better symbol of the rivalry than the Thierry Henry statue that was unveiled outside the Emirates last year. The Arsenal legend is depicted sliding on his knees after sprinting the full length of the pitch to celebrate a derby wonder goal directly in front of Spurs fans. "When Emmanuel Adebayor taunted us [after scoring for Manchester City], we were all quick to say his behaviour was wrong, but then we went and unveiled a statue of the world's best-ever striker doing exactly the same thing right outside our ground."

For Spurs fans, the derby has offered a lot less to laugh about. "There have been times when we were so bad, it was hardly worth hating us," longtime Spurs fan Hunter Davies admitted. The legendary author of the classic football book "The Glory Game," Davies chose Tottenham of his own volition after moving to London in 1960. "Back then, Spurs were the glamor team poised to win the double, so my decision to support them was made with deliberate calculation."

The team has not won the league again.

"My years of support have been an up-and-down experience," Davies said. "Mostly they have been depressing. Tottenham always find a way to disappoint you." The writer has found a way to numb the pain. "Every season, the team have a player who inspires, entertains or amuses me," he said. "In the '80s I would go to matches early just to watch Glenn Hoddle warm up. I have loved Gazza [Paul Gascoigne], [Chris] Waddle, Ossie Ardiles and Ricky Villa, even David Ginola."

Davies sighed as he considers Tottenham's current squad. "I adored Luka Modric, but since he left we don't have anyone." At the mention of Gareth Bale's name, the author was dismissive. "He just seems fast but simple-minded."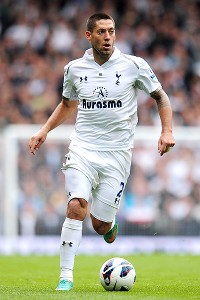 Shaun Botterill/Getty ImagesSpurs fans are still not quite convinced about Clint Dempsey.
When asked to articulate what distinguishes the two teams' fan bases, Davies is hard pushed. "There honestly is no difference," he said. "Arsenal has a higher proportion of newer fans because they have been more fashionable over the past two decades. There is nothing trendy or smart about Spurs. I bet we have not attracted any new supporters in over 40 years."

Despite the fans' homogeneity, Davies can easily source the tension that underpins the game. "The anger is historic, stretching back over a hundred years," he said. "It's human nature to want to get one over your nearest and dearest, and now Arsenal and Tottenham fans are brought up to dislike one another. My son thinks I am a traitor just for buying a ticket to go to the game at the Emirates and paying our money directly into Arsenal's coffers."

The game may be losing its edge, though. "In the 1970s there were appalling fights, but to have a season ticket today, you have to be incredibly wealthy. So now all we have is the banter. Whoever wins on Saturday will be euphoric because they have beaten 'the scum.'"

Davies draws a modicum of hope from Arsenal's current state of disrepair. "Both sets of fans are equally cynical and downbeat right now," he said. "The teams are both doing rubbish and have been booed off at halftime. AVB [Andre Villas-Boas] will be gone at Christmas -- he is not Spurs' style -- and Arsenal fans are beginning to believe Arsene Wenger has lost it. Their phrase, 'In Arsene we trust,' has become, 'In Arsene we rust.'"

I asked Davies if he rues the day he chose to support Tottenham. He dismissed the question calmly yet emotionally. "I love Spurs," he said. "We have a much richer history. Arsenal practically changed countries when they moved from the South of London to the North [in 1913.] They originally got into the league on the diddle [illegally] in 1919. We have a much richer history and that is what I love."

Arsenal fan Stone also draws on history to explain the mechanics of his connection. "Spurs have won the league twice," he said. "We have won it 13 times. This game is like an episode of 'Downton Abbey' in which we are the Upstairs and they are the Downstairs. They are like Daisy [the character who is a mousy kitchen maid]. Arsenal are like Lord Grantham. Grand yet slightly stuck in our ways as the modern world passes us by."

Roger Bennett is a columnist for ESPN and, with Michael Davies, is one of Grantland's "Men In Blazers." Follow him on Twitter: @rogbennett.