Bale still searching for consistency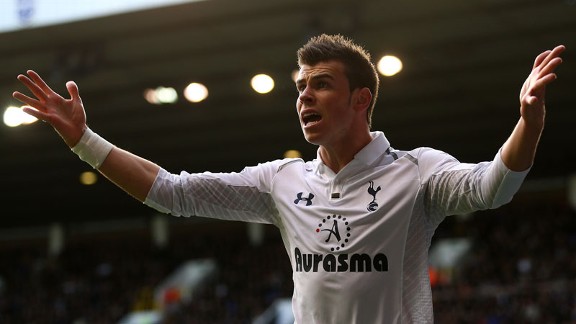 GettyImagesGareth Bale shows his frustration against Wigan after being shackled.
Few footballing spectacles raise the pulse more than the sight of Gareth Bale scampering down the flank at full clip. A blurred vision, all hairline and sideburns, locking in on goal like a falcon swooping towards its prey.

Yet this season, in which Tottenham have received plaudits one week and catcalls the next, Bale's form could be classified as patchy. Dazzling in September's historic victory against Manchester United, he was smothered during last week's tepid 1-0 loss to Wigan. Having been blessed with sufficient power and surplus pace to spank opponents, the Welshman is yet to prove he can summon that ability on a consistent basis. Tottenham Hotspur fans will pray this will change against Manchester City on Sunday so they can keep up with the pack at the top of the table.

- Martinez warns Bale against Spain move

Bale is a man of contradiction. A Premier League star with a bashful confidence. In the spotlight on the field, yet unassuming off it. A ferocious athlete with character-actor features that could have garnered a mid-sized role on "Game of Thrones," he shuns the traditional celebrity catnip of nightclubs and booze. When asked to identify Bale's one weakness, former manager Harry Redknapp could only reveal the player's unhealthy obsession with his moussed-up hairstyle. "C'mon Gareth, stop messing about with your hair," Redknapp said, pantomiming to the media, adding "He was always at it."

Bale's endearing modesty has deep roots. He grew up in a suburban Cardiff setting, the son of a school caretaker and a legal administrator. A growth spurt experienced at age 14 transformed him into a youth sprinting sensation. Suddenly able to clock 11.4 seconds over 100 meters, Bale found himself among the fastest teenagers in Britain. The Southampton youth academy harnessed this talent, linking him up with fellow fleet-footed sensation Theo Walcott.

The future stars shared lodgings, career dreams, and, unusually for footballers, an impeccable sense of good manners. Bale originally established himself at left back, using his burst of pace to exploit the space he found on the flanks. Once he became the youngest player ever to pull on a Welsh shirt in 2006, aged just 16 years and 315 days, Premier League scouts began to circle.

Tottenham swooped in 2007, laying out an initial £5 million to lure the coveted young talent. Bale instantly made a name for himself, but for all the wrong reasons. He became the Premier League's equivalent of the Biblical Jonah, as Tottenham failed to win the first 24 games he played in. Harry Redknapp broke the cycle at the beginning of the 2009-10 season, inserting the ill-fated Welshman in the dying minutes of a 4-0 victory against Burnley, yet the odd record reinforced a sense that Bale lacked the toughness to hack the rigors of top-flight football.

All of this changed over the course of a single October evening in 2010. Spurs travelled to the famous San Siro stadium in Milan to confront an Inter side who were defending their Champions League title. The Italians appeared to have killed the contest before halftime, strolling to a 4-0 lead. Yet Bale returned from the locker room a man possessed, tearing up and down the left flank to blast a second half hat trick. An achievement of clinical yet poetic destruction. The Italians won the game but Bale stole the plaudits. His performance earned the admiration of the San Siro faithful, and encouraged La Gazzetta dello Sport to ponder the young man's putative transfer fee.

Bale was just warming up. In the return encounter, the velocity of his first step tortured Inter's Maicon, torching the Brazilian international's reputation as one of the finest right backs in the world. Bale spent the night flying down the flank, or swerving inside to set up his strikers, serving the ball right onto their feet. The winger's two-assist performance was sufficiently potent for broadcasters to run out of synonyms for "after-burners" and "lung-busting." The night ended with White Hart Lane resounding with howls of "Taxi for Maicon" as Spurs fans celebrated with the giddy ruthlessness of Romans at the Colosseum.

The devastating nature of Bale's twin performances elevated the winger to the game's most ethereal levels. He now stood on a gilded pedestal surrounded by whispered transfer rumors, and overblown comparisons to Lionel Messi and Cristiano Ronaldo. While a handful of players with true talent, like Neymar, thrive in that rarefied air, most wilt. Just ask Joe Cole.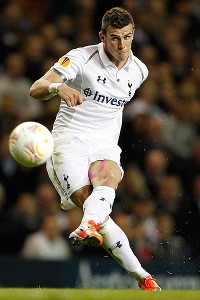 Ian Kington/AFP/Getty ImagesSpurs need Bale to step up his game not only against Man City on Sunday, but also Arsenal the following weekend.
Does Bale truly belong? While unattributed stories continued to link him to Real Madrid, the Welshman remained at Tottenham, propelling them to a fourth-place Premier League finish last season. Although statisticians breathlessly marvel at the league-leading 7.5 miles Bale covers in the course of a game, questions remain as to what he actually contributes by achieving this feat.

In the course of last weekend's humiliating home loss to Wigan, Bale slapped 20 inaccurate crosses into the box, the most in a single game by any player in Europe's top five leagues. Cynics would say that this season, the Spurs player has earned his largest share of the headlines by skipping a crunch clash against Chelsea to watch his partner give birth. Bale may lead Tottenham with 252 touches in the attacking third, and his 16 shots on goal are tied for first with Robin van Persie and Luis Suarez, but the three goals he has mustered lag way behind the United striker's haul of eight and the Uruguayan's seven.

Bale's challenges may not be of his own making. In this season of peaks and troughs, even diehard Spurs fans are beginning to wonder exactly what kind of team is being built around him. With Mousa Dembele injured and Luka Modric long gone, Spurs have appeared short of central midfield creativity. This lack of cutting edge has been exacerbated by the profligate league play of both Gylfi Sigurdsson and Jermain Defoe, and Clint Dempsey's inability to score unless positioned millimeters from the line.

Caught between preaching patience and expressing frustration with new manager Andre Villas-Boas, Spurs fans remain unclear as to what they should expect game to game. The good news for them is this weekend's match is away from home. Nine of Spurs' 17 points have been earned on the road, and Tottenham's last visit to Manchester saw Bale score a wonder goal in which he lacerated the heart of the United midfield.

Rousing as Bale's strike may have been, its solo nature only serves to symbolize his current challenge. Irrespective of his own abilities, this current Tottenham side may limit him as much as his opponents. Unless his team-mates can muster an additional threat, clubs like Wigan can suffocate Bale's menace by double-banking defenders. To get the best out of this superlative individual, the superlative individual cries out for the support of his team.

Roger Bennett is a columnist for ESPN and, with Michael Davies, is one of Grantland's "Men In Blazers." Follow him on Twitter: @rogbennett.