In the struggle against racism, England finds hope
This season, the stench of racism emanating from English football has been contagious. Barely a weekend has gone by in which the game has not been overshadowed by a distressing tangle of accusations, handshake snubs, T-shirt boycotts and monkey chants. Players, referees and fans alike have become sullied by its toxic stink.

The ugliness of these incidents may yet conceal a societal truth. While each occurrence has been grating to witness, their collective effect may ultimately prove positive.

As Piara Powar, executive director of the London-based Football Against Racism in Europe Network, explains: "What we are watching is progress. This is not a dive back to the bad old days when racism occurred on a mass scale. [If this were] a few years ago, the Luis Suarez and Patrice Evra incident would have simply been swept under the carpet and there certainly would have been no investigation into John Terry's abuse of Anton Ferdinand. These two incidents have established a standard that sparked off all the events that followed because English society now sees this behavior as wrong. It has decided there is a clear line that people cannot cross."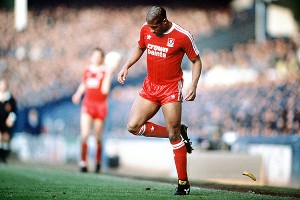 Bob Thomas/Getty ImagesJohn Barnes, who endured terrible abuse during his playing days, including having bananas thrown at him, once told the BBC, "there wasn't a game in the '80s when you didn't get racial abuse as a black player."
Hard to believe? Just ask anyone who entered an English football stadium in the 1980s and '90s. Back then, the sight of a black player setting foot on a professional sports field could cause hundreds of grown men to grunt monkey sounds with abandon, an occurrence so common the media did not consider it newsworthy. Last week, when a single Chelsea fan, Gavin Kirkham, was accused of abusing Manchester United's Danny Welbeck, the offender was named and shamed across the back pages in howling coverage, replete with photos of the wrongdoer in a "Borat mankini."

When I started watching English football in the 1970s, there was only one black player in the top flight, Clyde Best, a forceful Bermuda-born striker who played for West Ham (and ended up in NASL with the Portland Timbers).

The intelligent defender Viv Anderson became the first black player to represent the senior England team in November 1978, playing in front of English travelling support that had been infiltrated by far-right factions that routinely chanted "Ain't no black in the Union Jack." Then-England coach Ron Greenwood offered the debutant an ill-advised yet well-intentioned vote of confidence: "Yellow, purple or black," he said, "if they're good enough, I'll pick them."

Anderson had grown up in Nottingham, the son of a hospital porter father and nurse mother who had emigrated from Jamaica in 1954. When making his debut for local club Nottingham Forest in 1974, fans had welcomed him with a barrage of fruit. A traumatized Anderson sought refuge in the team dugout, only to have his own coach, the iconic Brian Clough, command him to "Get your f****** arse back out there then and fetch me two pears and a banana!"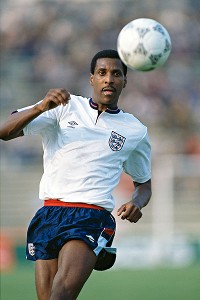 Simon Bruty/Getty ImagesViv Anderson became the first black player to represent the senior England team in 1978.
In 1978, the year of Rio Ferdinand's birth, a fluent West Bromwich Albion side made history by becoming the first team to field three black players. Dominant striker Cyrille Regis, artful defender Brendon Batson and deft winger Laurie Cunningham were talent-soaked footballers who inadvertently became game-changing pioneers. At the time, bawdy manager Ron Atkinson belittled their achievement, naming his charges "The Three Degrees" after a female Philadelphia soul trio. (Atkinson would later be forced to resign as a broadcaster in 2004 when his racially abusive language toward Chelsea's Marcel Desailly was picked up live on a mic.)

For all the abuse black players received from teammates, opponents and fans alike, they lacked any obvious form of redress. Welsh striker Nathan Blake withdrew from the national squad in 1997 after racially abusive comments from then-coach Bobby Gould. The player complained to the South Wales Echo: "We're in international football. I'm an established striker and I should not have to listen to [racism] from my own people, especially a manager I play for."

Gould scoffed in response, "Perhaps Nathan Blake has finer feelings than other people. In future I will take that on board."

Arsenal's midfielder Paul Davis quite literally took matters into his own hands in 1988, when he responded to on-field abuse from Southampton's Glenn Cockerill by shattering his opponent's jaw with a right hook. Davis, who received a nine-match ban, and was never able to shake the resultant "bad boy" stigma during his career. But he was moved by Luis Suarez's 2011 eight-match suspension for racially abusing Patrice Evra to the point that he wrote, "25 years ago ... a player would not have been banned, because a black player wouldn't have been brave enough to make the accusation."

Liverpool's English international John Barnes, who once told the BBC that "there wasn't a game in the '80s when you didn't get racial abuse as a black player," took another route. When recording Liverpool's infamous 1988 Hip Hop parody, "Anfield Rap," the wondrous winger made light of his shocking experiences, famously half-rhyming, "I come from Jamaica, my name is John Barnes, When I do my thing the crowd go bananas."

There was little that could be considered funny about the punishment Barnes received from Everton fans, as he was showered with enough bananas to stock a greengrocer's. Worse, perhaps, was the collective chant "EFC are white, EFC are white, hello, hello, EFC are white," which would occasionally tumble from the terraces when one of Everton's black opponents had the temerity to score.

As late as 2001, a report commissioned by the Premier League, grappled with the cause of such seething, open hatred. The FA Premier League National Fan Survey 2001 still makes for fascinating reading. It revealed that 97.3% of Premier League fans were white. Only 0.8% were black or Asian. Racism aimed at players was reported by a colossal 27% of supporters, a side effect perhaps of the 64% who thought it was possible to "let off steam at football matches."

"Letting off steam" appears to have been a euphemism for the racial antagonism that began to plague the United Kingdom after the Second World War. In 1945, England's minority population numbered in the low thousands. By 1970, it had exploded to 1.45 million as immigrants decamped from across the British Empire's colonies.

As British comedian, novelist and television presenter David Baddiel explained, football became an outlet for this tension. "This is not football's problem, it's a wider problem facing English society," he said. "Football remains one of the last uninhibited spaces in our culture, which is a good thing. People need to get out the shouting and swearing but it makes it hard to police."

The recent controversies surrounding John Terry, Mark Clattenburg and the monkey-imitating Kirkham have allowed Stamford Bridge to become perceived as the epicenter of contemporary racism, but in the Premier League era, even Chelsea are a team transformed. Thirty years ago, Paul Canoville became the first black footballer to play for Chelsea, as he entered the game to his own fans screaming racial epithets. Last season, six of the Chelsea starting 11 who kicked off the Champions League final were black.

Baddiel is a Chelsea season-ticket holder who attended his first game in 1975. "You cannot overestimate how bad it was when Paul Canoville was playing," he said. "When people say John Terry is bad, they need to understand the racism that occurs now is isolated and the situation is not as doom and gloom as the newspapers are making it seem."

Baddiel reveals he moved his season ticket from the raucous Matthew Harding Stand after Desailly became team captain and was barraged by the N-word from his own fans. "I could not stand to watch the game amongst unreconstructed racists," he said. But the well-known football fan has become a noted anti-racism advocate, enlisting the support of players like Frank Lampard, in a campaign to stamp out anti-Semitic chanting during games.

"There is a line and it needs to be the same for everyone," Baddiel said. "We have been putting up with it for 20 years. The only reason we did not act before was because the mechanisms were not in place to do anything about it. The big difference now is that there is 'zero tolerance.' When someone is racist, people no longer shrug. You can do something about it."

Roger Bennett is a columnist for ESPN and, with Michael Davies, is one of Grantland's "Men In Blazers." Follow him on Twitter: @rogbennett.