Miracle man Wilshere the last action hero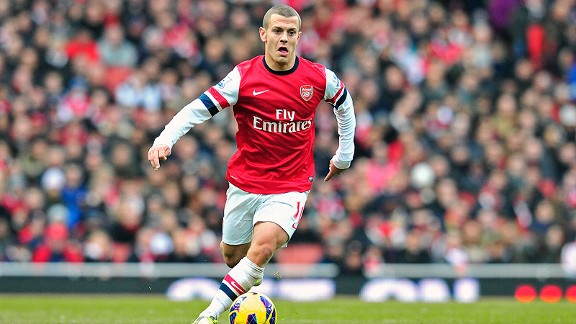 Glyn KirkK/AFP/Getty ImagesJack Wilshere's fresh return from a long-term injury offers the best reason to believe for Arsenal fans.
Every English school kid can corroborate a national myth about the ravens that dwell in the Tower of London. If the black-plumed birds ever flee the Tower, its walls will tumble down. After seven trophyless years, and an alarming inability to retain star talent, 20-year-old Jack Wilshere is beginning to feel like Arsenal's Last Raven.

The North London side travel to Manchester United on Saturday holding down sixth place in the league, seven points from the top, with last season's 8-2 thrashing a lingering memory. Fearful of falling further off the pace, they must extort a point from a ground at which they have not won since 2006.

Worse, Arsenal fans must steel themselves for the strange sight of former captain and recent hero, Robin van Persie, wearing the red of Manchester United. Wilshere's fresh return from a long-term injury offers the best reason to believe.

I have written before about my friend, Michael Cohen, a life-long Gunner who is living proof that Arsenal's supporters used to be among England's most optimistic. When Thierry Henry left the club in June 2007, Cohen was quick to reject my condolences. "Good riddance," he confidently declared, "We are Cesc's team now." When Fabregas decamped in August 2011, Cohen cushioned the blow by solemnly proclaiming, "He won't be missed; RvP is now our leader." In August, when van Persie bailed for Old Trafford and Wilshere was still injured, I was honestly scared to phone Cohen in case the words "We are Gervinho's team now" stuck in his throat like a fishbone.

Cohen is not alone in his suffering. The fractious scenes witnessed at last week's AGM indicate Arsenal's fan base are panicked, as the ritual defection of elite talent suggests their board care more for the balance sheet than the teamsheet.

As elite Arsenal talent goes, Wilshere feels different than the others. For a start, he is English. Incredibly so. With his cheeky pug nose and cherubic lips, he would require only a tin hat and dirtied face to resemble a Tommy straight from war-movie central casting.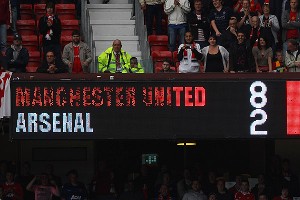 Alex Livesey/Getty ImagesWill Jack Wilshere & Co. help the Gunners forget last season's thrashing at Old Trafford?
Yet he is an Englishman with a difference. A determined ball winner blessed with technical ability, vision and intelligence. A midfielder who mines crevices and senses space, able to conjure counter-attacks by driving forcefully at defenders and unleashing an exact pass to dispatch team-mates into areas left exposed.

Wilshere grew up in the suburbs of Hertfordshire, kicking his first soccer ball at the age of 4 and signing up for Arsenal's academy by the time he was 9. No sooner had he become the youngest player to represent the club in a league game at the tender age of 16 years and 256 days than he was hailed as the most talented English-born midfielder since Paul Scholes. A first England cap earned at age 18 years and 222 days only validated the comparison.

An Emirates favorite throughout his dizzying rise, Wilshere seemed hell-bent on both delighting Arsenal fans and proudly acting like one of them. A reality he reinforced by spitting at a taxi driver who had the temerity to wear a Tottenham Hotspur cap. Wilshere has gone on the record as stating he will never leave Arsenal. When asked during his rehabilitation whether he will play out his career at the Emirates, he stated: "I promise that. I've been at the club since I was nine and learned to love it. From the [Patrick] Vieira days to [Dennis] Bergkamp, [Cesc] Fabregas, I've watched them come through and move on... I love the club and want to be part of its future."

Having been repeatedly let down by their idols, Arsenal fans are roughly as trusting as wounded dogs in a rescue shelter. They have counted down the 542 days from Wilshere's injury to last weekend's return. Can he now fulfill his potential and their expectation?

When Wilshere established himself in the first team, Liam Brady, head of the club's youth development, and former Arsenal midfield legend (to whom Wenger has likened Wilshere) set the bar high, declaring: "I expect him to be an England international who goes on to play scores of games for his country and to be a leader of an Arsenal team that wins many trophies." The only caveat Brady tacked on proved to be prophetic: "Injuries allowing, he is going to be at the top end of the football spectrum for a long time."

Wilshere injured himself seven minutes into a July 2011 preseason game with the New York Red Bulls. After he limped off with what was originally diagnosed as "an inflamed ankle," Wenger proclaimed "the youngster is a quick healer and tough." It took Wilshere 17 months to return to first-team action last weekend.

Such an injury can distort any young player's career, yet in a dour game against bottom-dwellers QPR, Wilshere's impact was apparent and his touch precise. Evidencing few signs of rust, the zesty midfielder completed all 33 passes attempted in the first half, departing after 67 minutes to declare: "It was amazing to be back. Words cannot describe it. I was running around smiling."

Optimists will be quick to point out Wilshere is still far from full fitness. The candid player told reporters he "felt his legs going" around the 60-minute mark. Every game he plays will strengthen his ability to create more space for the joyful Santi Cazorla, and develop his partnership with Alex Oxlade-Chamberlain.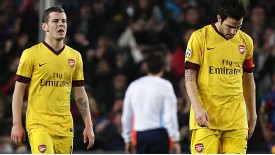 GettyImagesPast times: Jack Wilshere and Cesc Fabregas
Cynics will quickly suggest that the Arsenal team Wilshere has returned to is a cheap facsimile of the one he left 17 months earlier. Forty-one new players have cycled through the first team in his absence. Whereas the likes of van Persie, Cesc and Samir Nasri once lined up around him, there are now Andre Santos, Olivier Giroud and Gervinho. And with the latter injured, Arsenal's forwards, already low on confidence, will only struggle more.

Doomsayers will exclaim that too much pressure has been placed on Wilshere's 5-foot-7 frame. His injury came at such a critical time in his physical development, he can only drown in newspaper hyperbole like other English prospects who were smothered by expectation before they could prove themselves consistently.

True masochists will exhume Alex Song's reported comments when rumors of Barcelona's interest first circulated -- "forget Barcelona. Arsenal are the best club. If I had to leave, I will cry" -- and suggest that Wilshere's pledge of allegiance to the Gunners' fate is only as real as their short-term ambition. Which brings us back to the myth of the Tower of London and its sacred ravens. As every English school kid can also tell you, the feathered creatures can never leave. Each bird has one clipped wing.

Roger Bennett is a columnist for ESPN and, with Michael Davies, is one of Grantland's "Men In Blazers." Follow him on Twitter: @rogbennett.