Peter Vermes: Fueled by past, focused on future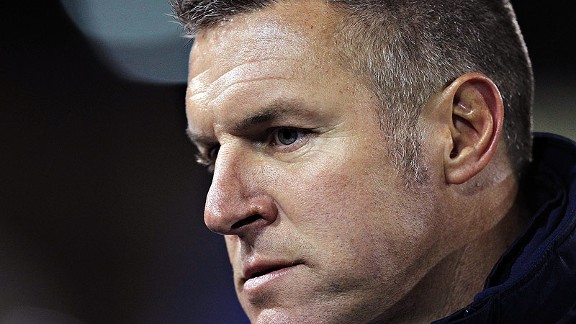 Jamie Squire/Getty ImagesPeter Vermes has used bitter disappointments of the past -- such as being twice cut from the U.S. World Cup roster -- to fuel his desire to turn SKC into a title contender.
Peter Vermes is a man who lives his life in three tenses. In the present, he is the square-jawed coach of the Sporting Kansas City team that enters the MLS playoffs as the top seed in the Eastern Conference. Despite this achievement, the intense 45-year-old appears most animated when talking about the future, breaking down the under-16 and U-18 rosters that loom on a blackboard over his desk.

Yet the past inevitably seeps into any conversation with Vermes. In a 14-year career that contained spells in communist-era Hungary, the Netherlands, Spain and the founding days of MLS, the hardworking striker who aged into a canny defender was a pioneering professional who became the first American-bred player to experience a full season in a top European league.

Despite his playing achievements, Vermes is a man for whom the gutting memories of past disappointments still linger -- most notably the jarring experience of twice being cut from the U.S. roster on the eve of a World Cup. Vermes now carries the wounds with pride, using them to inform the determined and detail-oriented culture that surrounds the team he has inspired from mediocre also-rans to playoff favorites.

Vermes' tenacity is in his blood. A first-generation Hungarian-American, he was born in the footballing heartland of Willingboro, N.J. His father, Michael, had been a Hungarian professional, playing on Budapest Honved's iconic "Golden Team" alongside legends Ferenc Puskas and Sandor Kocsis. Vermes Sr. had designs on a call-up to the Hungarian national team for the 1958 World Cup, only his career was cut short by the Red Army tanks that rolled into Budapest and crushed the Hungarian uprising in 1956. A politically active revolutionary, Michael fled the country, ending up as a refugee at Camp Kilmer, N.J. There, it was his soccer skills that allowed his family to establish itself in its new home.

"We lived 20 minutes from the ethnic football hotbed in Philadelphia where Germans, Poles and Italians were among those fighting for supremacy," Peter Vermes recalled. "I used to watch my dad play for The Hungarian Club against their archrivals, the German-Hungarians. He was a lefty who was extremely hard but very good on the ball, and he played into his 50s."

At age 4, Vermes began to master the game under his father's tutelage. "My dad taught us how to protect ourselves by going over the top of the ball on a 50-50 challenge," he said. "We learned both the intricacies of football and the kind of street smarts you would not learn from an American."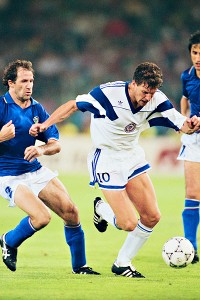 Billy Stickland/Getty ImagesVermes played in the 1990 World Cup, but he was the last man cut from the '94 and '98 rosters. "I have learned just how painful soccer can be from a player's perspective," he says.
While his friends became enthralled by baseball and basketball, Vermes never wavered from his dream of becoming a professional soccer player. Throughout his youth, the Vermes family would summer in Hungary, and Vermes once accompanied his father to watch the Hungarians play Russia at the National Stadium in Budapest. "I was 11, and during the game I leaned over and told my father that one day I would line up against Hungary in that very stadium."

Vermes made good on his promise once he debuted for the U.S. men's national team in 1988. "I always wanted to be a professional," he said. If I missed an easy opportunity playing in high school or college, I would truly believe my chance of a professional career was over. Ten minutes later, I would bang in two goals and I would say to myself, 'My pro career is back on!'"

Three years of college soccer only reinforced his ambition, as Vermes became an All-American and the Rutgers Scarlet Knights became a footballing power. Vermes emerged from college determined to make his dreams of a professional career come true. "I was very hardworking, honest and technically proficient," he recalled. "The kind of player who thought about the positioning of every player on the team, not just my own."

There was just one hitch: The United States lacked robust professional options in this post-NASL, pre-MLS era.

As such, Vermes signed up to play for the New Jersey Eagles in the short-lived American Professional Soccer League, joining Rick Davis and Tab Ramos on the U.S. men's team that qualified for the 1988 Summer Olympics in Seoul, South Korea. After scoring a goal in the final of a preparatory tournament in Lille, France, the striker was approached by a fan as he left the field. "The guy comes us to me, pronounces my surname 'Vermesk' as it really should be said, and asks me if I speak Hungarian. Once I told him yes, he informed me that was all he needed to know."

Scoring behind the Iron Curtain

The spectator turned out to be Hungarian agent Janos Piente, who quickly set up a trial for his new client with Belgian powerhouse Standard Liege. Vermes prepared himself to cope with the increased pace he would encounter in Europe by training in Hungary with Gyori Eto FC.

"The plan was for me to practice for two weeks in exchange for letting the team use my presence for PR purposes as a Hungarian-American returning during the dying days of the Cold War," Vermes said. "I went to training on first day and was inserted into a reserve 11 that took on the first team. For the first eight minutes none of the players would pass me the ball, so I wised up, waited for one of my teammates to gain possession, then shouldered him off the ball, ran 40 yards and blasted it at goal. That changed things. They quickly started to pass it to me, and once I scored, they switched me onto the first team. I scored again, and we ended up winning 2-1 after I had netted for both sides."

A contract containing Vermes' name had appeared by the time he reached the locker room.

Vermes signed, aged 21. It was 1988, and he was about to become the first American-bred player to experience first-division European soccer for an entire season. Few fathers could have been prouder than Michael Vermes. "My dad's career had ended when he was forced to flee by the Russians," Vermes said. "He saw my return as an opportunity for me to finish what he had started."

The childhood vacations Vermes had spent in Hungary put him in good stead as he adjusted to the cultural transition of life behind the Iron Curtain. "I lived in an apartment that was actually in the stadium," he said. "One night I was driving home around 11 p.m. when a Red Army tank shot out of a side street and steamed towards my car. It was about 150 yards away and showed no intent of stopping, so I shifted into reverse and sped backwards as quickly as possible. Once I was safe, the first thing I wondered was how many other American sportsmen have to go through things like this to make a living?"

Russian tanks were not Vermes' only problem. "At the time I resented the fact that I had to leave the United States to become a pro player," he said. "I was a world away from my family and friends. Today I would have tweeted away, but we did not have that back then. It really gnawed at me that we lacked a league at that level in the United States. We lacked a professional infrastructure where I could train every day in an all-consuming environment."

The World Cup giveth, the World Cup taketh away

Vermes only had to leave his communist surroundings and report for duty with the U.S. men's national team to be reminded he had experienced something most of his international teammates could not. "Before the 1990 World Cup, we trained together in Florida," he said. "Players like John Harkes and Tab Ramos were desperate to go overseas. They all had the ability, they just had to work out how to make the jump. They would sit me down and make me recount every detail of what it was like to play football and train every single day."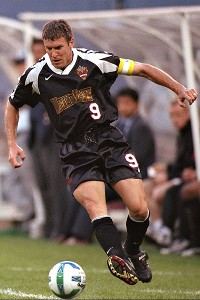 Al Bello/Getty ImagesVermes, seen here playing for the MetroStars in 1996, was also the first American-bred player to experience first division European soccer for an entire season.
Vermes was captain at the inaugural Gold Cup in 1991, leading the U.S. to victory after scoring a stunning solo goal in a 2-0 semifinal win over Mexico, but his professional highlight came not in victory but in the winless experience that was the 1990 World Cup. "We were the first Americans to qualify for 40 years and we had to play Italy, the host nation, home to Serie A, and players like Roberto Baggio, Salvatore Schillaci and Roberto Mancini," he said. "We lost 1-0, but we gained a lot of respect that day by showing we could compete. The U.S. had changed from a team that had good performances to a team that was now expected to win."

When the subject turned to the experience of being cut from the squad by coach Bora Milutinovic on the eve of the 1994 World Cup, Vermes jutted out his jaw and momentarily shut down. "It is not something I like to talk about," he said while searching for the right words to articulate his experience. "All I can say is we trained and lived together at Mission Viejo and dreamed about representing the U.S. at home. I was the last man cut, and it was a coach's decision."

After a pause, Vermes continued. "I had done everything I could have in my career. I played at a Division I college, went overseas to become a professional, experienced a World Cup. Now, when the tournament was about to be played in my own country, I was left off. I was destroyed." He spent the tournament commentating for ESPN and ABC. "I called the game when we beat Colombia. It was very difficult," he admitted with a nod. "Very difficult, indeed."

Vermes proceeded to refashion his career and demonstrate his versatility by converting himself into a defender. His positional sense and determination earned the player a recall to the national team only to be the painful last man cut again before the 1998 tournament.

As difficult as the experiences were for Vermes as a player, he believes they are core to his success as a manager. "My World Cup experiences shaped me," he said. "I have learned just how painful soccer can be from a player's perspective. Now, I do not take decisions lightly, I am direct and firmly believe every player deserves the truth even when it is hard to swallow."

After spending time with Volendam in the Dutch Eredivisie and alongside Ramos at Figueres in Spain, Vermes elected to cap his career with a return home in 1995, joining MLS upon its founding. "I felt compelled to come back to help the league become successful," he explained. "I didn't want to keep it at arm's length and watch how it shaped up. I wanted to shape it actively as a player."

Back where it all began

Joining the New York/New Jersey MetroStars as captain, Vermes encountered conditions, coaching and facilities that were below the levels he had become accustomed to in Europe, yet his eyes still light up as he recalled the experience of leading out his team at Giants Stadium. "It felt fantastic to play in a league in my own country that was considered to be a major league."

Vermes bounced around MLS, making stops in Colorado and Kansas City with the Wizards, yet the player is proud of his record. "Colorado was the worst team in the league. We arrived and got them into the final. Then I was traded to the Wizards, who were the worst team in the league, and we won the Cup,'" he said with a defiant smile. "That is who I am. I love to compete, and I love to win."

Vermes laughs for the first time when asked how the Kansas setup has changed since he was a player. "Our training facility back then was a rat-infested hazard," he said. "We only had four showers and they backed up, so if you weren't the first guy in, you would be up to your knee in other people's dirty water," he remembered. "If you have seen that movie 'Major League,' you would get an idea what it was like, but the coach, Bob Gansler, and veterans like Mo Johnston and Tony Meola were great. We fought alongside each other and experienced an awesome journey all the way to the Cup."

The manager has since dedicated himself to building a team that reflects his experiences as a player. His squad enters the playoffs on the back of a 12-game unbeaten run, fusing the ambitious attacking skills of Graham Zusi and Kei Kamara with the defensive abilities of Matt Besler and goalkeeper Jimmy Nielsen, who has rattled off 15 shutouts. Yet Vermes is modest about its achievement, saying, "We take risks in how we play. We really go after it."

The coach is more vocal when describing the progress MLS has made since his retirement in 2002. Placing both palms against the side of his head, he describes Livestrong Sporting Park, the exquisite soccer-specific stadium that opened in 2011, with the disbelief appropriate from a man who had to live behind the Iron Curtain to experience professional football just 20 years prior.

"I would love to play a big game in Livestrong with our home crowd," Vermes admits ruefully, "but it is a hell of a feeling when I come out onto the sideline, the place is full and we are about to kick off.

"I am always hit by a sense of wonder because I can't believe this place exists in the USA and, above all, in Kansas City. I look around in awe, and I know I am experiencing a feeling that will never wear off."

Roger Bennett is a columnist for ESPN and, with Michael Davies, is one of Grantland's "Men In Blazers." Follow him on Twitter: @rogbennett.