The times they are a changin'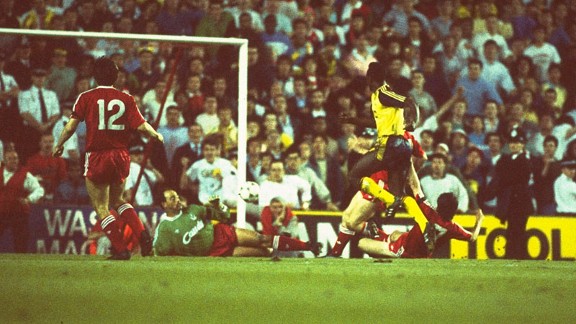 GettyImages Michael Thomas beats goalkeeper Bruce Grobbelaar to score Arsenal's second title clinching goal against Liverpool in 1989.
Twenty years on from the publication of his groundbreaking novel Fever Pitch, author Nick Hornby is amazed at just how much English football has changed since 1992.

"When I was writing the new introduction for the 20th anniversary edition I was looking through the book and I was surprised actually just how much I had to talk about violence as that had been the dominant note of the previous twenty years," he revealed.

"I couldn't have anticipated the changes that have occurred in the game since when I wrote the book," he admitted, "I had no idea I would frequently be watching a team which didn't contain a single English player. And I couldn't anticipate that I would be watching from a different stadium entirely."

Hornby also said the biggest gamechanger in English football has been the amount of money flowing in. The writer and Arsenal fan admitted at times he felt like he was rooting for a business.

"The distinctions between teams have been flattened down. Arsenal haven't won anything since 2005 and if Arsene Wenger did win the FA Cup or the League Cup it wouldn't do him any good at all. The last two managers who won the League Cup got sacked at the end of the season so clearly that kind of silverware doesn't count.

"It has to be the European Cup or the Champions League or the Premiership now. Those choices are now beyond the reach of every club apart from two, possible three."

One of the most pleasant changes Hornby has detected is the rise of the Premier League's profile in the United States. "When I toured with High Fidelity in 1996, you basically had to rely on bumping into an English person the day after a game to find out scores from the previous night," he reflected. "Within five or six years that became people dragging me off to sports bars at the end of signings to the extent that now you can watch more in America than you can at home in England."

Hornby's working theory as to why the game is developing in the States revolves around the growing sophistication of the US Sports fan. "Football is very different from a lot of American sports in that you might not get (a goal) in the course of the game or you might get one and it will be a cataclysmic moment and it will decide an awful lot of things and when you compare that to basketball, a certain kind of sports fan now recognizes the value and excitement of very low scores."