For the U.S., pressure is a hard-earned privilege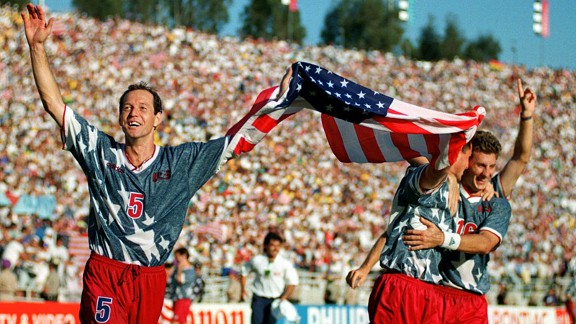 Shaun Botterill/Getty ImagesThe U.S. men's road from obscurity to international recognition was paved with milestone wins such as the one against Colombia in the 1994 World Cup.
In 1994, 24-year-old Alexi Lalas boarded a domestic flight and took his seat in coach.

"I was sitting in the middle aisle by an older woman who struck up conversation by asking me what I did," he said. "I told her, 'I play soccer,' and she responded, 'That's nice, but what do you do for a living?'"

Lalas laughs as he retells the story, retaining a sense of astonishment as he adds the kicker: "This interchange took place two weeks before the 1994 World Cup kicked off where I was about to play before an audience of millions."

The U.S. national team may no longer be such an unknown quantity, yet over the past 12 months, it has been plagued by a series of savage mood swings. The shock of victories in Italy and Mexico was received with giddy astonishment. A sloppy defeat on a rutted field in Kingston, Jamaica, led to a widespread fear the team was going backward.

This is a side that plays with a unique pressure. Every match it kicks off seems part-game, part-referendum on the future of the sport in the United States.

Jurgen Klinsmann's squad approaches a pair of clutch World Cup qualifiers against Antigua & Barbuda and Guatemala, teams ranked 106th and 81st in the world, respectively, that many believe the United States should swat aside at this stage of its development.

To examine whether the heightened sense of expectation and scrutiny surrounding the USMNT during World Cup qualification present as much of a challenge as its opponents, I interviewed five pioneering players who came of age in the late 1980s and '90s. Together they traced the moments they experienced as the USMNT reinvented itself from football's equivalent of a tree falling in an empty forest into a full-throated national sporting symbol.

The conversations covered memories both farcical and fantastic. They spanned such milestones as the development of the domestic league game, the organization of the American Outlaws traveling fan base and the emergence of a critical, expectant media eager to see the team take the next step in its development from participants to contenders.

All five men expressed a reluctant pride in the role they played developing the game at the dizzying pace of a flower growing in a time-lapse film.

"The past 20 years have gone by so fast," Lalas said. "I would like to pretend we envisioned it all, but we could never have imagined something as remarkable as Livestrong Park in Kansas City. Back then, we would have been satisfied just to receive an upgrade on a flight."

The Dark Ages: The miracle of 1990 World Cup qualification

"In the late '80s, the national team had a beggars-can't-be-choosers culture," said John Harkes (90 caps, 1987-2000), who made his debut against Trinidad and Tobago in 1987 before 8,500 fans in Indianapolis. "I washed my own kit after every game with the national youth side, and when we went to the 1988 Seoul Olympics, none of the American reporters who were there had any clue our country even had a soccer team."


"Today's U.S. players have a chip on their shoulder to prove they can play for Spurs or Everton. Back then, we had a chip on our shoulder because we were so desperate to grow the game in this country." --John Harkes


Goalkeeper Tony Meola (100 caps, 1988-2006) joined the team during qualifying for the 1990 World Cup.

"Our squad felt more like a club side than a national team," he said. "We had not qualified for the World Cup in 40 years, so expectations were low. Really, we were just a group of guys who had nothing to lose.

"Almost none of us were professionals. Some had day jobs, and the only training they could do was to jog at night. We were just making it up. Harkes, Tab Ramos and I would practice in the summer by going to the courts in Kearny, N.J., at night. We would take on all comers, win-or-stay-on."

"This was a period of real sacrifice," Harkes said. "We had no idea how we could play and make money or even be heard in this country. It was a leap into the unknown. We believed the team was the vehicle that could take us to the next level, even though we did not know what that next level was at the time."

Not all of the national team's games were televised. "We had such a small fan base few television networks would risk broadcasting us, and those that did ran commercials during the game," Harkes said. "Every time the ball went out for a goal kick, they would cut quickly and break to ads."

Raising soccer's profile felt as critical as winning games. Earnie Stewart (101 caps, 1990-2004), who made his debut while playing for Dutch Eredivisie side Willem II, suggested, "Today's players may feel pressure, but in many ways, we had even more. We did not have MLS. Most of our players could not earn a living playing football, so we were desperate to get the entire sport up and running in the United States."

Not everyone was worried about making a livelihood. Meola was just an 18-year-old junior at University of Virginia.

"We were on a $350 win bonus, which felt like a huge amount of money for a college kid," he said.

Every road game was a struggle. "We had to kick and scratch to get funds," Meola said. He remembers a meeting at which the cash-strapped national team approached 35 heads of state soccer for financial support.

"My pitch was met by crickets," he said. "They thought we were crazy to think we could qualify for the World Cup. One guy told me we were approaching a mountain we could never climb."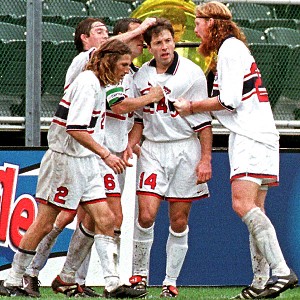 Monica M. Davey/AFP/Getty ImagesBack in the day: Preki Radosavljevic, middle, is greeted by teammates Alexi Lalas, right, John Harkes, background, and Frankie Hejduk, left, in one of the team's many CONCACAF battles.
"Today's U.S. players have a chip on their shoulder to prove they can play for Spurs or Everton," said Harkes. "Back then, we had a chip on our shoulder because we were so desperate to grow the game in this country, and ultimately that gave us our edge."

The game Harkes recalls as life-changing was the 1-0 victory that sealed qualification for the 1990 World Cup on the road against Trinidad and Tobago. (Savor this Bob Ley match report.)

"Looking back, that win was the catalyst for growing the game in this country," Harkes said. "I remember falling face down onto the pitch at the final whistle, exhausted after losing five pounds in water weight. It took us half an hour to get off the field, but as we headed back toward the tunnel, I remember seeing the sea of red that was 35,000 Trinidad fans. Back then, only our families traveled to games, but the Trinidadians had stayed to applaud us off. Even they recognized the enormity of our accomplishment.

"We were not exactly returning heroes. We landed back in New York to no fanfare. Back then, we were overmatched and underappreciated."

Qualifying for the World Cup was an unbelievable accomplishment for a squad composed largely of college players, but its enormity did not hit Meola until the team arrived in Italy.

"I was too young and too dumb to appreciate the achievement until we drove to our first game," he said. "I was sitting at the rear of the bus, and because I was the youngest, they made me face backward across the cards table. So when we pulled into the stadium in Florence, all I saw was the other players' eyes widen and jaws drop as Tab Ramos mouthed, 'This is for real.'"

The U.S. failed to muster a point in Italy, but Meola said qualifying changed the expectations that surrounded the team.

"From this point on, the United States was expected to do two things: to close the gap with Mexico and to qualify for the World Cup," he said. "No CONCACAF opponent would ever take us lightly again."

The Middle Ages: The hard slog to World Cup 1994

With the United States performing hosting duties for the 1994 World Cup, qualification was automatic. This would prove a mixed blessing. The inexperienced squad faced four long years in which it was deprived of the one thing that could prepare the players: competitive matches.

The U.S. Soccer federation had a more glaring problem. Only seven members of the squad were playing regular club football, most with minor teams in Europe. Ramos was at Figueres in Spain's second division. Paul Caligiuri played for Hansa Rostock in East Germany. Harkes alone made the leap to England's top flight when Sheffield Wednesday signed him, an achievement celebrated by The New York Times with the headline, "An American with a Jolly Good Toe."

With the bulk of the squad unable to gain regular gameplay, the federation took the bold, inventive step of setting up a permanent training camp in Mission Viejo, Calif.


"The win meant so much internally, but the game was not broadcast on U.S. television. So even though we did well, I scored, and Maradona asked me for my jersey, no one met us at the airport when we got home. It was out of sight, out of mind." --Alexi Lalas on the U.S. defeating Argentina in the 1995 Copa America


"As a commitment, the camp was light years ahead of anything that had come before it," said Lalas, who made his debut for the U.S. in 1991 while a student at Rutgers. "We may have been changing in a shopping mall and running across a street to train, but it felt like Valhalla for us."

"We were living together in apartment complexes and did two training sessions every day," said striker Joe-Max Moore (100 caps, 1992-2002). "As young players, the camp was like a soccer school in which we learned how to be pros, scrimmaging against university teams and scheduling as many friendly games as possible to compensate for the absence of a domestic league."

"We would take on any and all comers," said Lalas. "For every game against England, we would play one against the Cayman Islands. We would find ourselves playing at Foxborough one week, at a high school the next."

The U.S. team felt less like a national side and more like a club.

"We lived together," Lalas said. "Got up every morning and trained together. It was a Spartan existence, but many of us generated an enormous bunch of caps because we were playing international games virtually every week."

The Mission Viejo experience was an insecure one, emotionally and financially. "We were all on month-to-month contracts for a couple of thousand dollars and knew we could be sent away from camp at any time," Lalas said, "but we also knew we were the privileged chosen few -- 30 of the best soccer players in the entire country."

Long bus rides to game gave the players a chance to dream.

"We would fantasize about having our own league, taking chartered planes, about having police escorts to games -- everything you associate with big-time sports," Lalas said.

The reality could not have been any less big time. "Back then when we played in New York, we would train in Central Park," Stewart said with wonder. "We'd run around, and no one would recognize us."

"To say we were under the radar would be to be kind," Lalas said.

"We would often play in large stadia that felt empty," said Moore, "but the whole time you knew you were wearing the national team jersey, which generated its own excitement."

The U.S. stumbled through a densely packed schedule, muddling six wins, four draws and 11 losses in 1992 and 10 wins, 11 draws and 13 losses in 1993. Form so poor, The New York Times wondered, "When does awful become meaningful?"

The players, meanwhile, were elated to gain any coverage, good or bad.

"Three or four journalists would come on the road for major games," Stewart said. "They never had any football questions because they knew nothing about tactics. All they were interested in was goals and mistakes."

The players never lost their sense of optimism. "We had talented athletes, we just did not have the depth of squad the team has today," Moore said. "But once we beat England 2-0 in Boston in 1993, we realized we could compete."

Meola agreed. "That was a game that made us believe our team could really play," he said. "We did not just beat England; we kicked the crap out of them that day."

The Renaissance: World Cup 1994

"The media gave us no mandate because they really did not cover us at all," Lalas said. "But internally, we were obsessed about getting out of the group and demonstrating that we had pushed American soccer forward since 1990."

After conjuring a 1-1 draw with Switzerland in the Americans' opener, the second game against Colombia became a turning point.

"Pele had proclaimed the Colombians to be dark horses ahead of the tournament, and that scared the crap out of us when they were drawn in our group," Harkes said. "On the day, when we achieved the 2-1 result, it felt like we had woken the nation up to our existence. World Cup '94 had made it a cool thing to go watch a soccer game, but when we beat Colombia, Americans sat back and realized their very own team could not only compete but pose a real threat."

The founding of MLS is often seen as the World Cup's great legacy, but Lalas highlighted a second under-reported impact the tournament created -- the emergence of a traveling fan base.

"The World Cup coaxed underground supporters overground and augmented them with those who were seeing the sport for the first time and just loved the excuse to wear the star and stripes," he said.

In the wake of the tournament, supporters began to follow the team on the road. "In the past you would score a goal and just run around the field," Lalas said. "Now when you scored, you would look for Sam's Army in the stands and charge toward your people."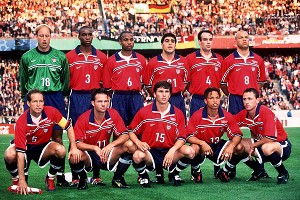 Mark Sandten/Getty ImagesWho are these guys? The U.S. team at the 1998 World Cup in France.
The Modern Period: 1995 onwards

Twelve months after the World Cup, the U.S. was invited to play in the Copa America in Uruguay.

"We stayed in a rundown hotel near Paysandu," said Harkes, "and for the first time, our lobby was mobbed with supporters."

The tournament was also memorable on the field. "In the final game of the groups stage against Argentina, we needed a 3-0 win to qualify and we pulled it off," Stewart said. "That victory taught us that we could always get the results we needed, if only we set our mind to it."

Lalas was among the goal scorers that day, but the defender also experienced a sobering dimension to the victory.

"The win meant so much internally, but the game was not broadcast on U.S. television. So even though we did well, I scored, and Maradona asked me for my jersey, no one met us at the airport when we got home. It was out of sight, out of mind."

It was to get worse. The self-inflicted humiliation of the 1998 World Cup followed when the team finished last, scoring a solitary goal in garbage time during a mortifying loss to Iran. "We had a very good team but imploded and embarrassed ourselves," Moore said.

Lalas remembers this as a time when the press mounted a widespread critical appraisal of the team. "The tournament had been a debacle, and for the first time, there was a real post-mortem about whether our performance was going to destroy the future of American soccer," he said. "That insecurity has never gone away. A sense of frailty is inherent to the U.S. team now, a product of coming so far, so fast."

The Present: Assessing today's team through the experience of the past

Asked if they are disappointed by the pace of progress maintained by Klinsmann's team, none of the players expressed surprise.

"CONCACAF has changed so much since we played," Meola said. "There are so many good players on other teams. Jamaica does not fear the U.S. like they did in the 1990s. Back then, all we had to deal with was the heat. Now they are a real threat."

"Football has changed all over the world," Stewart said. "Even the smaller countries have good coaching and can gain results. The days of Holland thrashing Cyprus 10-0 are over."

Harkes focused on the extra motivation so-called minnows experience when they host the U.S.

"When we came to town, none of us were well known, and they'd be like, 'Tab Ramos? John Harkes? Who are they?'" Harkes said. "Now they see Clint Dempsey, Tim Howard getting off the plane and all they want to do is knock off the United States. We play every game with a target on our back."

This increased sense of challenge is not necessarily a negative. Harkes believes it can provide an advantage.

"Flying under the radar like we were forced to is not the best way to operate," he said, "because pressure can actually bring out the best in top players like Clint Dempsey."

Lalas agrees the climate of unforgiving expectations is a positive. "To have fans and media care when you drop a point is something we fought so hard for because only the best teams in the world know how to function under pressure," he said. "We should never take it for granted."

When asked what his generation will be remembered for, Lalas did not have to think, rattling off a list that included, "Our skill, hair, good timing, talk, play and personality." After pausing for breath, he added, "There were 7,000 people coming to watch us when we started and 100,000 in the Rose Bowl at the end of it.

"I have often wondered: If I got back on that plane today and sat by that same old lady, would she recognize me now?"