Is Ferguson's cloak of invincibility wearing thin?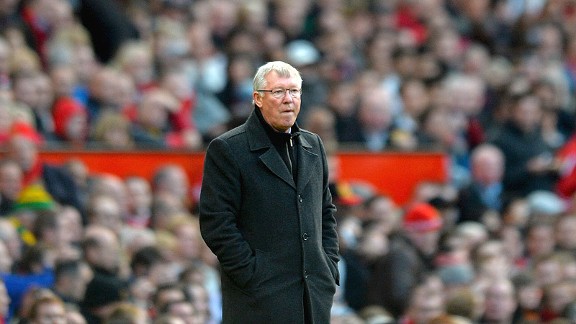 Shaun Botterill/Getty ImagesSir Alex Ferguson has been written off many times, only for him to prove his critics wrong. But this season could be his toughest test yet.
Ever since Robin van Persie headed, shot and shouldered seven goals in his past eight appearances, there have been few speedier ways to wind up a Manchester United fan than by suggesting their beloved club is now a "one-man team."

In reality, they have long been a one-man team, though the pillar is not van Persie. It is Sir Alex Ferguson. The patriarch of the Premier League. A legendary manager who has crafted, cajoled and commanded glory over 25 years at Old Trafford.

More: Premier League predictions

There are two commentating cliches bandied around about Sir Alex. When United play well, broadcasters like to refer giddily to the "post-match bottle of wine" he will undoubtedly enjoy with vanquished foes. When United struggle, Fergie is guaranteed to pummel his players by doling out "the hairdryer treatment." An unconvincing start to the 2012-13 season has ensured the fearsome electrical appliance has received infinitely more air time than the vintage Burgundy.

In presiding over 12 Premier League titles, Ferguson has carried himself with a gum-chomping swagger that tells his rivals, no matter how they care to come at him, that his experience, cunning or intimidating threat will cut them down. But in the first six league games of the season, United's tepid midfield and feeble defending -- not made any better by a slew of injuries -- have made many wonder whether this cloak of invincibility has begun to show signs of wear and tear.

That cloak could require further needlework on Sunday when United travel to Newcastle, an opponent who stunned them 3-0 in a surprisingly one-sided affair last season that Ferguson attempted to blame on "strong winds" in the north-east of England. Newcastle's defense is bruised by injury, but Hatem Ben Arfa, Yohan Cabaye and the inspired Demba Ba will relish the opportunity to run at United's ragged backline.

When did this all begin? Perhaps in April, when Roberto Mancini thrust a fearless flapping hand in Ferguson's face as the two went chin-to-chin on the touchline during the title showdown that City won 1-0. As Arsene Wenger can attest, Sir Alex has enjoyed many run-ins with managers, but rarely has he been made to appear so feeble and foolish. The Italian's yapping hand did more than embarrass Ferguson, it shattered his mythical status as the "Master of Mind Games."

More emotional trauma was to come on the last day of the season. After United's 1-0 victory away at Sunderland, Ferguson giddily clapped his hands and ambled onto the field as United's fans faithfully pumped their fists in anticipation of glory. Twenty-four seconds later, news of Manchester City's miracle championship filtered in, stunning Ferguson as he milled around a bewildered, bare-chested Phil Jones. "Just as they were going to celebrate, Manchester United have lost the title," bellowed the hoarse-throated commentator, while a sour-faced Ferguson commanded his charges into the locker room, their joy evaporated, as if a wedding had turned into a funeral.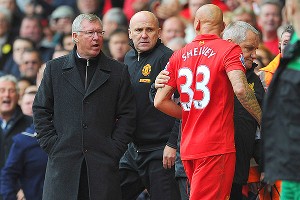 Michael Regan/Getty ImagesSo much for respecting your elders: Jonjo Shelvey got in Ferguson's face as the player was sent off the pitch in United's battle with Liverpool.
This season began with the stutter step of defeat at Everton. A series of hard-earned victories then failed to convince. Against Liverpool, Jonjo Shelvey saw red for a reckless tackle. As he stormed off the field, the 20-year-old midfielder confronted Sir Alex with eyes bulging and jaw jutted. After stabbing his finger at a bemused Ferguson, he angrily tweeted "where I come from people don't grass people up to get someone sent off." Television had not seen such youthful temerity since Omar Little was clipped by Kenard in The Wire.

One week later, Ferguson's injury was self-inflicted. After United's humbling 3-2 loss at home to Tottenham, the United manager crudely attempted to divert focus away from United's first-half ineptitude onto the performance of match officials. His indignant comments bordered on self-parody. "They gave us four minutes [injury time], that's an insult to the game. It denies you a proper chance to win a football match," he muttered. It was a complaint that conveniently ignored the 94 minutes in which United had failed to claim three points.

This week's 2-1 victory against Champions League minnows Cluj was uninspiring, with a listless United dominating possession but lacking width and creativity. Only a fine reflex stop by David De Gea saved the points as United continued to evidence a defensive impotence first exposed when leaking two late goals during last season's shocking 4-4 tie with Everton.

After that game, Ferguson admitted he was in "a state of shock." Shock is said to be a four-stage process. After watching Jan Vertonghen, Gareth Bale and Cluj's Senegalese winger Modou Sougou lacerate United's soft center this past week, Red Devils fans may be forgiven for inquiring which stage Ferguson is at.

The United manager has been doubted many times before. When Roman Abramovich's petrodollars threatened to propel Mourinho's Chelsea to dynastic glory, Ferguson rebuilt, dumping David Beckham, Ruud van Nistelrooy and Roy Keane. Building a team around Wayne Rooney and Ronaldo, he snared three consecutive Premier League titles and edged Chelsea in the 2007-08 Champions League final for good measure.

As a rebuilding project, this 2012-13 squad still appears to be in pieces. A ponderous central midfield is blighted by the fast-eroding talents of Ryan Giggs, depending on Paul Scholes' mischievous ability to withstand time and defy immobility. Injuries to Nemanja Vidic, Chris Smalling and Jones have highlighted the declining pace of Rio Ferdinand and Patrice Evra. In five of six league games, United have conceded first on the way to leaking nine goals -- symbols of a defense that is as effective as a bald man's combover.

Eternally optimistic fans may claim United have reinforcements in young recruits Nick Powell, Alexander Buttner and Scott Wootton, but few would maintain that the buoyant confidence that accompanied the $35.6 million signing of van Persie and $19.4 million Shinji Kagawa still prevails. After watching buccaneering opponents like Mousa Dembele and Marouane Fellaini bully the midfield, it is rational to wonder why some of that money wasn't spent on less glamorous, shiny players.

Every man belongs on a range of menace with Vladimir Putin and Regis Philbin at either end of the spectrum. While Sir Alex is still a long way away from Reeg, a second consecutive league defeat this weekend will reinforce the growing sense that this is a mortal Manchester United team opponents should play without fear.