Is diving ruining the game of football?
The world's footballers appear to be increasingly sensitive to gravity's pull. On Saturday, players young (Swansea's Ben Davies) and old (Fulham's John Arne Riise), foreign (United's Nani) and homegrown (Arsenal's Carl Jenkinson) had their leg molecules grazed by an opponent, triggering a physics-defying air dive accompanied by an agonizing mask of pain. On a weekend in which Chelsea's stars racked up as many dives as shots on goal, faking fouls became to Premier League talent what Gangnam Style is to flash mobs.

Few aspects of the modern game grate more than the sight of an elite footballer morphing into a Hollywood stuntman to deceive referees, opponents and fans. The laws of the game refer to it as "simulation," a dark art that is as shameless as it can be lucrative. Three league table points worth millions of pounds can be snared by this thespian, rather than athletic, ability.

"Diving was not as prevalent in the game back in the 1990s when I started playing, but it is different now," said ESPN's Steve McManaman. "The pace of the players has increased, every game now seems 'massive,' and we analyze every kick from a thousand different camera angles."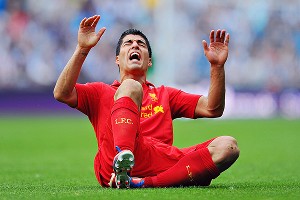 Michael Regan/Getty ImagesLuis Suarez has become the poster boy for the modern-day diver.
Peter Walton, a Premier League referee from 2003 to 2012, agrees. "Ten or 15 years ago, players would not fall over after the slightest touch," he said. "It became worse over the course of my career as the game sped up, and the level of physicality permitted in the games decreased, forcing players to find new areas in which to gain advantage." In Walton's mind, the air dive is the rational result. "It thrives because the reward for an act of simulation in the penalty area -- a penalty kick -- is greater than the risk -- a yellow card," he said.

At times, it feels as if the only thing more pervasive than diving in football is arguing about the place of diving within football. After Manchester City's Carlos Tevez and Pablo Zabaleta were denied penalty decisions this weekend, Sergio Aguero alleged that English referees favor domestic talent when making penalty decisions. Sir Alex Ferguson gave that theory short-shrift, suggesting "there are plenty of players diving and, you have to say, particularly foreign players."

Point of fact, there have been 33 yellow cards given for simulation in the past three EPL seasons -- and British players have received 15 of them.

Yet McManaman agrees the hustle was imported into the Premier League. "In my day, there were less foreign players in England," he said. "When they came over and dived or arched their bodies after being touched, we would take them aside and tell them they had to stop it. Once I moved to Spain, it was much worse. It seemed like the merest tap would lead to players flinging themselves to the ground as if a sniper had shot them from the stands."


"It is stupid to say it is only a foreign thing nowadays when every nationality is just as good at it as each other," McManaman said. "Look at Michael Owen at the 2002 World Cup all the way through to Ashley Young and Danny Welbeck this season. English players have done it for a long time. When Glenn Hoddle was England manager, he instructed us to go down if we were touched in the penalty area because he knew that's just what the opposition would do."



"When Glenn Hoddle was England manager, he instructed us to go down if we were touched in the penalty area because he knew that's just what the opposition would do."--Steve McManaman



Walton well remembers his first encounter with an artful diver -- current U.S. men's national team coach Jurgen Klinsmann. "Klinsmann signed for Tottenham [in 1994] at a time when the connection between money and results in the Premier League really kicked in," he said. "I was an assistant referee back then, and he used to dive at the merest tap."

But the former referee believes the foreign players' frustration is a product of the physical contact the Premier League permits in contrast to the rest of the world. "If you come from a foreign league where referees punish even the smallest contact, you won't understand how English referees don't penalize those calls," Walton said. "Foreign players need to understand the norms of the league they are in."

The player who has received the most bookings for simulation (two), Luis Suarez, happens to play for Liverpool, the most penalized team (with five yellow cards for simulation over the past two seasons). Suarez has been a polarizing figure at the center of the diving debate. McManaman sees the controversial Uruguayan as "a man who has gone down far too easily for penalties in the past and is now facing up to the consequences because he is being legitimately fouled but not getting the calls. His theatrical reputation is preceding him."

Walton denies referees use a player's past against them. "We judge what is in front of us, not history," he said. "When there is a coming together in the box, you are focused on getting the best possible view of the challenge, looking for contact made, identifying a genuine foul or simulation," he said. "A good referee should be concentrating on the particular play, not the number on the back of the player's jersey."

What, then, does he see when he watches Suarez? "I see a bloody good footballer with a threshold for pain that is lower than a gnat's."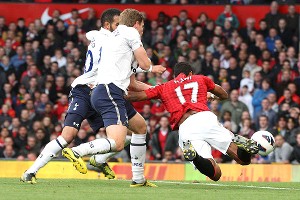 Matthew Peters/Getty ImagesNani has developed quite the reputation for putting on the flipper and goggles at the slightest of touches.
What can be done to eliminate simulation from football? McManaman remains optimistic that players will self-police the game. "Real Madrid and Barcelona have to know that all the flopping around by Sergio Busquets and Pepe has hurt their brands," he said. "Managers may want an extra percentage to win the game, but it does not look good to win like that."

McManaman believes there will be a return to the days when he joined Real Madrid. "Back then, they gave us a bible about the history of the club and its playing culture in which they made it clear they expected us to win or lose gracefully without going down kicking and screaming."

Walton agrees the act can be counterproductive. "I remember Ronaldo's entry into the Premier League with Manchester United. His first instinct was to go over whether he had been touched or not. His own teammates would shout at him to stay on his feet and Gary Neville, as captain, tore into him. He knew Ronaldo was never going to get every call and so he was just turning over possession and putting United on the back foot."

Walton now plies his trade in North America as General Manager of the Professional Referees Organization, and he believes the Premier League will only solve its diving dilemma if it takes a leaf out of the pioneering MLS's book and sets up an independent disciplinary committee to review player simulation and hand out bans and fines retroactively, as in Serie A (and soon, even in the flop-infected NBA. "The newspapers always blame the referee because he does not have a right of reply, but the focus must be shifted back onto the player who has made the decision and the managers who have encouraged him." Sounding every bit the poacher-turned-gamekeeper, Walton reinforces his point by admitting, "I've played football and I've tried to dupe referees, too."