QPR vs. Chelsea overshadowed by you-know-who
After an excruciating two-week absence, the soap opera of the Premier League returns, plunging headfirst into madness courtesy of Saturday's clash between Queens Park Rangers and Chelsea. The West London derby is traditionally a testy affair. This match, a piercing echo of last year's fixture in which John Terry was accused of racially abusing Anton Ferdinand, could be a steel-cage fight.

Terry's actions have created a wound that time has not come close to healing. In July, the Chelsea captain was found not guilty of racial abuse. He now awaits the result of a Football Association charge due toward the end of this month.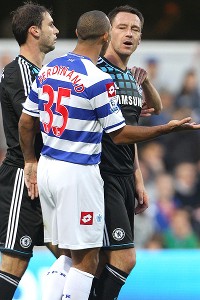 AP / Press Association/AP ImagesThe row between John Terry and Anton Ferdinand last season has re-ignited the drama surrounding the pregame handshakes.
This glacial crawl toward closure, born of the combustible combination of race, football and ill-advised decision-making the case embodies, have ensured it has become a vicious whirlpool sucking in an ever-widening cast: Terry and his wingman, Ashley Cole; Ferdinand and his big brother, Rio; and factions within the QPR and English national squads.

The Terry-Ferdinand altercation originally catalyzed a crucial debate about the state of race within English football. As Saturday's game approaches, that often-painful discussion has been eclipsed by a fascination with the base spectacle that lies on the surface. The drama surrounding the prospect of pregame handshakes -- the ritual designed to enhance the theater of television -- has reached Yasser Arafat-Yitzhak Rabin-White House Lawn proportions. And on Friday, the Premier League mandated the pre-match handshake will take place.

The English tabloids have detailed every rumored snub and counter-snub with barely suppressed glee. "Double trouble: Anton Ferdinand ready to snub Terry AND Cole" proclaimed the Mirror, reporting with all the restraint of an eighth-grader sharing classroom gossip. "Anton Ferdinand has told friends he is determined not to acknowledge the Chelsea pair."

Ferdinand may well be seeking the counsel of his friends. But what of John Terry and his options? The Chelsea defender has spent the week attempting to regain his fitness after tweaking an ankle against the toothless Moldovans, oddly refusing to leave the field, even when England had built a five-goal cushion.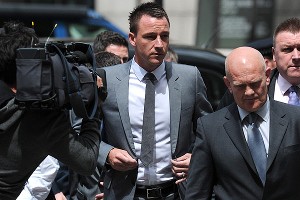 GettyImages / Carl Court/AFP/Getty ImagesTerry was found not guilty in court of racially abusing Ferdinand, but now he awaits a Football Association charge due toward the end of this month.
English manager Roy Hodgson hyperbolically hailed his center back as a "warrior." A fitting description, if only because it conjured an all-too-easy-to-imagine of Terry thriving back in Anglo-Saxon times when tribalism reigned supreme, men hunted in packs, and he could have led from the front, repelling Vikings and reveling freely in the spoils of war.

Perhaps Terry's real mistake was to be born 1,500 years too late. His career has been one of the 21st century's most polarizing. Glory and failure, pride and humiliation, love and hate have all been interwoven with highs and lows, experienced simultaneously.

This is the man who led Jose Mourinho's Chelsea to back-to-back titles from 2004-06, inheriting the England captaincy along the way. With socks yanked above kneecaps, Terry was a natural commander who propelled both teams with unparalleled commitment, doling out punishment or soaking it up in the name of victory.

This is also the only man in history to have been stripped of the England captaincy, not once but twice. The player who landed on his behind while mis-hitting a 2008 penalty that would have delivered Champions League glory. The captain who watched his teammates win without him four years later, having being sent off for needlessly kneeing an opponent in the back during the semifinal, then triggered a global meme by changing out of his suit, into his jersey and collecting the trophy anyway.

These peaks and troughs have been accompanied by a perpetually thumping soundtrack of personal chaos, be it his drunken mocking of stranded Americans at a Heathrow airport bar the day after Sept. 11 or a propensity to romance teammates' loved ones, a loutish litany of kiss-and-tell affairs, and lewd scandals, best symbolized by Terry's choice to hold his bachelor party in Las Vegas after his wedding.

Enough of the Chelsea captain's questionable personal life has been revealed to suggest "Being: John Terry" would make for a reality show few viewers could stomach. Yet as much as the scandals swirled, while Terry was at his peak, they failed to stick. When he earned the 2005 PFA Player of the Year award (a rare feat for a defender,) a starting place on the 2006 World Cup All-Star team, and the respect of Wayne Rooney, who declared him to be the toughest opponent he had ever played against, it felt like Terry could get away with anything. This "Captain, Leader, Legend" -- as the banner reads at Stamford Bridge -- even managed to be voted the United Kingdom's Dad of the Year in 2009.

But as his athleticism ground down, he became vulnerable on the field and off it. Threatened first by pace, then by any opponent who could break out of a trot, Terry has become a figure of derision as his strengths and achievements are increasingly smothered by scandal. Widely despised outside of Stamford Bridge, he has been forced to ply his trade while thousands of taunting fans ceaselessly remind him of his mother's preference to romance gentlemen born in Liverpool.

Terry's approach when challenged could be described as Ty Cobb-ian. He chooses to meet all comers head-on, a modus he described as "I will take it and I will give it back." The player's physical and mental strength are legend. Former Chelsea coach Luiz Scolari once suggested, "For John Terry, dying on the field would be glory. You would need to kill him and maybe even then he would still play."

Yet confrontation is a blunt weapon and the warrior mentality too unsophisticated to fit the delicate symbolism of the Ferdinand situation. Terry has declared himself fit for the game, but the ankle injured in Moldova has given the defender ample cover to sit out the game and avoid the black eye of a confrontation from which he, his legacy and football's image can only emerge as losers.

For 90 minutes this Saturday, his time would be better spent watching HBO's "Eastbound and Down" until he is able to understand Kenny Powers when he declares: "Sometimes when you bring the thunder, you get lost in the storm. But a true champion, face to face in his darkest hour, will do whatever it takes to rise above. A man fights, fights, and fights some more. Because surrender is death."

Kenny Powers was joking.