U.S. gets a 'little bit of payback' against Jamaica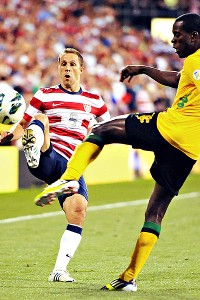 GettyImages / Jamie Sabau/Getty ImagesSteve Cherundolo helped settle down the U.S. side in its win against Jamaica.
COLUMBUS, Ohio -- Tim Howard had talked ahead of Tuesday's game of "wanting to get a little bit of payback." In front of a sold-out and rowdy Columbus Crew Stadium, on the anniversary of 9/11, the United States were able to do just that during a 1-0 victory against a physical and organized Jamaican team.

A superb first half was followed by an occasionally nervy second in which the U.S. followed their recent pattern of refusing to finish off their opponents. But after Friday's humiliating capitulation in Kingston, Jamaica, the world of American soccer will feel a whole lot brighter Wednesday morning.

Here are four factors that underpinned the American victory.

1. Klinsmann has guts
Ahead of the game, Jurgen Klinsmann was at pains to deflect suggestions his squad was feeling any more pressure than normal. And in the most testing game of his U.S. tenure, Klinsmann backed up his talk by ringing in five changes, recalibrating the midfield to give it a more attacking bent. Jose Torres was given his umpteenth chance to inject creativity, and Graham Zusi, receiving just his fourth cap, was instructed to stretch the game and offer intelligence and width. Torres was tidy in possession, solid without being spectacular. Zusi, the only MLS representative on the starting eleven, linked well with Steve Cherundolo on the right flank, playing fearless football.

CARLISLE: U.S. PLAYER GRADES

In perhaps Klinsmann's biggest gamble, young Danny Williams was given the responsibility of playing as the pendulum in front of the back four.

Klinsmann's selection in such a key game was a massive vote of confidence, and he was repaid with a polished performance from Williams. Before tiring around the 70-minute mark, the Karlsruhe, Germany-born midfielder thrived, suggesting his previous brittle performances were more a function of being played out of position on the right flank.

2. Sublime football ... for 45 minutes
Although goal-less, the opening 45 minutes were as good a half of football as the U.S. team have offered under Klinsmann. The stats bear witness to that fact. The Americans completed 91.1 percent of their passes and enjoyed 79 percent possession. Perhaps more importantly, Klinsmann's team recaptured everything that had appeared misplaced in Kingston: movement, creativity, possession, hunger and effort.

3. Wisdom of age
Much of the pregame talk revolved around whether the U.S. could conjure the ability to pass with composure and retain possession. That they were able to do both for long stretches was a byproduct of another factor -- the reinforcement of leadership courtesy of the return of Carlos Bocanegra and Steve Cherundolo. Cherundolo was a standout as a player who likes to lead by example. As the 33-year-old hurtled down the wing, no one could live with him.

4. Columbus does the nation proud
Columbus Crew Stadium is an unimposing structure on the downtown periphery of the city, yet the USMNT keep coming here, and it is not hard to see why. The U.S. are now 6-0-3 in Columbus Crew Stadium, outscoring opponents 13-1. From "The Star-Spangled Banner" onward, the atmosphere was unrelentingly rowdy and occasionally emotional. From the 9th minute to the 11th, the 23,881 in attendance stood on their feet and cheered in remembrance of 9/11. The U.S. team responded in kind. In the crucial first 15 minutes that set the tone for the rest of the game, the stats were 80 percent possession and 100 percent adrenaline.

A symbol of the USA's homesickness is the form of winning-goal scorer Herculez Gomez. His 55th-minute set piece was the fifth goal he has supplied in 16 appearances. All of those goals have come at home.