U.S. faces test of nerves against Jamaica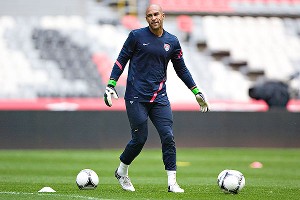 GettyImages / Angel Delgado/Getty Images"There is not much margin of error.," said Tim Howard. The match "is as much of a must-win as a game can be without being a must win."
Tim Howard captured the delicate nature of the United States' position. When asked if Tuesday night's game against Jamaica was a dreaded "must-win," the Everton goalkeeper admitted, "There is not much margin of error. Things will feel a bit different ... if we get three points. But [the match] is as much of a must-win as a game can be without being a must-win."

Howard's teammates appeared as loose and focused as could be hoped under the circumstances. Squad members I spoke to sought to minimize the defects in Friday night's 2-1 loss to the Reggae Boyz, attempting to focus only on the job at hand. Stoke City's affable Geoff Cameron declared, "It was just an off day. Everything was against us."

Howard identified possession as the key issue in the Americans' loss. "We did not make Jamaica work because we gave the ball away too much. That needs to change. We are not looking to change our style, just to keep hold of the ball. Our aim will be to concentrate and focus."

Jurgen Klinsmann's "loose yet focused" approach felt perhaps the least "loose." Uncharacteristically prickly with the media, the U.S. coach was particularly unconvincing when evading a questioner who asked if he is feeling pressure for the first time in the role, dismissing the emotion as something that "is always there in professional sports."

When asked what he would do if the team lost, an awkward Klinsmann responded with a curdling smile, "No, we won't [lose], Don't worry." A gesture toward brassy confidence that was closer to self-assurance than cocksure guarantee of victory.

The coach was at his best when expounding on Friday night's loss. "We tried to make the game complex by playing balls into strikers that were complicated. We talked about not using the width of the field. We hope to avoid all those things tomorrow night. The pitch did not help. All these little things, they add up."

Goal scorer Clint Dempsey was quick to reinforce his manager's point. "As a team, we have to be more patient and not try and make the killer pass all the time," he said. "It will help to play on a better field where we don't need to take so many touches to control the ball and can let the ball do a lot of the work for us."

Klinsmann drew strength from the fact that even in victory, Jamaica did not create many clear-cut chances bar the pair of free kicks that sealed the victory. When asked if there was anything the U.S. could do to protect themselves from the set-piece threat, Klinsmann laughed. "Step 1 is not to give them way," he said before fleshing his comments out with details that perhaps reflect the extent to which the U.S. are seeking to make changes. "You look at the wall and who jumps up, and how, and see who has body tension and a hunger to block the shot. You know you can spend a whole half an hour discussing the wall."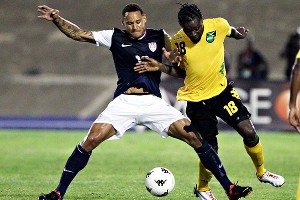 GettyImages / Marc Serota/Getty ImagesThe U.S. struggled to maintain possession against Jamaica on Friday, a problem it'll need to fix before the next match.
The coach addressed two problems that were patently clear in Kingston: the lack of width and a lack of leadership. "We talked about [the issue of width] at halftime and that is an area we can do much better in. It became clear after looking at game tape our passing game was not clean enough. We have to do that much better."

The leadership vacuum will be filled by the return of Carlos Bocanegra and Steve Cherundolo to the side. Klinsmann suggested both veterans were "hungry." Dempsey admitted they, along with the injured Michael Bradley and Landon Donovan, had been missed. "They are players that have a lot of experience and have come up big in games," he said. "But you are not always going to have your ideal team and have everyone healthy, and you have to learn to ride that roller coaster."

Cameron was quick to hail the talents of those who would surround him on the field in Columbus. "We have players who can offer creativity -- Clint Dempsey, Brek Shea, Maurice [Edu] and Jermaine Jones can all create things out of nothing." The physical defender made the solution seem simple. "If we get stuck into 50-50 challenge," Cameron said, "we will win second balls, and by winning those second balls we can make something creative happen off the back of it."

Howard insisted his squad did not feel any negative nerves. "We don't feel a sense of pressure. We are loose. More than anything, we are hungry. If there is anxiety or tenseness, it is about wanting to get a little bit of payback."


Notes

On 9/11
Dempsey admitted the date of the game offered the team extra motivation. "It is special. Our country has a lot of character by bouncing back from that situation. As players, and as a country, we always remember that. We use it as a positive and a motivation to stay strong and keep fighting."

Howard on free-kick protocol
Asked if he expects his defenders to follow a particular drill on free kicks, Howard revealed: "There are a few different rules of thumb. It depends on a guy's approach. If he is running straight on, he is obviously not going to try and get it up and over -- he is going to go for power. So you want to jump with your boots down. ... Those are things you always hope to get right, but trying to get four, five, six guys on the same page does not always work. I think a lot of time with free kicks, the percentages are low for the shooter but sometimes they get it right. And lightning struck twice the other night."

Shea on confidence and nerves
The mercurial winger described the difference between pulling on an MLS jersey and that of the international team. "Being called into camp gives you confidence," he said. "I feel nerves when I play for the U.S., but the good kind of nerves. You get the butterflies. If you don't get butterflies, you should not be here. I'm sure even Timmy [Howard] gets them. The kind of butterflies that represent an excitement to be part of the team and still be playing."

A final note of caution
I am staying in the Jamaican team hotel and on the way up to my room, I ran into a cluster of players returning from training. My inquiries as to whether they would go out for a win were met with laughter. When I asked what was so funny, they said as a group, "The pitch in Kingston is terrible." Then they added, with no irony, "On a proper field where we can control the ball, we can really play our game."