A cheer for Steve Cherundolo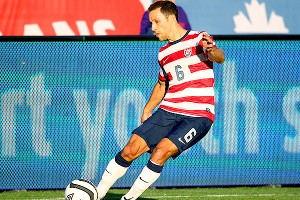 GettyImages / Tom Szczerbowski/Getty ImagesAfter the U.S.' debacle against Jamaica on Friday, the team will look to veterans like Steve Cherundolo for leadership on the pitch.
Steve Cherundolo is a man whose contrasting personae place him in a rare pantheon populated by the likes of Clark Kent/Superman, Henry the mild-mannered janitor/Hong Kong Phooey and Miley Cyrus/Hannah Montana.

Off the field, the physically compact 5-foot-6 defender is so low-key and soft-spoken, it can be hard to believe he is one and the same as the buccaneering right back who delights in burning up the flanks at both ends of the field.

Cherundolo is a complex individual: a club captain who is modest and self-effacing about his leadership role. A late bloomer who has enjoyed a distinguished career. A low-affect character drawn to SoCal punk bands like Social Distortion and Strung Out because of the vivid energy they emit.

As a veteran of this United States squad with 84 caps and captain of his Bundesliga club, Hannover, Cherundolo provides both the realism and experience to put the team's predicament after Friday's sluggish 2-1 loss against Jamaica into perspective.

"Right now, we need points in qualifying, which is not a normal position for this team to find itself in," he said, but he has no doubts about how the team will respond. "We have enough experience to know that pushing the panic button and start lumping the ball towards our forwards would be the wrong thing to do."

Cherundolo had to watch the defeat from the stands after suffering a calf injury. "The experience was agony," he admitted. "A loss hurts even more when you are looking on from the outside because you are powerless and have no way to contribute, which is one of the worst feelings for a professional athlete."

When asked about what went wrong Friday, Cherundolo patiently lists a litany of external factors. "We suffered terrible tackles, poor pitch conditions, and bad refereeing and were hit by couple of spectacular goals of the kind which don't normally fall in."

But when it is suggested that Cherundolo's presence may have provided the team with the two qualities it most craved, experience and width, the player does not miss a beat before calmly confessing, "I'm not sure my participation would have made a big difference. The overall team effort was not good. We never were able to find a good grasp on the game."

The Rockford, Ill.-born player speaks from experience. He won his first cap in 1999, coincidentally against Jamaica, yet it was another clash against the Reggae Boyz in 2001 that Cherundolo summons as a precedent from which he draws strength. "Leading up to World Cup 2002, we began the campaign strongly before going through a bad patch in the final round and found ourselves with one game to go, needing a big result at Foxborough." A late Joe-Max Moore penalty gave the U.S. a 2-1 win and Cherundolo smiled as he coolly stated, "We did what we needed to do and cemented our position."

Cherundolo is quick to articulate what the U.S. must change in Columbus. "We need more possession. We need to make Jamaica work for that ball and tire. They did not have to do that in Kingston because we gave it to them too often."

The leadership that he and Carlos Bocanegra (who will claim his 107th cap) exert will also be key. "It is important that the veterans talk to the young guys and make sure we bring the same attitude the Jamaicans had onto the field last week," he said. "We have to play to our strengths and not give up everything we believe in. We will see a lot of possession. With some good service we can really put the Jamaicans under pressure."

I ask Cherundolo if the team is feeling pressure of a different kind, one born of a growing domestic interest in the sport and placing the team under a spotlight that barely existed when he joined the national squad.

"Soccer has grown while I have been playing and the amazing outpouring of passion and pride that surrounded the team when we finished first in our group [at the 2010 World Cup] has given us an incentive that puts more pressure on us in a good way," he confides. "It means we can never have a day off or accept a bad result. We simply have to play our hardest every game, which is ultimately great for the future of U.S. soccer."

Having competed in Germany's Bundesliga since 1999, Cherundolo can see that the U.S. team are in a unique position. "Both Germany and England have strong domestic leagues so when the national team does not do well, their fans seek solace in the club leagues," he explains. "But in the US most of the focus is on our performance."

He admits the way this makes every game feel like a litmus test on the future of American soccer is "not ideal," but believes this will soon change. "MLS is growing fast, and it is only a matter of time until the league results become just as important to fans as those of the national team."

Cherundolo reinforces this sense of progress by admitting he harbors hope of returning to play in MLS. "There have been preliminary talks about a possible post-career role for me in Hannover but I have not given up my dreams of playing in the U.S. again. I will sign a one-year extension and stay in Germany until the World Cup, and then we'll see what works best."

The same sense of uncertainty surrounds his international future. World Cup 2014 would be Cherundolo's fourth selection, but the right back will be 35 years old by the opening game. After acknowledging it takes him longer to recover after every, the veteran revealed a predictably composed approach to the predicament. "I am a player who sets his own personal goals, and it is a goal of mine to get to Brazil, but if my time is up and U.S. Soccer feels I no longer contribute to the team, I would not be sad and I would not dwell."

He pauses for a moment and becomes uncharacteristically animated. "If my international career is over tomorrow, so be it. I can honestly say I have really tried to savor each training session and approach every game with joy."