Confident Kompany talks up Man City's chances
Vincent Kompany is very much the same man off the field he appears on it. Intelligent, fluent, imperturbable and above all, the leader of his club. Direct one minute, subtle the next, he is always ambassadorial. Part world-class defender, part a footballing George Mitchell.

We recently met at Manchester City's Carrington training ground on the kind of damp, frigid Manchester day that once made the northern region cotton's king. The moment the 27-year-old enters the room, two things are immediately apparent.

One is the weather-defying T-shirt he is sporting, and the other is the swagger with which he carries himself. Confidence is a word Kompany likes to weave into conversation as if it were his personal motif.

The British tabloid newspapers have been burbling about a possible "quadruple" for Manchester City, quoting Kompany's claim such a feat was "inevitable." The captain begins by declaring his comments have been taken out of context, yet his qualification is a tweak rather than a denial.

"What I meant to say was we've now won the Premier League [in 2012] and the FA Cup [in 2011]," he says. "There's the Champions League, Capital One Cup, and probably the World Cup for clubs; all I'm saying is in the future I'm sure Manchester City will win those trophies, and it's only a matter of time."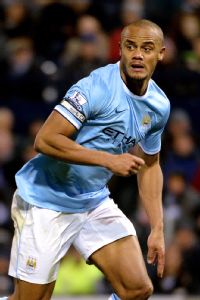 Ross Kinnaird/Getty ImagesKompany joined Man City from Hamburg in August 2008.
Such self-assurance is rooted in Kompany's belief that this is the best City squad he has played with. "It's got everything," he says. "When you look at the way we play it's a completely different style to what we've played before.

"It's so aggressive and it's a very honest way of playing. If we get a lot of goals and get good results, it's because we do it in the right way and we deserve it. It's enjoyable to be in this position."

As Chelsea and Norwich City both recently proved in the league, every squad has a weakness, and Kompany acknowledges City's by relying on the old "Job interview 101" chestnut of seizing a positive as a negative.

"Our weakness is our strength," he begins. "We play with two strikers and two wingers who are virtually strikers and one of our midfield players, which we only have two of, is also virtually a striker. Our full-backs are pushing up all the time.

"Ultimately, out of a team of 11 players, we have six or seven who are always involved in the attack and it just means there is a lot of ground to cover when you lose the ball."

The center-back leans forward and clenches his fists for emphasis. "It's a risk but it's a style of playing that suits us well."

- City get revenge on Chelsea
- Curtis: Thoroughbreds on the gallop

City's potency is reflected in their scoring record this season: 68 goals in 25 league games. Indeed, only Jose Mourinho's wily Chelsea have managed to prevent them from finding the net in the course of the past 62 home games.

"Complacency is our biggest enemy," Kompany admits. "With six or seven players thinking offensively ... we have to be super aggressive to recover the ball quickly when we don't have it."

In talking about the mental side of the game, Kompany expands the conversation to explain how City counter the psychological toll faced by a team attempting to compete simultaneously on four fronts.

"It's all in your head. To wake up every day and have the same hunger and desire to succeed is not easy," he admits. Recent wobbles beginning with the first half of the FA Cup clash against Watford prove his point.

"[Our] attitude should be in every game that we think it is the last game of the season and will define the season. If you win you are the best, if you lose you are the worst -- then we can achieve something special."

A helicopter buzzing above Manchester United's nearby training ground has become so loud we have to momentarily pause the interview, causing a cameraman to joke that David Moyes must be preparing to theatrically unveil another new signing Juan Mata-style.

The room is momentarily filled with laughter, but the quip is a reminder that this time last year, City were the Manchester club whose season was undermined by rifts, fights and training ground gossip.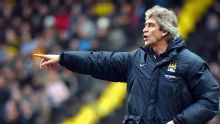 Paul Ellis/Getty ImagesPellegrini's influence has been hailed by Kompany and others at the Etihad.
Kompany credits the arrival of Manuel Pellegrini for a sea change in mood at the club. "He stands for positive football, so I guess a positive attitude has to fit within it and I think the good thing is we have completely bought into what he has to say. It was completely different to what we did before but we adapted and we did it well."

Pellegrini's predecessor, Roberto Mancini, has asserted that City's success is a product of his tenure. Kompany handles such claims with tact. "Everyone has had a role for the team to be here at this moment," he says, electing to take the high road with the ease of a diplomat.

"Mark Hughes has an important role before Mancini, then Mancini had his role to play and now it's Pellegrini. Every person has had a role at his club. Ultimately if we achieve the great things I believe this club is capable of doing, we'll all have some credit for it."

I wonder how the switch from the temperamental Mancini to the calm positivity of Pellegrini has impacted the locker room culture. "Obviously it's a signal from the top that says you've got to do things better ... differently," Kompany admits. "There's excuses in football but there's never a good excuse for not having good team spirit."

That spirit and belief will be well tested by the arrival of Barcelona and Lionel Messi on Tuesday. "Barcelona are a team of great players," he says respectfully.

"Obviously Messi is a special player, every team has one who will make a difference but the danger will come from so many different places and we are aware of that. At the same time, we have a lot of strengths we need to play to on the day."

The more Kompany talks, the more he projects the sense he is savoring the first-leg challenge. Yet, after losing away at places such as Sunderland and Stoke this season, how does he feel about the prospect of the return leg at the Nou Camp?

"We've not lost [away] this year," he says with a sly smile. "Our record has improved tremendously. It will give us even more confidence if we can improve it in such a way. Getting a result over there would be fantastic but I definitely don't think we need to be putting too much doubt in our mind before the game."

Once again, Kompany draws on the mental side of the game and the link between a team's self-perception and its ability to win. How then does Kompany see himself?

I refer to the time he was asked if he feels more Belgian or Congolese, his father's native country, to which he responded, "I am 100 percent Belgian and 100 percent Congolese."

Having been in Manchester for six seasons, what percentage of his identity is now Mancunian? The captain cracks a smile as he proudly acknowledges that his wife and his children are from Manchester, before tying his hunger for victory to his adopted hometown.

"I think I've embraced the culture that much that I would say that my spirit and attitude towards the game is very Mancunian," he says.

I finish by asking, if 2014 could bring either a Belgian World Cup victory or City capturing the Champions League, which feat would he prefer? Kompany does not have to pause before answering with absolute confidence.

"It would have to be the World Cup," he says. "We'll win the Champions League next year."