Barca boy Gasol talks soccer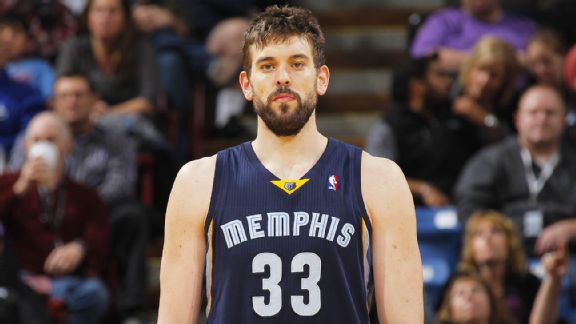 Rocky Widner/NBAE/Getty Images29-year-old Gasol has played in the NBA for Memphis since 2008.
Marc Gasol of the Memphis Grizzlies is an NBA star who grew up a basketball player in a soccer world.

Having come of age in the Barcelona suburb of Sant Boi de Llobregat, the center remembers his early years in which he lived for "lunch breaks where everyone just rolled the ball and played soccer. It didn't take much," he said, "just poles [as goalposts] and a ball to have a soccer game."

Gasol was among the most avid of players. In a recent interview with Grantland's Men in Blazers, he revealed his brother, Los Angeles Lakers star Pau, was not a football fan -- "he was always with the books, studying. When he had a break, he was doing the homework" -- but that he would tackle anything that moved.

"When I had a break," Marc Gasol said, "I was ... kicking the football."

- Bennett: Andrew Luck's love for soccer

Gasol honed his hardwood game at FC Barcelona's academy, living in the famed La Masia training facility alongside soccer youth teams replete with future talent such as current Ajax striker Bojan Krkic.

The Catalan power house claims to be "Més que un club" ("More than a club"), a philosophy Gasol defines as "they pretty much mold [players] the way they want to mold them."

This Barcelona DNA is evident when Gasol opines about the beauty of the basketball pass. "The right pass at the right time to get somebody open is just beautiful," he once told Grantland.

"There is nothing better than that. It's contagious; it makes everybody happy." The current NBA defensive player of the year laughs when I tell him I could imagine Xavi or Iniesta saying the same thing.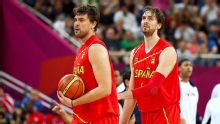 Christian Petersen/Getty ImagesMarc (left) and Pau (right) Gasol in action for Spain at the 2012 Olympics.
When Pau Gasol joined the NBA in 2001, his younger brother moved to Memphis, Tenn., enrolling in Lausanne Collegiate School. Marc Gasol says soccer's profile has come so far, so fast in the United States.

"It's growing here," he says. "[My teammate] Mike Conley likes soccer ... and he is actually quite a 'FIFA' player as well."

Former teammate Hamed Haddadi cared enough to taunt Gasol by gifting him a Real Madrid jersey.

"It had my name on the back and my number on it. It was pretty funny," Gasol says.

Like every Barcelona fan, Gasol is braced for the Catalans' round-of-16 Champions League clash with Manchester City. Asked whether the team's sometimes-muddled play under new coach Tata Martino indicates the end of their dynastic era, the NBA star demurs.

"We are used to excellence of the sport ... so when the team doesn't win one game or doesn't get the result that everyone wants, everyone just hits the panic button too quick. Sport's about patience and keep working no matter the outcome," he says.

"I wouldn't say we fear [Man City]," he says. "We respect them, though."

Gasol paused, perhaps to steel himself, before making a prediction: "1-2 for Barcelona the first leg, and we won on the second game 3-1."

We finish by posing the one burning question that is on the lips of every hybrid hoops-soccer fan. Who are the sporting world's biggest floppers? NBA players or soccer stars?

"To me its soccer," he says. "I get scared because I think a player really got hurt. They stay on the grass. Especially in the ... Spanish league sometimes, the players look like they are injured for life."