Liverpool vs. Arsenal: Who will break first?
Physics dictates there is no such thing as an immovable object. As Sir Isaac Newton discovered, forces always come in pairs with an equal and opposite reaction. When Liverpool host Arsenal this Saturday, the most potent strike force in the Premier League will collide with its most in-form center-back pairing. Science itself will be tested.

As soon as the Liverpool faithful end their traditional rendition of "You'll Never Walk Alone" Luis Suarez and Daniel Sturridge will attack Per Mertesacker and Laurent Koscielny with the unsettling fury of howling banshees. Theirs is a strike partnership built on no-look passes, angled drives, mischief, menace and magic. The scintillating Suarez, a master of the avant-garde, thrives amid the chaos of the penalty area. His partner, Sturridge, has laid claim to a slew of adjectives -– clinical, reliable, consistent -– Chelsea fans only thought to use in jest.

The duo have combined for 37 goals this season (Suarez 23, Sturridge 14), more than the entire squads of every team bar Arsenal, Manchester City, Chelsea and United. Perhaps even more astonishing, the pair have started just 11 league games together. The only time they have failed to score in that stretch was against Mertesacker and Koscielny during a 2-0 defeat in November.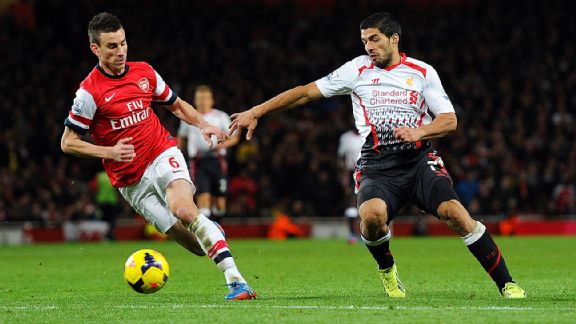 John Powell/Liverpool FC/Getty ImagesArsenal's defense has been superb this season, but stopping Luis Suarez and his strike partner Daniel Sturridge is another matter.
The Arsenal defenders may lack the electricity routinely emitted by their opponents, yet they are just as formidable from a statistical perspective. The pair have conceded a mere four times in the past 12 league games they have completed. Their team have emerged unscathed from 31 straight league games when the two complete the full 90 minutes, a run spiraling back to January 2012.

The German and the Frenchman are an endearing duo -- the Benedict Cumberbatch and Martin Freeman of the Premier League. Similar to Sherlock, they use their combined intelligence, experience and wit to consistently crack confounding conundrums. One thrives at high altitude, the other brings foot speed. Both are positionally shrewd operators who can anticipate as much as react.

The Arsenal duo were dominant when the Gunners blanked Liverpool at the Emirates, a win which allowed their team to establish a five-point lead atop of the Premier League, causing fans and pundits to begin to debate whether this Arsenal squad should be taken seriously as title challengers.

Three months later, Arsenal remain top, yet the very same question is still being debated. "Wobbles" routinely predicted by naysayers with relish have failed to materialize. The team have demonstrated an uncanny mastery of the "Dos a Cero" scoreline, winning points without gaining the accompanying respect.

Mertesacker and Koscielny's performances may be the reason for that blind spot. Their impregnability has cemented a counter-narrative in a league that thrives off narrative. We have spent so long telling ourselves what Arsenal have been, we do not see them for what they have become. Arsene Wenger's team are supposed to be pretty chokers with self-harming tendencies. Together, the duo have provided resilience where, in recent seasons, there has only been fragility. A core hardiness that makes the team impervious to "negative spirals" typically triggered by crushing defeats.

The defensive duo's solidity is emblematic of Arsenal's season. Just like their team, few believed in their pairing from the outset. Mertesacker arrived from Werder Bremen in August 2011, a low point in the club's recent history. Cesc Fabregas and Samir Nasri had just defected and the new arrival's lack of pace initially left him looking clumsy and gormless, the perfect scapegoat through which the Arsenal faithful could vent their frustration.

Yet an elevated technical understanding allowed the Hannover native to adapt and morph into a colossus able to break up play, then spring the counter with a combination of deft vision and touch. The German grew into a vocal leader, an intangible evident to all after he verbally lambasted Mesut Ozil in the wake of Manchester City's humbling 6-3 demolition.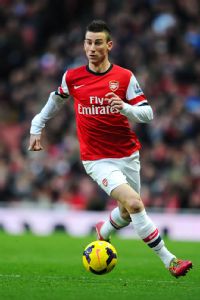 David Price/Arsenal FC/Getty ImagesBig talk: Koscielny says he "took the bet that I'll score the goal to make us champions."
Koscielny's rise has been even more surprising. The sharp-featured center back was a late bloomer who languished in the French third division as recently as 2007. Those low-league roots shone through at the outset of his Arsenal tenure as his performances tended toward the undisciplined and erratic, culminating in the mental slip which doomed his team in the 2011 League Cup final.

The mistake bled the confidence out of the French international but he has rebounded to such an extent, even Mertesacker recently admitted he now looks at their partnership with "disbelief."

The two are about to be sorely tested. Arsene Wenger's side are entering a brutal gauntlet in which they grapple with Liverpool in both the Premier League and the FA Cup, Manchester United in the league, and Bayern Munich in the Champions League last 16. If the kind of campaign-imploding moment of the type traditionally inflicted by Birmingham City lurks, odds are it will occur in the next 11 days. Suarez and Sturridge's team alone could dent the Londoner's dreams of domestic silverware.

Yet, with the kind of perfect timing he usually invests in a tackle, Koscielny has chosen to reveal he has placed a bet on himself to net the goal that will clinch the title for his team this season. "I took the bet that I'll score the goal to make us champions because, for the last two seasons, I've got the goals that got us into the Champions League," he told the English media this week. Proof he brings Arsenal two qualities even rarer than defensive tenacity and consistency: optimism and confidence.