Liverpool strike at the heart of Everton's season of hope
LIVERPOOL -- For an Evertonian, watching the 222nd Derby at a crackling Anfield was akin to having your wisdom teeth extracted without anesthetic while being forced to watch the Grammys on a loop. In an intense, passionate gut check of a game, Liverpool were relentless, inventive and merciless as they toyed with their tired, shell shocked local rivals.

Juggling squads riddled with injuries, both managers had little choice but to field teams intended to eviscerate their opponents. Roberto Martinez press-ganged a barely fit Steven Pienaar and Ross Barkley's broken toe into action behind Romelu Lukaku. With his defense tattered by injury, Brendan Rodgers welded an electric front six onto what appeared to be a wobbly tooth of a back four. As it turned out, they would barely be tested.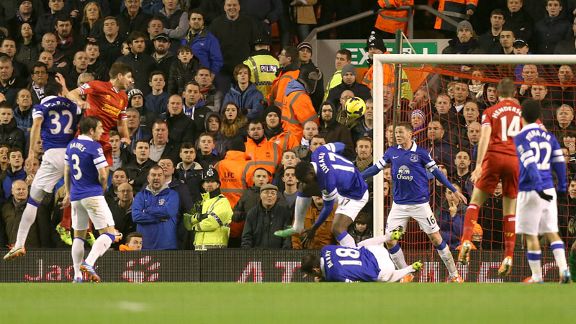 GettyImagesSteven Gerrard gave Liverpool the lead at Anfield.
From the outset, the game was a fascinating clash of styles. Everton sought to dictate the play with their possession and rhythmic passing game, only to thump their shots directly at Kolo Toure's ample backside. Liverpool harried with intensity, slinging the ball forward ferociously to release the cunning Luis Suarez and the resurgent Daniel Sturridge. The sharp Tim Howard was forced to parry, punch and dive smartly at Sturridge's feet within the first 15 minutes.

In crucial derby games, a Steven Gerrard goal feels like one of nature's cruelest laws. His 21st minute header was his ninth Derby strike in 31 games. The recently maligned midfielder leapt over a rusty, struggling Antolin Alcaraz to pound home a Suarez corner. As Gerrard charged toward Suarez in celebration before the stunned Everton fans, the years appeared to roll off him. The goal was to be a double blow. Lukaku injured ligaments on the play and was replaced by Steven Naismith, a switch akin to having your Cadillac Escalade GMT 900 repaired and receiving a Geo Prizm back from the garage as a loaner.

Liverpool scored first in the season's first clash, only for Everton to respond. This time around, Rodgers' team gave them no such chance. Liverpool's counterattacking invention, movement and pace were both unrelenting and overwhelming, making Alcaraz look like a pub league duffer and exposing John Stones' naivete and inexperience.

Within two minutes, a pair of Sturridge goals turned Everton's season of optimism and hope into one of James Wan's "Saw" movies. Anfield rocked as Philippe Coutinho sprang the counter so fast, every time Everton attacked, Liverpool seemed the more likely team to score.

When the PA announcer informed the crowd there were three minutes 'til halftime, the home fans bayed, urging their side to grab one more. They had to wait an entire five minutes of the second half before they were satiated with Suarez mugging a befuddled Phil Jagielka, then racing in on goal with the pace of a mongoose and the venom of a cobra. Everton's night of overmatched humiliation was complete. Sturridge found time to sky a penalty. It did not matter. Liverpool felt as joyous as it did at the height of the Industrial Revolution.

What now for Everton? Given the choice, many of their fans would have preferred to have the ground open and consume them rather than have to watch their team struggle listlessly through this bare-bottom spanking. The noble Martinez stood upright in his technical box to the very end, somehow managing to project a sense of calm amid the storm. He has four days to find out if his exhausted squad can conjure a similar response against Aston Villa and stay in the race for fourth place. Tonight, the final whistle felt as numbing as the words Charles Dickens used to close "Great Expectations": "Suffering has been stronger than all other teaching, and has taught me to understand what your heart used to be. I have been bent and broken, but -- I hope -- into a better shape."