The circus comes to Toronto FC. Are you ready?
Even as Tim Leiweke unveiled Michael Bradley and Jermain Defoe before a stunned media throng last week, he revealed the $100 million worth of transactions had caused many of his peers to wonder if he had lost his mind at Toronto FC.

"To do one DP [designated player] is a smart move," he joked. "To do two DPs is not the smartest thing we've ever done, and to do three [Defoe, Bradley and Brazilian striker Gilberto] is financial suicide."

This from the mouth of a man who, over 17 years at the Los Angeles-based sporting behemoth AEG, defined himself as one of North America's most audacious sports executives, a lover of the trademark blockbuster statement whose favored moves, most famously David Beckham's 2007 transfer to the Los Angeles Galaxy, tend toward the gold encrusted and glitz soaked.

Nine months have passed since Leiweke's arrival as president and CEO of Toronto's Maple Leaf Sports and Entertainment, which includes not only Toronto FC but also the NHL's Maple Leafs and NBA's Raptors. It's ample time for him to formulate a vision with which to jump-start a sporting turnaround in the Queen City. Now that the shock of the Defoe and Bradley moves is beginning to wear off, many are trying to guess what that vision could be.

I caught up with Leiweke to hear his thoughts on everything from the acquisition of Bradley and the relative sporting merits of North American marketplaces to the race to build a true MLS "superclub."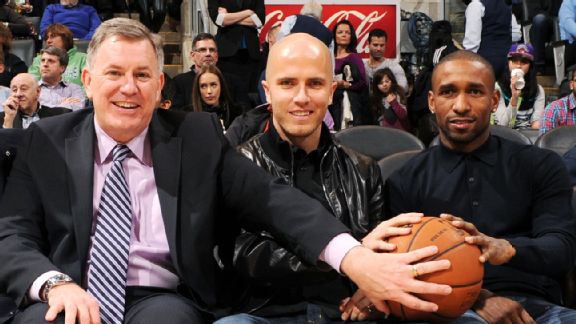 Ron Turenne/NBAE via Getty ImagesReady to play ball: Can Michael Bradley and Jermain Defoe turn Toronto FC into a footballing superclub? Tim Leiweke is betting on it.
The St. Louis native begins by revealing just how quickly the bold deal to capture Bradley's services came together. "With Defoe, the process took three or four months. With Bradley, it was a week," he says. "Things started simmering right after Christmas, and we ultimately began the process with the league by Jan. 2."

I suggest that the rapid pace of the acquisition is as astounding as the fact that it happened at all, causing Leiweke to reveal one of his operational tenets. "The opportunity was one of those where you can't sit around and analyze it too much," he says. "When a player that good becomes available and you already have Gilberto and Defoe aboard, you have to go for it."

I read back some of Leiweke's comments to him, seeking to gain clarity on his motivation. Is he attempting to save a franchise that, in his words, was "on life support" or lay the foundation for a superclub?

"We are facing two separate dilemmas. The one thing that shocked me when I got to Toronto was how bad the fallout with the soccer team and our fans had been," Leiweke says in summing up the franchise's limp history in which it has failed to reach the playoffs in seven years of existence. "I realized how much pain they were in, how much damage we had done and how much their enthusiasm had disappeared from a club which had originally changed the way the world saw the MLS."

The way Leiweke tells it, the Bradley and Defoe moves were akin to defibrillators for a flatlining patient. "If we let it go on for one more year, even if we signed Pele Jr., Messi and Ronaldo, the club would not have been saved because we would have burned so many people off," he says.

Yet Leiweke does not shy away from the "superclub" notion. "I will let everyone tag us for what they think we are," he begins when describing his ultimate vision. "In New York, the Red Bulls are still going through the process of defining themselves against the Yankees, Jets, Giants, Knicks and Rangers. No disrespect to them because their stadium is a very gutsy move, but they are still trying to claw their way through a competitive marketplace."

His 17 years in Los Angeles taught him the Galaxy face a similar challenge. "Even with David Beckham, we were always humble enough to understand it was a Dodgers-Lakers town in which the Kings were popular thanks to their titles," Leiweke says.

The peculiarities of Toronto, or as he consistently refers to it, "the uniqueness," are core to Leiweke's plan for the future. "Toronto is a top-four marketplace, behind New York and Los Angeles and close in size to Chicago, but what sets it apart and makes it unlike anything I have seen in sports is [Toronto FC] can be second only to the Leafs here," he says. "The Leafs are the air they breathe in this city. Between air and the Leafs, it would be a toss-up -- but where else does [an MLS team] have the chance to become a relevant, important franchise in a relevant, important marketplace?"

This question answers another in Leiweke's mind, one the North American football community keeps lobbing around: Has he overpaid by offering Bradley a $6.5 million a year salary -- more than six times his reported wage at Serie A Roma? "If you are in some MLS cities or even European clubs, what we paid for Michael will never make sense and I understand that," he says. "But Toronto is a city that dedicates eight straight sports pages to his arrival and where he and Defoe received a standing ovation when they arrived at a Raptors game. … Where else does that happen in North America?"

Leiweke finishes his point by hinting at his ultimate goal. "The book as to whether we have overpaid -- whether the signings were a good investment -- should be written a year from now," he says. "I think we have a chance to be the best soccer marketplace in North America."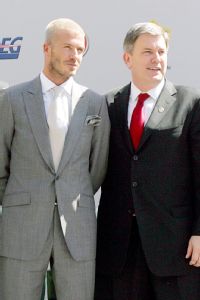 Stephen Dunn/Getty ImagesTim Leiweke brought David Beckham to the L.A. Galaxy in 2007.
Leiweke is on a roll now, and the enthusiasm with which he breaks down his team's target audiences is palpable. He revels in the potential of the cosmopolitan nature of the local audience. "This marketplace reminds me of London," he says. "It's very international with a lot of Europeans, Asians and people from India and Pakistan, all of whom have a high discretionary income."

The franchise's national profile is also important. "For us to become Canada's team again is what we aspire to be," he says. "We understand both Montreal and Vancouver have been much more successful than us as soccer clubs, but we are owned by Rogers and Bell, two of the largest media companies in Canada, and most of the brand opportunities and media recognition belong in Toronto. We have to prove we are worthy of being the considered the best in the country again."

Yet a superclub needs world recognition, and Leiweke admits the club has global ambition. "We think about Europe; the relationships with Tottenham and Roma mean a lot to us," he says. "We do think about Asia, where we will take a friendly tour in the next two years."

Leiweke's plan involves leveraging Maple Leaf Sports' other assets, including the Maple Leafs ("one of the most important hockey brands in the world"), the Raptors ("they have the second-biggest following in Asia, which surprised me") and the football-loving Drake, who looks set to expand the role of ambassador he has assumed with the Raptors. "Having Toronto as the first part of our name gives us instant [global] recognition," Leiweke says. "The world is our oyster."


"The book as to whether we have overpaid -- whether the signings were a good investment -- should be written a year from now. I think we have a chance to be the best soccer marketplace in North America." -- Tim Leiweke


Leiweke suggests Bradley was quick to grasp the magnitude of the opportunity at hand. "Bradley realized this was not just some rebuilding process but that he was joining a club that could do something significant as well as compete immediately," Leiweke says. "Bradley knew he wanted to go somewhere that was starving for a first title that he could deliver."

I wonder how many phases there are left to Leiweke's plan, causing him to cast his mind back to Beckham's arrival in Los Angeles. "We struggled badly at the outset and had to go through a couple of coaches before Bruce Arena got us a championship and that was with David and Landon Donovan, possibly the two best players in the league," he says. "We have no illusions of grandeur here. We have put ourselves in a position to be good but … if we read our press clippings instead of training and earning three points, we will learn how to struggle real quickly."

What are the marching orders Leiweke has issued second-year coach Ryan Nelsen, who wobbled to a 6-17-11 in his rookie season? "We are not going to walk around talking about a championship because that is unfair to him," Leiweke says. "I have seen managers who are bad, and I have seen managers who are good but unable to manage a circus because they don't like the circus."

Leiweke references a scene from the Ron Howard movie "Parenthood" where Steve Martin complains life is as complex as a roller coaster only for his grandmother to chime in that she loves roller coasters. "The question for Ryan is, does he like roller coasters? Does he like the circus or not?" the executive declares, before ending with a statement that is as emphatic as it is self-evident.
"Me? I love the circus!"