Is Man Utd's form hurting their global fanbase?
Manchester United legend Sir Bobby Charlton was not the only one left shaking his head this week at the end of another dismal defeat under David Moyes.

Although the four home losses United suffered by the defending Premier League champion since December have contributed to the club's share price tumble on the New York Stock Exchange, the aftershocks caused by Moyes' tenure are also being experienced within the fickle world of global fandom.

United have a worldwide hard core of avid fans, many of whom supported the club before the advent of the Premier League, but some newer foreign fans are finding it hard to adapt to a stark reality that one American supporter compared to "being taken out to fine dining seven nights a week and now … eating at Arby's."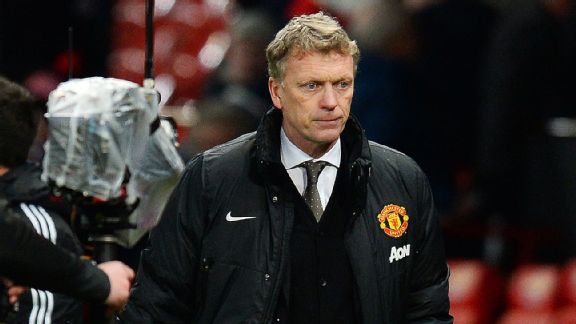 Andrew Yates/AFP/Getty ImagesUnited's form under David Moyes could be hurting their global fan base.

Owner of an Indianapolis soccer bar, the Chatham Tap, Daniel Jones has experienced firsthand the impact of United's dismal run of form. "Over the past few seasons, we have always had great crowds for United. Even when they kick off at 7:30 a.m. the bar has always been full, but we are simply not seeing those faces this season," he said. "Younger fans who have never seen United lose before are not turning up, and if United are not playing a marquee team we will only have a handful of die-hards at the bar."

The Manchester club is rightly proud of its global following. In their 2012 SEC filing, the club claimed a bloated 659 million followers worldwide. Yet they are currently stumbling at a crucial time when the Premier League's profile is exploding in North America. With every game and every team now watchable via NBC, viewership is reported to be up as much as 70 percent.

- Delaney: Moyes must let Utd loose
- Payne: Worst-case scenario looming?
- Okwonga: Suggestions for United fans
- Report: RvP back in training

"There is a new wave of fans tuning in," says Paul Swangard, managing director of the Warsaw Sports Marketing Center at the University of Oregon. "They are more inclined to attach themselves to a winner than be attached to a struggling team through thick and thin."

In the past, this phenomenon has been quickly reduced to a harangue about "plastic" fans or "bandwagon jumpers," yet it is more a refraction of football's modern global reality -- one in which nascent allegiances are fluid, and fandom, freed from the constraints of locale and in the absence of generations of familial support, can be connected to a particular star player or style of play. Will such global fandom prove as temporary as devotees of a particular musical act deserting the band after the release of a poor album?

David Carter, executive director of Sports Business Institute at USC's Marshall School of Business, suggests that this is a very American phenomenon. "Casual fans can be fickle; they want a winner but they also want a fun experience," he said. "A down year will be OK if the game-day experience at bars and 'watch parties' is still lively. If the buzz is lost, other major international franchises have the chance to captivate these relatively agnostic soccer fans."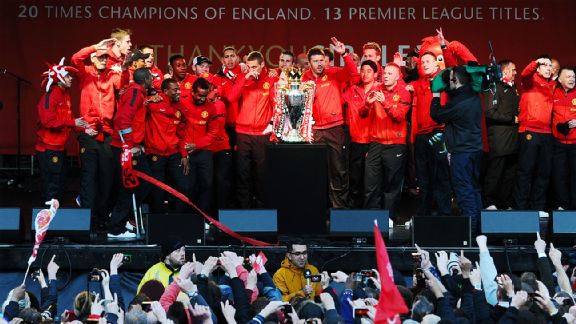 Andrew Yates/AFP/Getty ImagesFans who were attracted to Man United by their Prem successes might well be turned off by the dismal 2013-14 campaign.

Bar owner Jones, a Manchester United supporter, has lived this phenomenon. "The world of support is fluid," he says. "I will see people in a Manchester City shirt for one game and a Barcelona jersey the next. It depends on who is having the best year. As the best players and teams change, so does Midwest fandom."

Yet this is not just a Midwestern thing. "The American sport psyche is in essence built around star power and big brands," said Swangard. "In our domestic reality, we grow up with our [NFL and NBA] teams institutionalized in the culture of our community, but for these emerging fans of foreign sports teams, the cost of switching and barriers to changing are so low," he said. "Winning is important. Fans offer their support because they want to be part of a 'we,' and they want that 'we' to feel successful."

The Glazers' team do have a built-in advantage in the eyes of Randy Bernstein, president and CEO of Premier Partnerships, a sports sales and advisory firm. "United have had a running head start on the rest of the Premier League," he said. "At the outset, they were the one team most Americans had heard of with their great coach [Sir Alex Ferguson], David Beckham and winning tradition. But the more educated Americans get, the more allegiances shift. They no longer have the English Premier League to themselves with Arsenal, Manchester City and Chelsea doing so well and Liverpool playing strongly again."

So how long does it take for a brand built on winning to become tarnished?

"To some degree we don't know for sure," Swangard admitted. "This global phenomenon of fandom is so new, the football teams are at the vanguard and it is a landgrab. There is a core fan base who will stay with them, but the casual fan base does not have a long window of patience and will attach themselves to another club or player. ... If Rooney goes to Chelsea, their allegiances will go with him."

Ultimately, Carter believes the answer lies in the hands of the Glazers. "United's footing is solid. ... The strength of the brand can easily survive a down season or two given its goodwill," he said. "Fans [must] believe ownership is doing everything within its control to field a competitive team. A short-term appearance of disarray can be overcome provided it is not seen as chronic by those that financially support the team."

Yet Swangard believes United have reason to be worried. "Their vision of their business globally becomes different to the domestic one the further away they get [from Old Trafford]," he said. "In the United States, the brand is built on Sir Alex and 20 years of trophy-case building.

"Fans will get bored of a team that is mediocre pretty fast."