Seven questions raised by the Prem's holiday period
For fans of the Premier League, the holiday period is a sporting orgy in which leaden-legged players trudge through four games in eleven days, while we gawk at their straining limbs like Roman crowds screaming in the Coliseum, or oligarchs distractedly perusing their miniature giraffe collections.

The period also marked the halfway point of the season, and what a season it has been. Routine thrashings! Powerhouse impotency! Shock defeats! Home and away schizophrenia!

20 games into the campaign, we are only marginally better acquainted with the league's most consistent teams now than we were before things kicked off in August. With that in mind, here are seven questions posed by the breathless action over the holiday period: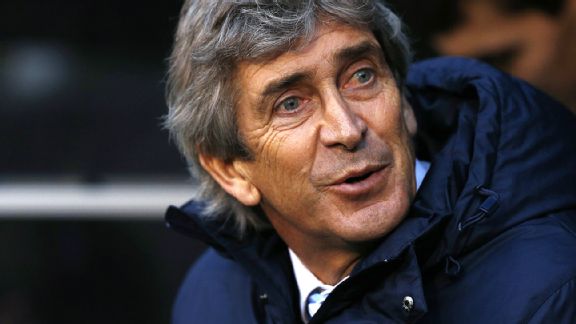 Adrian Dennis/AFP/Getty ImagesHaving found their footing, Man City appear destined to win the Prem. Can anyone half Manuel Pellegrini's talented squad?
1. Can anyone stop Manchester City from winning the title?
Manuel Pellegrini's team emerged from the holiday scrum with a perfect record, summoning sufficient muscle to overpower their opponents even when playing below par. Perhaps most menacingly of all, the Mancunians managed to win back-to-back-away games for the first time this season -- a feat that suggests they have cured their fear of the road, a head-scratching trauma as perplexing as barophobia (fear of gravity) or geniophobia (fear of chins).

While their defense remains prone to lapses, that weakness has been outweighed by the plethora of attacking options at Pellegrini's disposal. They possess a flexible potency, which equips this team with the swaggering belief it can always outscore opponents, no matter what. Even in the continued absence of Kun Aguero the goals have continued to flow, with the likes of Fernandinho stepping up to thrash three in five games.

City will be able to reinforce their title intentions over their next four games, three of which are against Newcastle, Tottenham and Chelsea. It is beginning to feel that only a truly long-term injury to a key component -- Yaya Toure, Pablo Zabaleta, or Vincent Kompany -- will scupper their challenge.

2. Is the Top Three now decided?
For Jose Mourinho's Chelsea, the holiday period was rarely pretty -- yet it was effective. The team ground out a lucrative 10 points from a possible 12 despite rarely convincing. A startling lack of striking productivity remains a glaring weakness. Even when either Samuel Eto'o and Fernando Torres come good, they both still feel like "unlikely names to be on the scoresheet." Yet from game to game, Chelsea are morphing into a Jose Mourinho team, one for whom his substitutions win matches, Oscar shines, the marginalization of Juan Mata appears less a defining narrative and more a titillating sub-plot -- and results don't lie.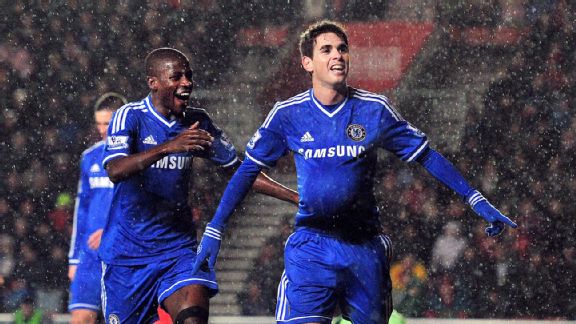 Glyn Kirk/AFP/Getty ImagesOscar is Chelsea's star as Jose Mourinho's side is finally taking shape.

Arsenal have demonstrated a similar tenacity, defying the doubters by shrugging off the memory of the 6-3 walloping at the Etihad and overcoming a glut of injuries to reclaim pole position. The team has benefited from the return to form of an improved Jack Wilshere, the directness of Theo Walcott and even enjoyed a key goal from punchline turned hero, Nicklas Bendtner.

While their ability to compete for the title will be determined by the transfer window -- one eager Arsenal fan's shopping list of Diego Costa, Edinson Cavani and Jackson Martinez appeared as fanciful as me declaring I would like to look like Daniel Craig and court Audrey Tautou -- the six-point gap that between Arsene Wenger's side and fourth place suggests that their worst outcome should be a third place trophy.

3. Are Manchester United doomed to the "Bleak Mid-table?"
Propelled by a free-scoring Danny Welbeck, three wins against easy marks West Ham, Hull City and Norwich created the illusion that David Moyes' team were finally poised to make a run. After all, few teams make a more ominous sound moving into 6th place than Manchester United.

Yet Wednesday's damp squib disappointment of a 2-1 loss against Spurs -- their third home defeat since the beginning of December -- was a harsh reminder that United are a team for whom the pieces still do not fit. In contrast to Pellegrini, Mourinho or even Roberto Martinez, United appear to lack a coherent philosophy on the field, a malady that will blight them irrespective of what happens in the transfer window.

Though Moyes' Everton had a tradition of roaring through the second half of the season, the most illuminating trait that has accompanied the manager from his former club is the inability to win a big game. In a head-to-head table of the top eight teams, United lie bottom, having won one, drawn two and lost five of their eight games played.

That the defending Champions still face away challenges at Chelsea, Arsenal, Newcastle and a baying crowd at Everton suggests that the mediocrity of their title defense will continue.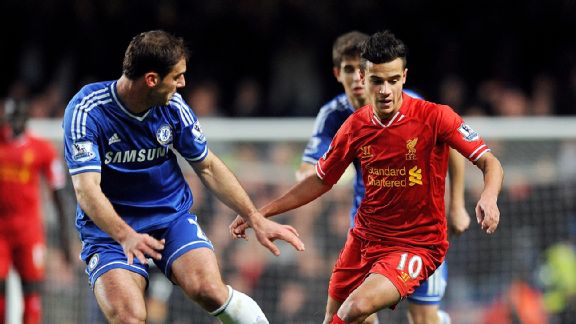 Andrew Powell/Liverpool FC/Getty ImagesLiverpool should vie for a top four spot but Philippe Coutinho must score more.
4. Will Liverpool or Everton crack the top four?
The holiday period was like a grab bag for Liverpool Football Club, only the pickings were mixed. Two comfortable home wins against lower-tier opposition book-ended the frustration of going one goal up against Manchester City and Chelsea only to lose both games. For Liverpool fans, the holiday season was a roller coaster in which they savored top spot over Christmas only to find themselves in a Europa League place by New Year's Eve.

Meanwhile, Roberto Martinez's Everton had to rely on a late penalty handed to them by Stoke's self-destructive Jermaine Pennant, whose 18-minute cameo was among the most startlingly implosive performances I have ever witnessed. As immense as Roberto Martinez and Co. have been when battling Manchester United and Arsenal, they have struggled to find a cutting edge against bottom feeding clubs, especially those in red and white stripes.

An all-Merseyside dogfight for fourth place would be some spectacle. It is currently Liverpool's to lose. While their ever-changing defensive line-up has been brittle -- contributing to a brief dip in Simon Mignolet's impressive form -- their pirouetting passing game has been a visual delight in the final third. Luis Suarez continues to break the statistic for most breathtaking statistics -- 15 goals in seven home games this season! 20 Premier League goals in the fewest appearances (15)! Scoring a goal every 67 minutes! -- yet the team has struggled to find a second sustainable source of goals in Daniel Sturridge's absence.

Philippe Coutinho has been the worst offender. Inventive though he may be, his decision-making in front of goal has been as good as the kind he exercises in the barber's chair. The Brazilian has lined up 59 shots -- fourth most in the Premier League -- and scored just twice.

5. New managers, big difference?
With three wins and a draw, Tim Sherwood appears to have revitalized his new charges at Tottenham. Emmanuel Adebayor, in particular, seems born again. Andre Villas-Boas' firing has had the effect of a goal-scoring laxative for the Togolese striker.

The quality of Spurs' holiday opposition -- a faltering Southampton, managerless West Brom, Stoke City and, the cruel-hearted would add, David Moyes' United -- suggests that better teams may yet lacerate that gung-ho backline in the same way Liverpool did. It may be wise to wait until the end of January before deciding whether we have merely witnessed a "new manager bounce" or if "Tim Sherwood" is truly how you say "Rinus Michels" in Cockney.

Witnessing the still fresh-faced Ole Gunnar Solskjaer in the director's box alongside new boss Vincent Tan was one of the more unexpected sights of the holiday period. A no-nonsense man in a land where there is only nonsense. For the Norwegian to save Cardiff from relegation may be one of the feats of the season, as it means he will have succeeded in downgrading the leather-gloved Tan from villainous self-harmer to mere "eccentric owner."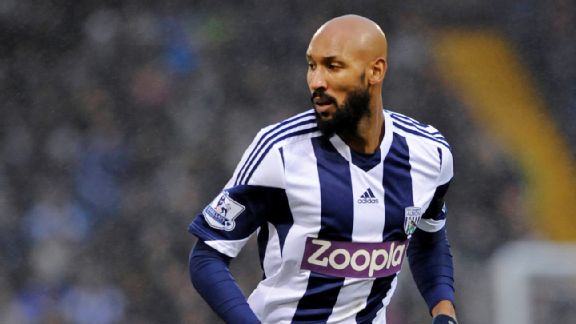 Olly Greenwood/AFP/Getty ImagesWest Brom shamed themselves by keeping Nicolas Anelka in the line-up.
6. Why did Nicolas Anelka start on New Year's Day?
In the immediate aftermath of Nicolas Anelka's controversial "quenelle" goal celebration, West Brom's caretaker-manager Keith Downing embarrassed himself and the club by declaring that his striker "didn't mean to cause offence" feigning a mastery of European cultural politics he clearly did not possess.

The slew of cogently written pieces that quickly hit the English press should have provided the club with a complete sense of both their manager's mistake and the gravity of the situation they were mired in. By failing to discipline and suspend their player proactively ahead of the Football Association's sure-to-come ban, they reinforced the ignorance of their original error and further sullied their "family club" brand.

7. Should there be so much football over the holiday period?
Watching 10 percent of the Premier League campaign unfold with each team playing four games in 11 days, exhausted athletes battled breathlessly and sloppily in the wind and the rain, made for great theater but bad football.

Yet the uptick in strains and injuries that resulted may prove to have an even greater impact on the final table. I adore watching the Premier League, but playing one fewer game over the holiday window could ultimately result in a more sporting outcome. Some will say the holiday football program is a tradition. So was bear-baiting and cockfighting, both of which we are better off without in the present day.