Everton fans are familiar with Moyes' methods
15 league games into David Moyes' transition from Everton to Manchester United, the Scot has firmly established himself as football's most artful reverse alchemist: a man perceived as a master of turning gold into base metal or, in his case, a squad which won the league by 11 points last season into a mediocre, ninth-placed outfit which now sits 13 points back of leaders, Arsenal.

United's recent performances have been so insipid that their fans' signature chant -- "Come on David Moyes, play Like Fergie's Boys. We'll go wild, wild, wild!" -- sounds sufficiently ironic to have been composed by "Weird Al" Yankovic.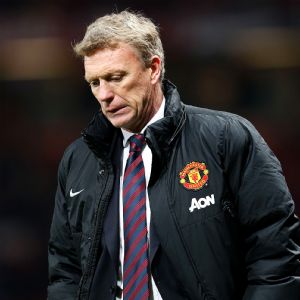 Matthew Peters/Man Utd/Getty ImagesMoyes has faced more than a few difficulties in his early months at Old Trafford.
On the sidelines, Moyes has aged 20 years before our eyes as he grapples with the gargantuan task of freshening a mixed squad that has more global sponsors than world-class players, painfully aware that Mr. Potato, the club's "Official Savory Snack Partner," did not sign on to associate with a club that is closer to Hull, Stoke and Norwich than the top four.

After last weekend's limp home surrender to Newcastle, the manager was forced to endure a litany of humiliations.

A cascade of boos rang out at Old Trafford, causing a beaming Alan Pardew to josh about "poor old United" in his post-match comments.

In defeat, Adnan Januzaj conjured United's few rare moments of quality during an otherwise grey performance, the team's search for consistency undermined by defensive and midfield rotation without apparent rationale.

"I take complete responsibility for the results," Moyes admitted before perplexingly insisting that the insipid defeat "raised my spirits." The only fans he seemed to be pleasing were of the shirtless Newcastle variety.

A faction of United fans are already beginning to wonder if Moyes' true value will be to act as a sacrificial buffer between the legend no one truly wanted to follow, Sir Alex Ferguson, and the next long-term Old Trafford manager to arrive with his own vision, ideas and direction.

Others are attempting to adapt to their harsh new reality, wondering how Everton fans, who followed a Moyes-managed team for nearly 11 years, found pleasure in a team imbued with the Scot's philosophy.

I can vouch that there was pleasure to be found. In stark contrast to the optimistic daring displayed by Roberto Martinez's current team, Moyes' Everton offered an austere gratification, like that offered by a scavenged feast in a time of war-rationing.

As a charitable service to suffering United fans, I have conferred with a few of my fellow Everton followers to serve up a few familiar rules of thumb. The satisfaction they offered was, I will admit, a peculiar one, derived mostly from their repetition, familiarity, and a sense of known comfort.

1. Conservatism first, second and third
Like an Italian manager in the 1980s, Moyes often set out "not to lose" rather than to win and the stands at Goodison Park would often groan as the-then Everton manager opted to field just one striker at home.

Away, the team would often adapt a deep-lying "not in the face" formation. Substitutions were anathema and attacking changes were rarely made unless the game was long gone.

2. Form is temporary, favoritism is permanent
Like any manager, Moyes had his good and bad books, yet it was almost impossible to move from one to the other. Favourites like Leon Osman, for example, were always selected irrespective of form or fitness.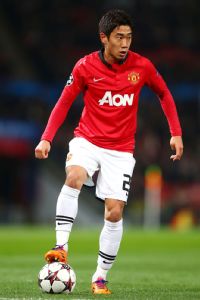 Michael Steele/Getty ImagesWhat's Shinji eating? The Japanese midfielder missed the Newcastle game after appetite-related complications.
Moyes is a man who has an indefatigable faith in men he can understand. This has already been seen at United, where those less savoured are revealed to have missed games due to stomach pumping necessitated by overeating.

3. Spirit and tenacity trump tactics
Moyes' Everton teams were often tactically rudimentary but their collective spirit could never be questioned. His players were rarely world-class on the ball but would run toward it and around it with more passion than most opponents.

Journeyman Marcus Bent was the prototypical Everton player. The athletic lone-striker compensated for his limited talents by running from the first whistle like a German Shepherd dog unleashed upon reaching the park.

4. Few surprises
As Moyes' sparse Everton record against Manchester United -- four wins, five draws, 15 losses -- and Liverpool -- four wins, eight draws, 13 losses -- attests, his club were rarely able to muster the kind of results that his successor, Martinez, has already achieved. Everton fans were better acquainted than most with the sadistic pleasure of toiling endeavour culminating in valiant defeat.

Perhaps the most disturbing change in Moyes, from an Everton fan's perspective, has been in his post-game interviews in the wake of narrow defeats.

The bulging eye fury or forthright righteous anger to which we had become accustomed has been replaced by general befuddlement.

Despite his elevated status, resources and expectations, David Moyes' first campaign as Manchester United manager may ape the arc and approach of his Everton experience:

"First, let's get to 40 points, then we'll see what happens."