Super-positive Martinez unfazed by Merseyside battle
I have never been privy to a definitive list of the world's most positive human beings, but I would bet my last bitcoin that Roberto Martinez would vie for top place against Ellen DeGeneres and Kenneth from "30 Rock."

When I sat down with the Everton manager on a misty day at the club's training ground, Finch Farm, no matter what subject matter I broached -- be it economic disparity in the Premier League, the upcoming transfer window, Leighton Baines' future with the club or this Saturday's finely poised derby clash against Liverpool -- his supply of earnest optimism appeared inexhaustible. This season will be an exercise in exploring where that optimism sits on the thin line between fearlessness and naivete.

Merseyside derby coverage:
- Brewin: A rivalry reborn
- Watch: How will they line up?
- Walsh: A manager's match

Take this exchange, for example: Challenged to put a percentage chance on Baines staying at Everton beyond the January transfer window, the Catalan retorts cheerfully, "That's like asking me what is the percentage tomorrow to have rain in England ..."

"Everyone knows it's going to be rainy," I interrupt with the surety of a man who had been soaked on every day of his visit to Liverpool.

"No, we've got a sunny day here tomorrow," he prophesizes, beaming with a confidence that makes me wonder whether the meteorology is a coded hint Baines will be going nowhere. Those who believe in omens might like to know: The region was hit by intermittent storms the following day.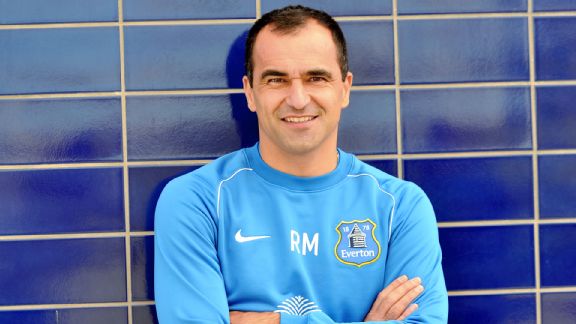 Paul Ellis/Getty ImagesRoberto Martinez has kept Everton apace with the Prem's biggest clubs thanks to his bright, optimistic approach.

Irrespective, the Everton manager's positive glow is sufficient to make one wonder if he is a unique Premier League coach given his lack of a dark, hard side. "Depends what you call a hard side," he responds when asked. "You need to be demanding ... and to have strong values in terms of discipline and hitting good levels of performance," he explains, articulating his professional philosophy. "Football, the way I see it, is about aspiration."

Martinez has certainly given Everton fans plenty to aspire to during the five-and-a-half months he has been at the club. In this opening third of this season, he has kept his team apace in the race for Champions League qualification, a feat achieved by David Moyes just once in his 11 years at the club.

"The start we have had with just one defeat -- you can't get any better that that," he says. "Credit goes to the players ... The way they wanted to open up and listen to different ways of working. It was important I could change as many things as I could without losing anything. That is what I have been able to do."

Yet even for a man with Martinez's buoyancy, a loss in this weekend's derby would be deflating -- and not just because Everton have experienced two frustrating goalless draws in a row and with clashes against Moyes' United and league pacesetters Arsenal forthcoming. Even though this is Martinez's first derby in charge at Goodison Park, he knows it is much more than a game.

"These are two football clubs with incredible history and passion that are both geographically in the same city with both sets of fans mixing every day at work, and even families that are divided. The result means so much more than three points. You only have to walk on the street to know it really has a massive effect on people's lives."

The game also has a personal edge as Martinez will face Brendan Rodgers, a young tactician whose career has been intertwined with his own.

"We've got a lot of closeness because when I left Swansea City, he took over after Paulo Sousa, so obviously he took on a team that I started and we share certain football concepts and beliefs." Asked if he and Rodgers communicate much, Martinez admits: "Not really no. Not as much as we have done in the past." Yet he is quick to profess that "two young managers trying to bring different ideas into very old passionate football clubs ... is great for the city of Liverpool in general."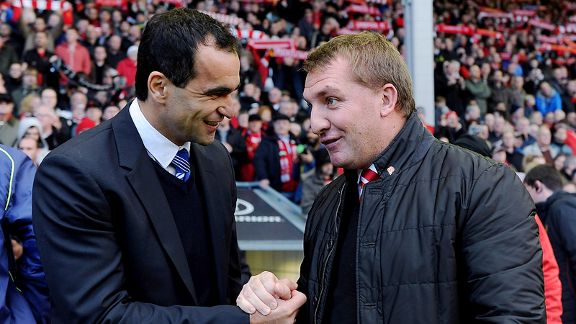 John Powell/Liverpool FC/Getty ImagesRoberto Martinez and Liverpool's Brendan Rodgers have a strained rapport but the Spaniard sees their work on Merseyside as nothing but a good thing.

I ask Martinez for the key metric he obsesses about to monitor his team's evolution. "The biggest one is probably final third entries and how many of those end up in the penalty [area.]" Martinez is known to be such a data addict -- Romelu Lukaku recently referred to him admiringly as a "Football Freak" -- and he will be well aware that the number of passes his team are completing into the penalty area is down 45 percent on last season. "In football it is very easy to get into the final third without control," he admits. "The hardest thing is to arrive in the final third and have control of the ball which allows you to create and opportunity."

With Luis Suarez and Daniel Sturridge netting 76 percent of Liverpool's league goals (16 of 21) this season, Martinez suggests that his tactical preoccupation is "not a big secret."

"[Liverpool] rely on that partnership massively ... but they are difficult to stop in terms of their mobility and ability to link, but you need to remember Liverpool are a top team in terms of the investment they have made in their players so it would be a big mistake to only concentrate on those two."

Perhaps intentionally, Martinez has segued from tactics to financials, a symbol that it is economics and not opponents that present Everton with their greatest challenge this season. "You've got six teams in the Premier League working with huge budgets," he admits with a hint of remorse. "I think when you spend the money they've been spending, they should be expected to finish top six."

Is this economic disparity so overwhelming that a top four place is beyond Everton's reach this season?

"It is going to be very, very difficult," Martinez admits. For a minute, it seems I have finally reached the outer limits of even his optimism. The small room we are in falls silent for a beat, but like a piano player retaking the keyboard while the smoke from a gunfight still hangs in a Western movie, the manager quickly re-summons his positivity. "We want to use the passion, the history and the support our fans give us to give us an edge in every games we play into."

And with that, the Everton manager is beaming once more. "That's something unique that makes us different. That is what will use to our advantage."