Exclusive interview: Daniel Sturridge on his Chelsea struggles and Liverpool renaissance
This is the third in a three-part feature about Liverpool's attempts to get back to the top of the Premier League. The author, Roger Bennett, talked one-on-one with the club's manager Brendan Rodgers, veteran icon Steven Gerrard and up-and-coming star Daniel Sturridge.

Here, Sturridge discusses his frustrating time at Chelsea, his renaissance at Liverpool and why he's not a selfish, cash-hungry player.

LIVERPOOL -- Rarely has a move transformed a player's off-field persona like Daniel Sturridge's January 2013 transfer from Chelsea to Liverpool. Since heading up north, the 24 year-old has notched 18 league goals in 22 games -- ebullient form born of a confidence which is self-evident as he bounds into the room to meet me. Counter to his popular image as a sullen, temperamental talent, Sturridge is effusive in person, eager to talk about his growing love of the NBA and the Miami Heat. "LeBron's the star," he says. "Everybody knows he's the best, but Mario Chalmers, the way he passes the ball, it's almost like [Philippe] Coutinho."

Yet when the striker is asked to explain what has suddenly gone so right for him after an early career filled with promise, frustration, potential and poor decision-making, even he finds his last year difficult to comprehend. "I don't even really know," he says with a grin. "The manager has shown faith in me to give me an opportunity on the field in the position that I've always played in … I've got faith in God. I pray a lot and I'm just focused totally on my job and I'm enjoying it. I'm playing with a smile on my face."

Merseyside derby coverage:
- Brewin: A rivalry reborn
- Miller: Top tenner
- Watch: How will they line up?

Sturridge bristles when it is suggested the lack of Champions League pressure at Liverpool may have played a role in his resurgence. "Definitely not," he says. "This club is more of a pressure cooker than Chelsea. [There] we were challenging for titles and the expectation from the fans and a lot of expensive players get bought and your fighting for your place. But I think as a club, [Liverpool] is bigger -- the history of the club and the way the fans want success."

After failing to break through at Manchester City and being discarded by Chelsea, I wonder if his recent on-field success brings a sense of vindication along with it. "Definitely not, because I've always believed in myself. I never worry what other people think," he says. "A lot of people have opinions when they've never met somebody before … Anybody who meets me understands [that] I'm normal. I'm no celebrity or anything like that. I just do my job and when I'm on the street, I'm the same as anybody else."

Sturridge's words are no empty boast. He recently took London's Tube to watch an NFL game at Wembley and I later encounter him, strolling around Liverpool's city center unrecognized. In person, the England international is warm, engaged and humble. How does he understand the reputation that has dogged his career as a cash hungry, selfish, arrogant athlete at worst, or thanks to his goal celebration, an awkward dancer at best? "The selfish thing -- people at Chelsea have an opinion - and everyone's entitled to their opinion, but for me I was never given an opportunity there ... I'm only on for five minutes, I've got to try and do something. I've got to try and shoot."

Most footballers would stop there, but Sturridge has only just begun. "People have an opinion of me, [saying] 'Daniel Sturridge this, Daniel Sturridge,' and that and I'm selfish and this and that, but for me I've always tried to help the team win games and here at Liverpool I always try and sit on my opponents and I'm not a selfish player. I'm not a selfish person. People who meet me here and management understand exactly where I'm coming from."




I'm not a selfish player. I'm not a selfish person. People who meet me here and management understand exactly where I'm coming from. -- Daniel Sturrdige




The player jumps at the chance to describe himself as he really is. "If you see me walking down the street … I'm straight-faced, but I'm literally smiling on the inside. Where I grew up [the urban area of Hockley in Birmingham] you've got to be in your shell. You couldn't really be friendly with people that you don't know because you never know what could happen," he says. "People think this guy looks like he's angry. This guy looks like he doesn't want to talk to people. But it's just because of the way I've grown up. If I'm around new people I don't want to be the center of attention or be loud. But if you get to know me, I am a loud person and I am really, really talkative."

With a grimace, the player returns to his time at Chelsea and the frustration of life on football's periphery. "I didn't really get a chance to show people who I was as a person because once you have an opinion and I'm not doing interviews and I'm not playing and I'm on the bench -- it's almost like you can't do anything to change anyone's opinion."

For a second, Sturridge pauses and his warm demeanor returns, even though he cannot resist returning to the question to make one more point clear. "As for the dancing though," he says, "if you see me in a nightclub, that [goal-celebration] dance move is not coming out. U.S. fans, let me tell you right now I'm not that bad of a dancer. Don't do me like that. That's all I'm going to say."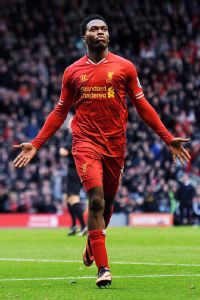 Andrew Powell/Liverpool FC/Getty ImagesSturridge has eight goals in 11 league games this season.
Sturridge is effusive about the role manager Brendan Rodgers has played in actualizing his potential. "Because I respect him so much, I listen to him and I think he understands there's more to come from me, and I should not be content with the success I'm having at the moment."

Rodgers later tells me he had no doubts about investing $19.2 million in a then unpolished diamond. "Dan can score all types of goals. He's got power, he's got pace," Rodgers says. "Two good feet. [He] needs to improve his heading. But that's something that we're working on. I saw a young player needing games and wanting to play … We gave him the platform to play and to work hard and to focus so he can score goals and that's something that's proven in his time here."

Sturridge lights up at the prospect of this weekend's derby clash against neighbors Everton. "There's no comparison [to this rivalry]" he declares. "I'm in a [supermarket] the other day -- Tesco's -- and the cashier says, 'I'm not going to serve you if you score.' And I say, 'You're joking, right?' and he says 'No.' It just shows they take it to the next level of seriousness when it comes to this game. Restaurant guys tell me they will not serve me food. Instead they will send me packing, to which I'm like, 'Fair play.' "

Sturridge, who faces a fight to be fit for the Goodison Park clash, will willingly go without groceries and restaurant service if it means his team win. "God willing, it's going to be red shirts that will be worn around the city the next day as Liverpool fans are proud of us getting a victory."