Exclusive interview: Steven Gerrard on Liverpool, Suarez and the title chase
This is the second in a three-part feature about Liverpool's attempts to get back to the top of the Premier League. The author, Roger Bennett, talked one-on-one with the club's manager Brendan Rodgers, veteran icon Steven Gerrard and up-and-coming star Daniel Sturridge. Here, Gerrard discusses his hopes on winning a league title before he finally hangs up his boots as well as Rodgers' plans to transform the club.

LIVERPOOL, England -- There is one question every Liverpool fan harbors when it comes to Steven Gerrard: How long does the 33 year-old believe he can keep performing at peak level?

The veteran smiles softly as I ask him. "I'm feeling fit and strong and I can play for this season, certainly one more. That's how long my contract lasts," Gerrard says, "but I'm feeling as good as ever physically. I'm repeating games. I'm injury free. I'm enjoying my football. If that continues, I'll keep playing."

That fitness and strength remains evident to all. I watch the team train on a wet Wednesday morning when the air is so damp, the English Premier League could not feel less glamorous. An icy chill penetrates even the thickest Warrior overcoat on display. The squad jog through an eleven on eleven game with miniature goals, but the Liverpool captain runs full-bore. As he charges through the middle and then effortlessly releases a 40-yard through-ball with pinpoint accuracy, it is clear he is a man whose competitive spirit could not burn brighter.

ESPN FC's Liverpool FC exclusives:
- Bennett: Brendan Rodgers interview
- Video: Rodgers on Luis Suarez
- Watch: Rodgers on his vision for the club

The Liverpool and England captain admits that the post-career decision between coaching and punditry "crosses my mind all the time." Yet when I read a line from his 2007 autobiography in which he declares that "seeing the opposition with the ball makes me sick" and I wonder if that visceral emotion has mellowed with age, Gerrard responds without hesitation. "I think the feelings become stronger the older you get," he says. "When you know your time is limited in your career, you want to make the most of it."

Despite topping 100 Premier League goals, earning 107 England caps and lifting the Champions League trophy, Gerrard is still hungry. If he could change one thing about his career, what would it be? "To have a league winner's medal, of course," he says. "We came so close under Rafa Benitez (in 2008-09). We drew a couple of games I think we should have won. That's a couple of regrets I have looking back, but I am one who looks forward."

With Liverpool currently second in the table ahead of this Saturday's highly charged visit to neighbors Everton, might Gerrard have a lot to look forward to once more? The Liverpudlian admits that something feels different about this season. "We're slightly ahead of where we thought we'd be, but it's a tough league and there's six or seven teams capable of finishing in the top four... so there's [going to be] a huge fight," he says. "But the confidence and belief are definitely there."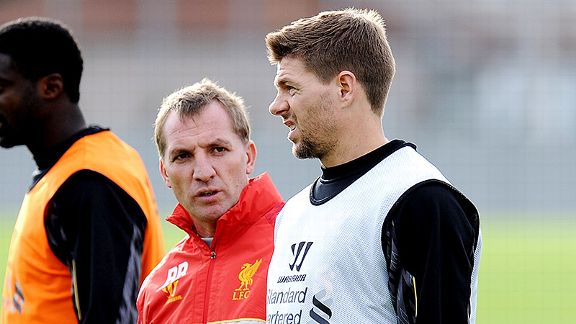 John Powell/Getty ImagesRodgers is the fifth manager with whom Gerrard has worked at Anfield.
Gerrard credits the changes Brendan Rodgers has engineered in just his second year managing the team. "It's a huge job at Liverpool -– it's a huge club –- and he came in with little experience, but I think he has done a wonderful job," the midfielder says. "Most important, he has changed the way we play... to pass the ball out of the back.

"He doesn't have a Plan B," Gerrard adds. "Unlike previous managers, Brendan wants perfection with Plan A."

Liverpool are most definitely changing, yet it is a race against time for them to complete the process while Gerrard is still a force. When I ask how long the captain believes it will take for Rodgers' transformation to occur, the man who joined the Liverpool youth club in 1987 sounds like a lion in winter. "I don't think it will take five, six, seven years... but it will be a couple."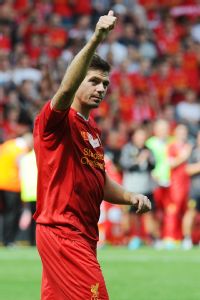 Andrew Powell/Liverpool FC/Getty ImagesGerrard scored his 100th Premier League goal in October against Newcastle.
For his part, Gerrard continues to play on with ferocity. He leads the team in passing and has created more chances over the past four seasons than any other player on the squad. Yet with Daniel Sturridge and Luis Suarez carrying the goal-scoring load, he admits that his role has changed.

"When we've got both of them in the team, we play with more discipline and a bit more defensively... it's important all the players aren't gung-ho and don't take huge risks for the team."

There is no doubt in his mind the self-sacrifice is worth it. When asked if Suarez is the most talented teammate he has played with, Gerrard does not hesitate. "Yeah. Simple. He's out on his own," he deadpans.

During the last transfer window, Gerrard admitted he lived with the fear Suarez would defect to Arsenal on a daily basis. "When you're playing at Luis' level, it's always normal you're going to get lots of attention. And all the big clubs are going to try and prise you away from Liverpool. I've experienced it myself," he says with an eerie sense of calm. "January will be different because I think Luis is content here. I think he's pleased with the decision he's made to stay around. He's in good form. The team are playing well. So I think January won't be a problem, but I think come the summer depending on how Liverpool's season has gone will depend on what goes through Luis' mind."

While Gerrard talks about Suarez he sounds like an optimist, but when I ask if the title is there for the taking, the veteran pivots. "I think it's important for me as captain of the team not to raise expectations. When you're talking about winning titles, it's premature, it's too early. And I don't want to get anyone's hopes up. That would be unfair. Our dream and our plan at the beginning of the season was to break into the top four."

How central, I wonder, is Suarez to that Champions League dream. "Key," Gerrard says. "His goals and his performances and his form will be the key whether we finish in the top four or not."

At his core, Gerrard is an intensely competitive man. How much would it irritate him to retire without ever winning a Premier League medal? "There'd be a hole missing in my career but I don't think I'd spend the rest of my life being irritated or annoyed or frustrated," he says. "I don't think that would be fair on myself. [Ever since] I broke into this team at 18 years of age I've tried to win the title but it hasn't happened. I've got a couple more chances and I'll continue to fight for it."