Exclusive interview: Rodgers on LFC's title quest, Suarez and the infamous envelopes
This is the first in a three-part feature about Liverpool's attempts to get back to the top of the Premier League. The author, Roger Bennett, talked one-on-one with the club's manager, Brendan Rodgers, veteran icon Steven Gerrard and up-and-coming star Daniel Sturridge. Here, Rodgers discusses with ESPN FC how Liverpool will regain their once lofty position in English football ahead of the Merseyside derby.

LIVERPOOL -- Brendan Rodgers is a man who oozes confidence. The Liverpool manager is slighter in person than he appears when clad head to toe in black on the Premier League touchline, yet he still makes an instant impression. As he walks into the room, the combination of his leadership and charisma is as overwhelming as cologne. This is a man who commands respect through a soft-spoken intensity and thoughtfulness that are in stark contrast to the giddy image promulgated last season by the cult fly-on-the-wall documentary "Being: Liverpool."

I had spent the morning watching Rodgers whip his squad through training on a frigid, damp morning at Melwood, the club's modest practice facility in West Derby, Liverpool. Bill Shankly and Bob Paisley had once trained their title-winning teams on those compact fields, where neighboring homes are packed so closely around the walls, one player's wayward shot smashed an upstairs window. Amidst the shouts of the players, a distant police siren and a local church bell, Rodgers' whistles ring out. He is a man clearly reveling in the challenge of balancing big vision and pragmatic reality to restore Liverpool to the apex of English football.

- Watch: Rodgers' vision for Liverpool

Though Liverpool have not cracked the top four since 2009, Rodgers' team currently occupy second place ahead of Saturday's derby with Everton, a game the manager expects will be played with a "real ferocious intensity." Yet good though his squad's results have been, the manager admits their performances have lacked consistency. Asked to give a reality check on his team's progress, the 40-year-old is candid.

"For us to be up there in that top four with improvements still to be made can be classed as a good start," Rodgers says with a slight smile.

Does that mean he believes his team can win the title? "You don't set out to finish fourth or third. You always set out to win," he replies gruffly, before adding a tone of expectations management. "You have to be realistic, as well. It's unprecedented for any team to go from eighth or seventh to go and win the league. That doesn't stop us fighting to arrive there."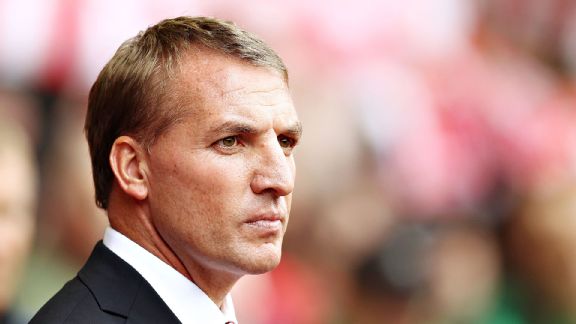 AP PhotoBrendan Rodgers has guided Liverpool to second place in the Premier League.

The Northern Irishman admits to the existence of a gap between his squad and pacesetters, Arsenal. "[They] have got their philosophy and understanding of how they work that has been in place for 15 years," he says. "So we're playing catch-up. We're looking to introduce our identity to the team. It's going to take a bit of time." Rodgers sighs. "I think it's an exciting thought that we haven't got near our full potential yet but we've collected the points."

Rodgers appears at his most comfortable when describing his own methodology. "All I ever try to do with any player I work with is to try and make them the best -- to get them to become a 'learner,'" he says.

The message he gives to his players is simple, yet profound. "Ultimately the crown is in their hands," he says. "They are the king of their destiny ... we have a plan and if they are committed to the cause, they have a greater chance of delivering excellence in performance."

The 16-goal partnership in the league between Daniel Sturridge and Luis Suarez is a case in point, yet Rodgers is eager to paint their productivity as a collective effort. "They've done very well but they're not the team," he says. "To win the game, there's got to be a team ethos. That will win us the league eventually." Perhaps subconsciously, the coach quickly adds, "or another prize."


"Some of the things [Suarez] has done, he knows was wrong. Some of them have been really testing situations as a manager." -- Brendan Rodgers


Rodgers is willing to admit he has learned a lot from managing the temperamental Uruguayan. "Some of the things [Suarez] has done, he knows was wrong," Rodgers says. "Some of them have been really testing situations as a manager ... there's been some challenging moments. Seventeen months on as I sit here, I'm a much better manager for that experience."

The coach believes he is not the only one who has changed, as Suarez has improved his strike rate in front of goal from 7.3 percent goals-to-shots in his first season to a blistering 22 percent during this campaign. "Over time Luis is maturing," Rodgers says. "He's a more responsible player since he's come back onto the field. That won't stop his desire or his will to win. It's something that if we have more throughout the squad, we'll continue to do very well."

Rodgers is confident Suarez will remain a Liverpool player once the January transfer window closes. "I believe so," he says, suggesting the hard-line stance the club took with their want-away star over the summer delivered a message. "There's no club that is bigger than Liverpool ... I think Luis now respects that decision because he's very happy here, and improving all the time." The manager reveals the club have no agreement with Suarez as to what should happen if they do not crack the top four this season. "There is nothing in place," he says. "[Suarez] is very important but it's the team that will get us there, not one player."

This collective value is reinforced by Rodgers' final word on the matter. "For me, Luis Suarez is as important as maybe the guy who is 13th or 14th man," he says, "because he's the guy that pushes every day to be the best he can and that helps everyone else. Luis is very important but the most important thing for me is to protect the team ethos."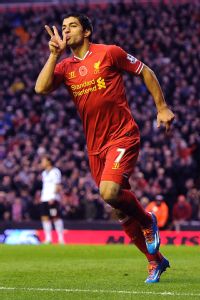 John Powell/Liverpool FC/Getty ImagesSince returning from suspension, Luis Suarez has scored eight goals in six Premier League games.

On the "Buy Side," Rodgers admits he and John Henry and Tom Werner, the club's American owners, have not yet determined how much they will have to spend in January. He smiles as I remind him of Sir Alex Ferguson's recent comments that his team is eight players away from being serious title contenders but equivocates when asked to suggest a more realistic number. "We've supported the squad, we've brought in some quality players, we've brought in some players as cover," he says. "The next stage for us is to bring in players who are better than what we have."

The trials of last summer's transfer window still linger in the memory as the team courted Henrikh Mkhitaryan, Diego Costa and Willian to no avail, yet Rodgers would not be deterred. "If we are looking for a top player we have to convince them to come and be part of the project here, which I believe is the most exciting project around -- getting Liverpool back to the top," he says. "A lot of those players do want to play Champions League football and we have lost players purely because of that, but it makes me even more determined to get back to that level in order to keep the level of players improving."

I risk ruining the mood by broaching the doomsday scenario in which Liverpool miss out on Champions League football once more this season. Rodgers is realistic. "I signed a contract here for three years and the plan was for Liverpool to break into the Champions League in that time," he says. "Last year we finished seventh. I would expect this year to be better."

The manager refuses to believe there is a financial glass ceiling in a league populated by oligarchs and oil sheiks. "We can't click our fingers and arrive like the Manchester Citys and Chelseas," he says with a pugnacious relish. "We're trying to do it in a different way -- developing players, improving players ... improving the value of the club." Juergen Klopp's Dortmund provide his model. "They went on a run in five years to get back to the heights ... obviously we're in England but we're looking at a similar timeline," he says. "Whether that's in my time or not, I will do my best."

Rodgers clearly relishes in his partnership with the club's American owners, calling their leadership philosophy a "fusion between realistic expectations but also wanting to be successful." I wonder if the Boston Red Sox's recent World Series triumph energized the Anfield side of operations or placed the pressure of expectation on the club. "I think it acts as an inspiration," Rodgers says. "Four years ago, Liverpool was nearly going into administration, which for a club of this status is barely thinkable. I told [Werner and Henry] when they won the World Series, I was very proud to be part of their organization ... because they've shown they are winners."

Talking "matters American" conjures memories of "Being: Liverpool." I admit to Rodgers that his reflective demeanor contradicts the more colorful persona he projected in that series. When asked what he learned about himself by watching the show, the manager grimaces. "I didn't like it ... I'm a very private person," he says. "I know it was great for the American supporters to see, but my own personal feeling is I don't like being intruded on and for people to see my private life."

Rodgers' discomfort is palpable yet broaching the cult series has given me the opportunity to ask the one question American football fans long to pose above all others. The manager knows what is coming and sits back in his seat as I broach the infamous preseason motivational speech in which he brandished three envelopes before his squad, proclaiming they contained the names of the three players he knew would let him down in the season ahead.

"Which names were in the envelopes?" I ask.

"There were no names," he says with a wry chuckle. "There were no names."