Giroud or Suarez: Whom would you pick?
As anyone who grew up playing soccer on a schoolyard can tell you, the best teams are selected in the same simple yet crude way: Two captains are crowned out of a gaggle of sweaty, excited kids. They quickly select their teams, one player at a time, in a fast-paced mini-draft. Game-changing goal scorers are snapped up instantly while the more cumbersome players who have only enthusiasm to offer are left to linger.

This image comes to mind as Arsenal prepare to host Liverpool on Saturday (1:30 p.m. ET). The match is ostensibly a clash between two of the Premier League's heritage brands, both eager to reinforce the sincerity of their present-day title pretensions. Yet it is also a footballing dance-off between two of the most born-again strikers in the Premier League -- the ruggedly handsome Olivier Giroud and the lethally caddish Luis Suarez -- who will battle to win center stage on the same field.

In an unpredictable season that has seen narrative threads flipped on a weekly basis, their hunger and production -- along with Manchester City's Kun Aguero and Man United's Wayne Rooney -- have stood out for their consistency as well as potency. Decoding which star is best equipped to build a team around may be the definitive story of the campaign. Simply put, if you were back on the schoolyard, which dominant player would you take with your first pick?

Suarez's impact has been the most devastating considering that the controversial striker was banned for the first six games of the season after burying his teeth into Branislav Ivanovic. Yet Uruguay's most prominent vaudevillian has returned with a vengeance, netting six times in his past four league games. His play continues to be a mixtape of shock and awe, conjuring unpredictable, avant-garde goals one minute and flinging himself to the turf after a phantom foul the next, yet Brendan Rodgers has seen enough to coo his striker is a changed man in terms of "football ability and maturity."

- SportsNation: Which striker would you pick?
- Cox: Gunners' defense to be tested
- Brewin: Strike pairings back in style
- Dall: Prem Spotlight
- Walsh: Much ado about Agger
- Story: Wenger coy over Suarez bids
- Nicol: LFC could hit top four
- Watch: How will they line up?

Suarez has certainly displayed the delicate touch and ferocious urgency of a man on a mission. His career has been perpetually stained by the scandal of racism, handballs, handshakes and casual cannibalism. A clumsy attempt to decamp in the offseason -- during which he was linked with a 40,000,001 pound bid by Arsenal -- was followed by a U-turn and accompanied by the brazen announcement he would stay for "all of the people's affection."

That claim seemed ironic in August, but with hindsight, it was clearly an act of sporting prophecy, like Babe Ruth pointing to the bleachers before hitting a home run. The poetic hat trick he netted last week against a stunned West Brom -- the delicacy of the first goal in which he humiliated the nutmegged Jonas Olsson contrasted with the artful violence of the second, a long-range, tungsten-necked header -- has made Liverpool fans re-embrace their rogue hero once again.

Some credit for Suarez's resurgence must go to Liverpool's American owners. When their star agitated to leave, John Henry and Tom Werner took a high-risk, hard-line stance, demanding he maintain his professionalism rather than leap into the arms of a top-four club. Back then, when Werner told me he hoped that Liverpool would quickly become Champions League caliber once more, explaining "I think that would be a day that would make our fans happy and make Luis happy," his words sounded naïve and fantastical. Three months on, Liverpool are in third, John Henry is breathlessly tweeting "Luis. Magician," and Suarez has become the Premier League's equivalent of Jaime Lannister from "Game of Thrones" -- a loathsome character who ultimately wins you over with his adroit swordsmanship.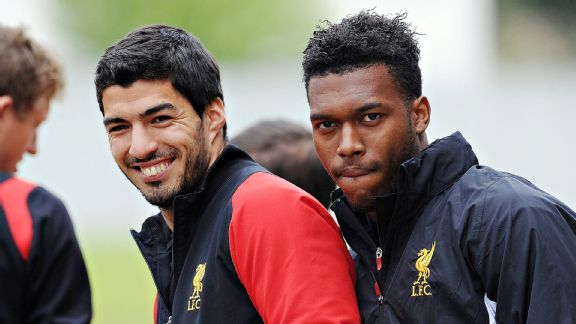 Andrew Powell/Getty ImagesDespite Olivier Giroud's impressive growth at Arsenal, Luis Suarez might have the edge given his pairing with the equally dangerous Daniel Sturridge.

Meanwhile, Giroud, the man whom Suarez would have replaced had he moved to Arsenal, has also run rampant, looking physical, technical and dashing in equal measure. (If Jean Dujardin, the Oscar-winning star of "The Artist," bore a son with Beatrice Dalle, could it look more French?)

Last season, the striker floundered, an out-of-step dancer unable to work his way into Arsenal's rhythm. This year, he appears a man reinvigorated. His fitness, relish for the game and newly forged partnership with Mesut Ozil and Aaron Ramsey have enabled him to serve a linking role that lets Arsenal's fluid passing flower around him. Witness the flick with which he sprung Jack Wilshere free to complete Arsenal's now-legendary "Alvin Ailey Dance Theater" of a team goal against Norwich.

For Giroud, a fresh, clinical touch in front of goal has accompanied his team play. Last season, he appeared a master of the fluffed easy chance, netting just 29 percent of his shots on goal. This season, that percentage has spiked to a cold-blooded 54 percent.

Aguero has been similarly ruthless, displaying the cunning of an assassin, yet his work -- 23 of 24 shots -- is performed inside the box. Rooney, who has shed his lumpen form of yore and remade himself with both club and country, has scored just four times though his withdrawn role means he has touched the ball 150 times more than Giroud (357 touches) while Aguero and Suarez have barely mustered half of his 507 touches.

Back to the theoretical schoolyard and whom you choose. The decision essentially boils down to this: Aguero is a penalty-area menace, Rooney is the hardest working man in showbiz, contributing all over the field, Giroud has either assisted or scored a remarkable 45 percent of his team's goals (nine of 20), and Suarez is the most dominant pure scorer -- albeit at a pace that will surely prove unsustainable.

The fact that Suarez interlocks so seamlessly with Daniel Sturridge may tip the scales in his favor. The 10 goals the duo has netted in just four games suggest they have the perfect harmony of Daryl Hall and John Oates. Sturridge explained that by saying their relationship is "almost telepathic," which implies that he actually knows what goes on inside Suarez's mind -- surely a heavy cross for any human to bear.

Yet if Sturridge does understand the inner workings of the Uruguayan, he will know the answer to the one question that continues to gnaw at the back of Liverpool fans' minds: Is this man on a mission motivated by the opening of January's transfer window or making their club's top-four dreams real?