How to make a good film about FIFA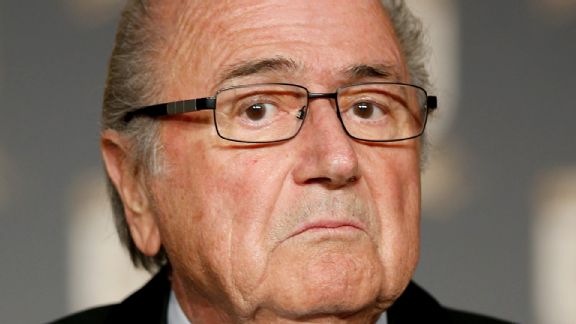 Tom Shaw/Getty ImagesSepp Blatter's plan for a FIFA film might be his most hilarious act yet.
Like many, I chuckled last week when FIFA announced a forthcoming movie, starring Gerard Depardieu and provisionally titled "F2014," that would recount the history of soccer's global governing body and be released around the 2014 World Cup.

I laughed even louder when I watched the surreal video of Sepp Blatter's awkward rendezvous with "Reservoir Dogs"' Mr. Orange, Tim Roth, an admittedly unexpected choice to portray the 77-year-old Swiss sports administrator. After meeting the hard-boiled, London-born actor, Blatter declared: "I had read a lot of the CV and all the realizations [films] that this Tim Roth has made." It's an impressive claim, one that may have made many wonder whether it was Roth's depiction of teenage serial killer Charles Starkweather in "Murder in the Heartland," his "bad ape" turn as Thade in "Planet of the Apes," or his portrayal of Abomination, a savage monster unable to regain human form in "The Incredible Hulk," that clinched him the plum role.

Yet the more I thought about the prospect over the weekend, the glummer I became. As Twitter was engulfed by quibbles about the casting -- "Jack Nicholson already captured Blatter perfectly in 'The Departed'"/"Why don't they get Eddie Murphy to play 'em all?" -- I realized if Blatter was supporting the movie, it could only be one style -- a hagiography -- an uncritical presentation of a sanitized story. A fantasy about a fantasy.

My frustration sprang from many sources, one of them artistic. The film's director, Frederic Auburtin, is a French journeyman, his selection akin to Leon Osman gaining an England cap. The prospect of his being overwhelmed by the complexity of the subject matter is all too real, and few organizations cry out for a rollicking screenplay more than FIFA, which is currently embroiled in a hat trick of controversial, corruption-tinged World Cup choices. The fast-approaching Brazil 2014 continues to engulf the nation in a degrading wave of social protests. Russia 2018 has already become besmirched by the black eyes of homophobia and racism, and Qatar 2022 hovers amid accusations of migrant worker exploitation, 122-degree heat and the need to move the whole shebang to winter -- a reality so ludicrous that even Max Bialystock and Leo Bloom would decline to produce.

- Report: Roth to play Blatter in FIFA film

Though charges of scandal, corruption and cronyism come fast and furious, FIFA sticks steadfastly and unironically to its earnest motto: "For the Game, For the World." Such an impervious entity transcends movie genres and could possibly be the muse for a whole slate of theatrical productions, ranging in tone from the slapstick comedy of "Mr. Bean" to the "follow the money" political drama of provided by "All The President's Men."

Knowing how serious FIFA is about making money, I took the liberty of seeking counsel from some of the more narrative-conscious football lovers I know, charging them with advising FIFA on a more creative -- and frankly, bankable -- formula for their movie.

Short-story writer Etgar Keret, who received the Camera d'Or at Cannes for directing "Jellyfish," suggested that FIFA consider shooting the film as a "Roman Empire cloak-and-dagger -- 'I, Claudius' style."

"There would be a lot of conspiring, eating grapes and decadence," he said. "Lars von Trier's cold, misanthropic touch would add some extra flavor."

Pulitzer Prize-winning playwright and screenplay writer David Auburn saw the movie as more of a "Serpico" or "Dog Day Afternoon." "This has to be a profane, muckraking a la 1970s-era Sidney Lumet film," he explained. "He was so good at showing how real people operate within a deeply sleazy milieu."

Writer James Frey was quick to declare that "I see this film as a comedy -- 'Seppy Boy,' with [Blatter] wining and dining, slobbering on himself, taking bribes and trying to charm young women whilst picking his nose and farting a lot. If Chris Farley were alive, he'd be perfect for the lead role," he continued. "Given that he is not, I would go after Will Ferrell and charge him with gaining 200 pounds."

Actor-writer Judah Friedlander was adamant the only treatment that would work was an elaborate Paul Verhoeven-sci-fi action flick in which "Sepp Blatter is fired at FIFA ... deported back in time to the medieval ages, where he is tortured in solitary confinement for six years, released, allowed to enjoy a moment of joy as a free man and then slowly eaten by time-travelling zombies."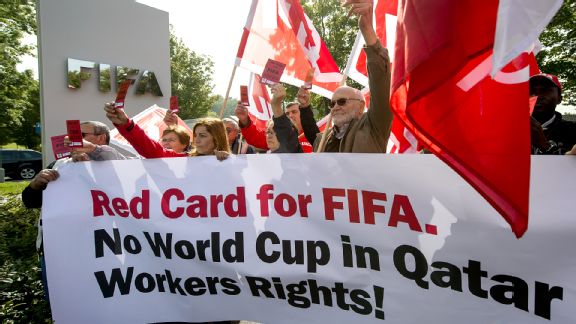 Fabrice Coffrini/Getty ImagesDespite being embroiled in protests, worldwide criticism and serious questions over leadership, we know a film about FIFA will gloss over all.

I would buy a ticket to any and all of the above. Yet I know the one kind of movie FIFA needs, it will probably never get. The sport I love is currently governed by a mysterious global entity whose 209 members outstrip even the 193 in the United Nations. It operates in a parallel universe of transparency, ethics and accountability, sweating such farce and scandal from its pores that when Secretary General Jerome Valcke blithely declared "I will say something which is crazy, but less democracy is sometimes better for organizing a World Cup," we barely blinked.

Such an organization would benefit from a great investigative documentary. An Errol Morris, a Davis Guggenheim or a Michael Moore. Yes, the BBC's current affairs unit, "Panorama," crafted a riveting 30-minute segment in 2010, titled "FIFA's Dirty Secrets." FIFA were able to fend off the production as "an embarrassment to the BBC," suggesting it was born of English frustration at losing power on the world stage even though many of the accusations have since been proved in court to be true.

Inured to any English production, FIFA needs a U.S. treatment, a "60 Minutes"-type of piece that delves into the scandals, creative accounting and culture of bribes that have a very American epicenter and that could benefit from careful consideration by a domestic audience -- one that would include the CEOs of World Cup partners Coca-Cola in Atlanta and Visa in Foster City, Calif.

Until that happens, it will largely be business as usual for FIFA, with Blatter currently mulling a fifth consecutive term. Last Friday, the FIFA president demonstrated just how omnipotent he feels, strolling into the heart of English institutional life, Oxford University, to taunt his British critics by declaring "There are those who will tell you of the supposed sordid secrets that lie deep in our Bond villain headquarters."

Building on that image of Ernst Stavro Blofeld, the evil head of SPECTRE, the administrator continued: "They would have you believe I sit in my office with a sinister grin, gently stroking the chin of an expensive, white Persian cat as my terrible sidekicks scour the earth to force countries to host the World Cup and to hand over all of their money."

Comments like these may finally reveal Blatter for what he really is. A true cinephile who can, I would bet, quote a line from Jean-Luc Godard's classic 1963 short "Le Grand Escroc" ("The Big Swindle") in which a character proclaims "Cinema is the most beautiful fraud in the world."