Jurgen Klinsmann: No guarantees for U.S. players at the World Cup
PANAMA CITY -- Jurgen Klinsmann is having a blast. To paraphrase the American Outlaws chant, his U.S. men's national team is "going to Brazil." When we meet on the eve of the final game of the Hex, the American coach is ebullient, a pulsating heart of positivity hemmed in by the concrete tower blocks of Panama City.

"We feel energized by the fact we can plan for the World Cup," he says as he takes a seat in a restaurant looming high above Panama Bay. He surveys the tankers lining patiently to enter the canal, before adding, "Yet we still have a long way to go."

As his team prepare to play Panama in their final World Cup qualifier, with the top spot and tournament qualification already locked up, Klinsmann says he has been delighted by his charges' progress. "I think the players understand more and more that this is a real process. I am pleased with their curiosity ... they are eager to understand what is waiting out there for them."

The United States' success in Brazil will depend largely on Klinsmann's ability to prepare them to answer that question. "A big part of our work going forward revolves around communication," he says, declaring the next phase of World Cup preparation to be deepening his squad's mental strength. "I try and explain to every individual player that ... they have to put the time and thoughts -- their own brainpower -- into it in order to reach another 30 or 40 percent within each of them."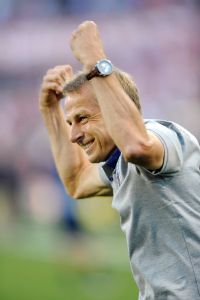 David Richard/USA TODAY SportsJurgen Klinsmann is upbeat, but he's also realistic in his expectations about the higher quality of play the U.S. will face at the World Cup.
Klinsmann talks with such enthusiasm, I wonder aloud whether this task is more fun than the German national team job he held in the run-up to the 2006 World Cup, a role in which he was second-guessed all the way up to the tournament. Klinsmann rarely pauses before answering, but he waits a beat before responding with care. "In Germany it is a bit more simple because there is only one expectation ... We say we want to win this thing," he says. "For us in the U.S., it is a growing process. We can surprise people in Brazil, [but] obviously our expectation is to get out of the group no matter who we draw. After that, we need to make the players understand it is all about mind games. Every game becomes 50-50 and will be won by the team who is better prepared and believes in themselves more."

To that end, I ask how many names he has already penciled into his squad of 23 to join him in Brazil. "We have a very good core of leaders," he says. "Two world-class goalkeepers to start with, very promising center backs that are maturing, Matt Besler and Omar Gonzalez ... experienced guys like Clarence Goodson, Geoff Cameron, who is going through his growing pains in the Premier League."

The coach suggests the squad is "building up depth at both full back positions" before continuing. "We have two leaders in central midfield in Michael Bradley and Jermaine Jones who want to peak in Brazil, and we will build other people around that with Clint Dempsey if we guide him one step after another towards that World Cup. He can be an impact player, and with Jozy [Altidore] we have another kind of player who builds that spine."

I express surprise, admitting I had imagined there would be 17 or 18 players Klinsmann already feels sure of. "We have many players who have to prove to themselves they can go to the global stage so we have a lot of question marks," he counters. "Which players understand that and take it in their own hands to go onto the global stage with confidence and with the right mindset to attack it?"

The German screams that last verb while spreading his arms wide like an osprey taking flight. "All of the players have talent, but that is not enough for the World Cup. Their talent may have gotten us there but the World Cup needs far, far more."

The coach likens the task of squad selection to "working on a puzzle. To put together 23 people ... and account for the mental dimension and squad chemistry ..." he trails off and moves his arms around wildly to mime the scramble of pieces. "Some of the players who are not in the first 11 but are guys you would rank between 18 and 23 may ultimately be the driver of the whole thing. They will be the ones who push those in the spine and give them a hit on the shoulders. We need 23 that are on the same page and that is not necessarily the best 23 players."

Klinsmann's conclusion is stark but powerful. "You don't say you have 17 or 18 names [already chosen] because you want to figure out if the players will be ready in four or five months ... because once we get into camp before the World Cup, it is going to be very demanding."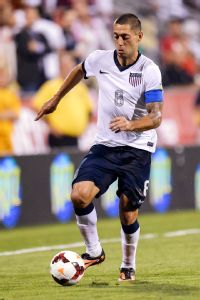 Jamie Sabau/Getty Images"Clint threw himself into a shark tank coming back [to MLS] and the expectations are above the clouds ... it is a huge process he is going through right now," Klinsmann says.
There can be no more interesting test for this threshold than Dempsey, a player whom Klinsmann publically challenged, made captain, then watched struggle upon his return to MLS. Is he guaranteed to be the U.S. captain at the World Cup? The German does not flinch. "There is no guarantee for anyone," he declares. "Clint threw himself into a shark tank coming back and the expectations are above the clouds; his own expectations are the highest, and therefore it is a huge process he is going through right now."

Klinsmann reiterates several times that he is prepared to help Dempsey in that transition. "I am very positive," he says. "He is now getting challenged in a very different way than he would be getting challenged in the Premier League because ... they have made him into the face of the league. He is not one of many in the Premier League and that is a very difficult task to deal with [because] they expect a goal every game, which is impossible because three guys jump on him. It is easier for Eddie Johnson to score the goals because he gets the space -- and we are happy for Eddie ... but guarantees for a World Cup that is seven months away ... no one has a guarantee."

The mention of Altidore elicits a similar response. "Same words -- shark tank," Klinsmann says. "You go from Holland -- your comfort zone -- into the Premier League and have to prove yourself, and Jozy is in the middle of that. He goes through a coaching change already after five games, but I am not worried about him because the five games I saw he did well. ... He won't score as many as he did for Alkmaar because it is a different league… but I am happy for his decision. I see a Jozy Altidore maturing and understanding the world at just age of just 23. I was not even a national team player at 23!"

Klinsmann succinctly details the next phase of World Cup preparation. "What we need to work on now is the mental game," he says. I broach the topic of the 2006 squad that won the Hex with three games to go and were ranked as high as fourth before a World Cup in which they failed to emerge from group play. "We get the CONCACAF thing done tomorrow night," he responds. "As much as I enjoy the learning curve of this, the Gold Cup and the Hexagonal, the reality is we are nowhere yet. The countries we will face in the World Cup are at a completely different level and our [coaching] job is to make it clear that the Belgium we meet in the World Cup will be another two notches higher than the Belgium we met in Cleveland [when the U.S. lost 4-2] so the players need to understand the pace we will play will be two notches up, and so will the physical preparation, mental preparation, and the confidence we will need to play the ball out of the back."

Exactly how big is the gap between the U.S. his team and the world's best teams? "We are not near the top 10 of the world, whatever the [FIFA rankings] tell you," Klinsmann says. "From a physical side the gap may not be that big, but to go in there and have a belief you can really challenge the big nations in a big tournament is our greatest challenge. We can only be convinced we can beat bigger football nations if we can move the back line up the field and give them an even game. It is the next step we have been talking about for the last two years," he says, jutting out his chin and shaking his head while concluding, "because I am not going to sit back."