A view to a World Cup odyssey
PANAMA CITY -- This year's Hex has felt less like the final round of CONCACAF World Cup qualifying and more akin to an epic journey to rival Homer's "Odyssey," with coach Jurgen Klinsmann playing the heroic role of Odysseus.

• McIntyre: Bedoya raising his game

In February, the team wilted against Honduras in a sweltering San Pedro Sula. The media proclaimed the sky had fallen, yet the team proceeded to defy even the most doom-laden meteorological report. They edged Costa Rica amid the snowdrifts of Denver, then navigated the smog, altitude and scorn of the Azteca. A temporary carpet in Seattle as threadbare as Wayne Rooney's hair transplant could not derail them. Nor could a 95 degree afternoon in Columbus prevent the team from racking up their ritual "Dos a Cero" scoreline.

Throw in a giddy Gold Cup detour, a 4-2 Belgian reality check, morale-boosting wins over a weakened Germany and a substitute-happy Bosnia, as well as the distractions of Carlos Bocanegra's abrupt exit, Landon Donovan's long weekend in Cambodia and Clint Dempsey's shock MLS resurfacing, and the past eight months can be truly be viewed for what they are: football's equivalent of clambering out of a piranha-infested river, swinging across a fire-pit, hanging onto "Ninja Warrior's" Salmon Ladder, and emerging for the World Cup party in Brazil as perfectly pressed as James Bond's tuxedo.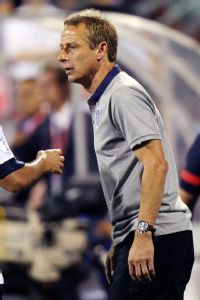 AP Photo/Jay LaPreteJurgen Klinsmann has transformed the USMNT.
Now that the smoke has cleared, the U.S. will exit the parallel universe that is CONCACAF and gird its loins to face the finest teams Europe, South America, Asia and Africa can offer. A prospect that begs a crucial question: Has the U.S. just had a great qualifying experience, or has coach Jurgen Klinsmann transformed something fundamental about American soccer in the process? Simply put: What, if anything, has changed?

From the day he was unveiled as coach in August 2011, Klinsmann has reveled while preaching a bold vision, promising to "define how a U.S. team should represent its country." At a media briefing in Washington, D.C., in April this year, he talked expansively about the contours of the change management project he had immersed himself in, promising a style of proactive football, "possession with purpose, movement, possession, front to back, and confidence in one-on-one situations, deadly at set pieces, with mentally strong players courageous enough to move out of their comfort zone."

When Klinsmann spoke, the team had just ground out a 0-0 tie in the Azteca. Though the result was admirable, it was hard to reconcile with Klinsmann's description, as the style of football on display looked more like grimly hanging on. Looking back at my notes from the D.C. meeting, I had scribbled in the margin "Simply willing myself to look like Daniel Craig does not make it so." Yet since then, the German's squad has proceeded to qualify for the World Cup with two games to go, finishing first in the Hex, winning a team-record 15 games this calendar year, and rising to 13th in FIFA's rationale-defying world rankings in the process.

As worthy as those stack of statistics appear, the 2006 World Cup experience still stings. Bruce Arena's squad clinched the Hex with three games left, and was ranked as high as fourth in the world two months before Germany 2006, yet the team failed to emerge out of the opening round of tournament. To compare and contrast Jurgen Klinsmann's squad, I sought the counsel of three players: former goalkeeper turned ESPN analyst Kasey Keller, who was a member of the 1990, 1998 and 2002 USMNT World Cup squads; classy defender Eddie Pope, who, after experiencing the 1998, 2002 and 2006 World Cups, has become director of player relations for the MLS Players Union; and current USMNT striker Jozy Altidore, who played in South Africa under Bob Bradley in 2010 and has scored four goals in eight games in this year's Hexagonal.

1. STYLE: It is not if you win, it's how you win

When asked to define the most important outcome of the Hex process, Altidore did not have to wait a beat before responding: "We have grown. A new coach has come in with new ideas. We have bought into them and jelled around them." Challenged to define those ideas, the Sunderland striker echoed much of the language Klinsmann employed in Washington, D.C. "We play the ball out of the back, force the game to be played how and where we want it to be, and force the tempo by putting pressure on our opponents." Altidore is the first to admit this has not always been easy. "It took an adjustment for us and we are not always comfortable, but our goal now is to always dictate play."

Eddie Pope concurred. "American play used to be all about 'hard work.' We would throw our bodies all over the place whether it made any sense or not," he admitted. "I see more purpose, more skill, more combinations in our play. We keep the ball better, are more refined and the players seem to like it."

Kasey Keller was more circumspect. "Early on, Jurgen placed a big demand on possession and control of the game, promising we would not only win but do so in dominating style, but there has been a pullback from that," he said. "Barcelona may be able to play whichever players they want. Bayern can always determine how they want to play, but the U.S. have to go with the players we have available and adapt the way we play accordingly, so we play a counterattacking game when the occasion calls for it, though we have seen moments where we have glimpsed the style Klinsmann talks about, like the second half against Mexico when our midfield knocked the ball wide and drove our opponents back."

Pope was able to square the circle. "There are elements we have never had before: Michael Bradley's surging runs forward gut things down the middle to start these dangerous attacks with Landon Donovan linking and Jozy putting his back to goal laying it off to guys making runs. The U.S. can beat you in more ways than just through hard work and pressing you to death," he said. "Not to take things away from past squads, but as a former player it makes me proud to see this evolution."

2. SQUAD DEPTH: Never mind the quality, feel the width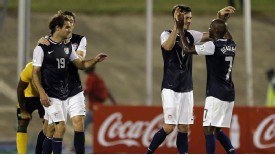 GettyImagesBrad Evans is congratulated by teammates after scoring against Jamaica.
For Pope, the biggest difference between Klinsmann's squad and the ones of previous regimes is the talent pool he has at his disposal. "We simply have not had this much depth on a team before," he said. "During this Hex, it did not matter whether a striker or defensive player went down, someone else has joined in." Altidore reinforced that opinion with confidence. "Right now it feels like it doesn't matter who is on the field," he said. "Any XI can start and win."

Keller pinned the origins of that confidence on Klinsmann's willingness to experiment in the early qualification round: "What originally appeared erratic gave way to a positional stability and eventually was hailed as a success." Key to this was defining the role of the European influx. "The German imports did have an impact on team morale at the beginning, but we seem to have identified the most effective ones to do a job now -- Jermaine Jones and Fabian Johnson -- while players like Danny Williams, and especially Timmy Chandler, are long gone."

Pope suggested the chemistry of the squad has been upgraded by Klinsmann's recognition that an MLS core -- Graham Zusi, Brad Evans, Matt Besler, Landon Donovan and Eddie Johnson -- can play a crucial role. "Eddie Johnson is a good example of the athletic contribution an MLS player can bring," he said. "The better he has played for the USMNT, the more he has contributed at Seattle, and the club form and international form just begin to reinforce each other."

The squad's bond was summed up well by Altidore, who sounded far more the savvy veteran than his 23 years suggest. "As I get older I cherish being with this national team more and more. When you are young, you just want to get out on the field, adrenalin pumping, to show what you can do," he said. "Now I realize what soccer means to this entire nation, I realize just how unbelievable it is to be a part of this squad."

3. MENTALLY: Klinsmann's search for meaning

Throughout the qualification process, Klinsmann talked repeatedly about challenging his players to "leave their comfort zones." Keller was quick to validate the centrality of this notion. "What Jurgen is trying to say here has often been misunderstood," he explained. "He does not want his players to feel uncomfortable. He wants them to keep pushing to become better players. The truth is, in America we do not have a soccer mentality. We have come a long way, but in a true footballing country the interest in the sport is like all the passion poured into the NFL, NBA, MLS combined. Jurgen is simply trying to point out that this is the life his players should try and live."

Pope admitted it is hard to judge the team's mental strength from outside the locker room. "I know I wish I was in it," he said. "I would love to hear what Jurgen really says to these players because he seems to get such a good response and the team have played as if we expected to qualify, whereas not so long ago back in 1998 we would still say we 'hoped to make it'." Key to this is Klinsmann's innate positivity. "It is part of his personality to be positive and it has infected this team. You saw it after the players took their media hits after the loss in Honduras, yet they still believed in their soccer … you also saw it before the Mexico game when the U.S. had just lost to Costa Rica and Jurgen just shrugged it off and did not wallow, declaring that when we get to World Cup, we need to learn how to rebound from a loss in the group stage. Not every coach behaves like that, and I love it."

This notion of World Cup readiness was echoed by Altidore. "Each game we played we used to prepare for [parallel] situations in the World Cup," he said. "Jurgen continually stresses what will work and what will not work when we are there, so the Hex has felt like a constant training session where we have not just been after points but focused on solidifying a system which will enable us to keep building into the tournament."

4. JURGEN: A World Cup winner meets the parallel universe that is CONCACAF

Amid all that has been learned in the course of the Hex, for Keller, the biggest takeaway is that Jurgen Klinsmann has emerged as a different coach. "There is a learning curve, even for a coach who has won the World Cup as a player," he said. "Jurgen has learned just how intense CONCACAF can be with its unique environment and travel." In that regard, even the beatdown by Belgium was productive. "Sometimes an ass-kicking is what you need to push you along the learning curve," he suggested. "We now know there are teams we simply cannot try and dictate the game against without being ripped to shreds."

Altidore also believed Klinsmann has been transformed. "He would be the first to admit CONCACAF is no walk in the park and way more difficult than anyone can see from the outside. What is important is that his philosophy has stayed the same … he has made adjustments, but that is because he is never satisfied."

Pope used his personal experience to describe the impact of Klinsmann's learning curve. "I believe he has closed the gap between the U.S. and Europe," he said. "How we will perform at the World Cup is unknown, but in the 1990s we would take the field against a European power and believe we could not win the game. After 2002 when we beat Portugal, we realized those kind of games would be tough but with a flash of brilliance we might win. Now, even if we draw some of the bigger countries we have belief … the fans have belief, the players have belief. The coach certainly has it and most importantly, the opponents do," he said. "Now that is a great place to be."