Social poet captures the beautiful game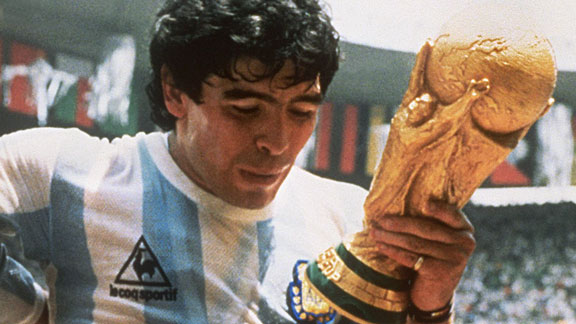 GettyImagesDiego Maradona was praised by Eduardo Galeano as he "keeps the ball tied to his feet."
International breaks can be filled with despair. A grating pause in the breathless narrative of the domestic leagues we follow like junkies week to week; an agonizing reminder the World Cup is still 246 days away.

There can be few more productive ways to fill that yawning chasm than by grabbing hold of a copy of the recently re-released classic football history, Soccer in Sun and Shadow by Uruguayan gem, Eduardo Galeano. The man who was hailed by The Atlantic as "one of Latin America's fiercest voices of social conscience" may seem an unlikely candidate to author one of the most animated, concise histories of the evolution of football, World Cup to World Cup. Yet, as a self-described "beggar for good soccer," Galeano has said he felt compelled to craft a volume which would enable "fans of reading to lose their fear of soccer and fans of soccer to lose their fear of books."

I was first handed a copy of the slender volume in London back in 2003. To this day, I have read nothing like it. Galeano analyzes the history of the game with passion bordering on giddiness, contained only by a commitment to brevity that propels the reader through history at Arjen Robben-esque pace. Yet it is his raconteur's eye for a story, melded with a poet's acute insight into human nature which make this book such a classic. The writing is always evocative and playful, whether Galeano is summarizing the careers of Johan Cruyff ("he did everything they asked of him, and nothing they ordered him"), Maradona ("he played, he won, he peed, he lost") or the harrowing injustice of Argentina's military junta using the 1978 World Cup for propaganda purposes ("a few miles beyond (the stadium) prisoners were being thrown alive from aeroplanes into the sea.")

Even as Galeano revels in both heroes and villains, wonder-goals and epic moments of breathtaking human perfection. He reserves room to delight in the absurdities of the game, as when he recounts the story of Chile's 1962 World Cup campaign in which they elected to eat the stereotypical national food of each opponent pre-game, believing it would increase their chance of victory. To beat Switzerland, they ate cheese, were fuelled by pasta to conquer Italy, and took Smirnoff shots to upset the Soviets before coming unstuck in a semi-final against Brazil. As Galeano notes, Chile "gobbled down spaghetti, chocolate, and vodka, but choked on the coffee".

The recently released volume has been updated to include the 2010 World Cup in which "Uruguayans were given a reason to die of something other than boredom" as they agonized over Luis Suarez's Ghana handball, which he generously terms an act of "patriotic lunacy." I recently jumped at the chance to catch up with the 73-year old with the aid of a translator and discussed the depth of his obsession with the sport, the lessons of a life lived largely in exile, and the source of Uruguay's footballing over-achievement.

Bennett: What made you -- a high-culture writer who is now the Uruguayan poet laureate -- write a book about soccer, which is generally considered low-culture?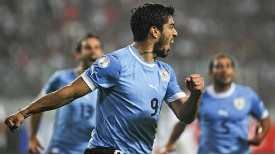 GettyImagesUruguay's "babies are born crying 'GOOOOOOAAAAAALLLLL!!!!!!'"
Galeano: My book's origin story comes from my inability of playing soccer. I play very badly, and so I tried doing with my hand, through writing, what I could not achieve with my legs on the field.

Bennett: You are a man whose politics have caused him to be driven from Uruguay, in 1973, after a military coup, and then from Argentina, after yet another coup, before arriving in post-Franco Spain. Did exposure to those three very passionate yet different footballing cultures impact your appreciation of the game and inform your unique perspective?

Galeano: I'm attracted to soccer's capacity for beauty. When well played, the game is a dance with a ball. Even though professional soccer has become more about business and less about the game itself, I still believe football is a party for the legs that play it and for the eyes that watch it. I wrote the book without any bias. A lot of leftists think it is soccer's fault that people don't think, while most rightists are convinced that soccer is a proof that people think with their feet.

Bennett: You have written some of the most socially impactful works in South American literature. Was football easier to write about than Memory of Fire or is the exertion exactly the same?

Galeano: Being exiled was ultimately a very fruitful experience, even though it was painful at first. I learned many different ways to play and to live, and learned to appreciate soccer as a fountain of cultural identity. I wrote and rewrote every page multiple times. My teacher, Juan Carlos Onetti, a Uruguayan novelist, taught me that the only words that deserve to exist are words that are better than silence. Writing is a marvelous adventure and very labor-intensive: those words run away and try to escape. They are very difficult to capture.

Bennett: What were you hoping to achieve with your poetic telling that had not been captured by more traditional football histories?

Galeano: I felt it was important to tell unknown stories that have become invisible to those who hate soccer, because they do not appreciate what they ignore. I wanted to reclaim some of the game's more noble gestures. For example, in the past, players did not celebrate goals so they wouldn't humiliate their opponent, and would conclude the game by embracing those they had defeated.

Bennett: I love your description of German poacher, Gerd Muller as a "Stumpy Tub". Of which of your footballing descriptions are you most proud?

Galeano: My definition of Maradona: he keeps the ball tied to his feet. My definition of Messi: he keeps the ball inside his shoe, which is scientifically unexplainable, but this is why his rivals can't keep up with him.

Bennett: In the 18 years since you have written this, football has changed radically. How do you feel about those changes? Have any of them been for the better?

Galeano: What I like least about soccer is that it is becoming more of a financial enterprise than a sport. The pleasure of playing is being replaced by the need to win. I was horrified to see some games broadcast in television, where everything is reduced to a dance of numbers -- all that seems important is the price of each player and experts have confused value and price. A player is traded as if he plays on a field called Wall Street. Tell me how much you cost and I'll tell you how much you are worth.

Bennett: Uruguay has a fearsome footballing tradition but its population of 3.4 million makes it roughly the size of Connecticut. How would you explain to Americans what it is about your nation that has contributed to their success?

Galeano: Perhaps it's because all our babies are born crying "GOOOOOOAAAAAALLLLL!!!!!!" and they play football before learning how to walk. They are trained both by God and the Devil.