Can David Moyes adapt to Man United's needs?
It is shocking how quickly David Moyes has aged. Watching the Manchester United manager attempt to project an exterior sense of calm as his charges meekly submitted to West Bromwich Albion in front of the traumatized hordes at Old Trafford, the Scot reminded me of photographs comparing the newly elected Barack Obama to the president deep into his term: wrinkling and greying before our very eyes.

Yet a president has the weight of the nation on his shoulders, and Moyes has only been at United since July 1. Such is the pressure on a man desperate not to be perceived as the worst caretaker since Jack Nicholson settled into the Overlook Hotel in "The Shining."

I thought about Moyes' inner state again on Monday afternoon, imagining the scene at his home as he nursed the psychological hangover caused by West Brom's fearless play while no doubt watching his old club Everton run rampant against Newcastle United. In his 11 years at Goodison Park, common wisdom had Moyes pegged as the glue that held a thrift-shop outfit together. While Romelu Lukaku and Ross Barkley relentlessly tore the Magpies apart in the first 45 minutes, the commentators were quick to jump to the kneejerk conclusion that perhaps their former manager had actually held them back.

- Moyes: I'm the right man for the job
- Okwonga: United should learn from Spurs
- Giggs: No excuses for poor start

Back in mid-September, the Champions League had offered respite. A comfortable 4-2 win against Bayer Leverkusen provided Moyes some breathing space, but this week United ground out a draw against the traditionally tough (yet, in truth, severely weakened) Shakhtar Donetsk. The point may yet prove valuable, but United's display lacked ambition and coordination. Moyes' team left Ukraine with all the panache of a one-time championship-winning high school quarterback who is now to be found stocking shelves at the local 7-Eleven.

Ahead of United's weekend trip to Sunderland, Moyes was once more on the defensive, forced to justify his bona fides for the United managerial role. "I am sure they know they picked the right man for the job," he grimly told the English media, sounding reminiscent of fellow ginger Conan O'Brien when rumors first surfaced that Jay Leno wanted his late-night job back. "Sir Alex," Moyes said, "was part of that process as well."

Those comments may have dominated the headlines in the wake of the news conference, but the key soundbite may well prove to be when Moyes admitted that for "anyone who comes into a new job, you learn things as you go." At Everton, the manager controlled and jury-rigged every facet of the club down to the tiniest detail. Yet United is a sprawling global brand, with a share price (down .12 points over the last week), an official "savoury snack partner" (Mr. Potato), and a squad of players who learned to win the Ferguson way. Moyes' arrival at United is as if Han Solo, after years spent tinkering with the Millennium Falcon, was suddenly thrown the keys to the Death Star. Can he "learn as he goes" quickly enough to handle the controls?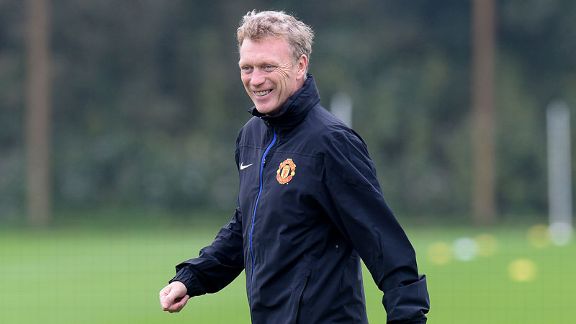 AllsportGiven how he made a career of doing more with less at Everton, David Moyes might just be the perfect man to extract success with Man United.

Yet the question is more complicated than simply wondering whether a model train connoisseur who has spent his life crafting a painstaking replica of Penn Station could prosper if appointed Amtrak's CEO. Moyes learned his craft at threadbare Everton, a cash-strapped outfit that ran on coins, fumes and zealous collective commitment. In contrast, United, worth $3.165 billion, are one of the richest sports clubs in the world, laying claim to 659 million supporters internationally. They may also have won last year's title by 11 points, but the peculiarity of Moyes' predicament is that the squad he has inherited is as unbalanced as any expected to challenge for the title.

As the Scot evaluates who he can trust among his personnel, he would no doubt place question marks by the names of Ashley Young, Antonio Valencia, Anderson, Nani, Tom Cleverley and Alexander Buttner. The enigmatic talents of Shinji Kagawa clearly confound him. Wilfried Zaha's youth is a quality Moyes has rarely had faith in. His stalwarts -- Rio Ferdinand, Patrice Evra and Nemanja Vidic -- are all over 30, and Ferdinand in particular has shown that age. The net effect thus far has been simple: no goals in open league play since mid-August and Moyes so disturbed by his team's lack of syncopation he was forced to admit last week that "we were lackluster in nearly all the areas."

If Moyes is to succeed, he must -- once again -- find a way to do more with less. At Goodison Park, he made his career by scrounging together a collective that was always more than the sum of its parts. If United are to reach the transfer window with their season hopes still intact, that skill will have to be put to use once more, a reality that actually makes Moyes the perfect man for the current United job.

At Everton, Moyes admitted that the Premier League learning curve was steep. Reflecting on the changes he had to make to this style, the Glaswegian admitted he had become "more mellow and my man-management has improved," adding that "I still shout at people but you can't go as far with the players anymore." At Manchester United, he must now learn again, quickly finding a way to help a squad that is conditioned to win continue to do so while adapting to their current reality. The football will be neither pretty nor proactive but with a run of upcoming games against Sunderland, Southampton, Stoke City and Fulham, the results and the points should come.

One moment in the manager's Friday news conference should give United fans hope. When asked whether he was concerned by his team's start to the season, Moyes shook off any sign of doubt. After all, his Everton teams were notorious for experiencing slow starts to the season. His eyes grew defiant as he fixed his gaze on those who questioned him, with confidence suddenly surging. "There's a long way to go in this Premier League," he declared. "It's a long season, and you will see great changes as the season goes on."