Chelsea v Spurs pits master against pupil
No disrespect to current league-leaders Arsenal, but the winner of this weekend's Premier League clash between Tottenham Hotspur and Chelsea will immediately be hailed as the London side best equipped to threaten the top of the table come season's end.

Both are teams in transition -– or as Jose Mourinho carefully prefers to refer to it, "adapting." The cunning Chelsea manager has been cracking skulls and tweaking egos to re-assert his pragmatic philosophy. At Spurs, Andre Villas-Boas, once Mourinho's apprentice, is grappling to adjust to Gareth Bale's departure by proving his Tottenham squad have the regenerative qualities of a mythological Hydra, the sea-serpent for whom every head that was cut off, two more would grow back in its place. Saturday's derby is about more than bragging rights and three points. It will be a litmus test of which club is poised to prevail in the dead-leg-inducing long haul that is a Premier League campaign.

- Macintosh: Torres revival?
- Video: How Will They Line Up?
- Crace: AVB's big test
- Chelsea's will to win

Last October, this fixture had the desperate whiff of vengeance as AVB attempted to regain his wunderkind mojo against the man who replaced him, Roberto Di Matteo. The showdown of coaching acronyms ended Tottenham 2, Chelsea 4.

What a difference a season makes. Villas-Boas has shed the stench of the bullied and broken husk cruelly spat out within 256 days of arriving at Stamford Bridge. Though still 35, the 14 months he has served at White Hart Lane now qualify the young Portuguese as a wily Premier League veteran in this Premier League of new regimes.

His Tottenham team will approach kick-off with endorphins flowing. After winning eight of their past nine games, scoring 20 times and conceding only once in the process, even Spurs' long-suffering fans have been able to exhale. The doomsday scenario of a post-Bale world has most definitely been dodged. A parliament of midfielders including Paulinho, Sandro, Gylfi Sigurdsson, Christian Eriksen and Lewis Holtby have ensured that a robust democracy has seamlessly replaced the Welsh king who abdicated his throne.

Asked if the two managers were the dominant storyline before the game, Villas-Boas demurred. "We should ... be secondary figures to a spectacular game that means a lot to the fans and much more to the players." Perhaps unsurprisingly, his opposite number has taken a very different approach. While Spurs have grappled to forge a cohesive unit out of their new arrivals, Chelsea's transition has centered around Mourinho's extremely public insistence that the club's leading players -- David Luiz, Ramires, Eden Hazard, and the forlorn Fernando Torres -- prove themselves within his system.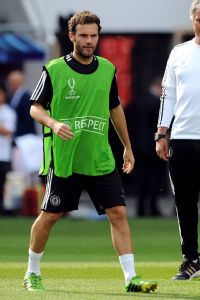 Chris Brunskill/Getty ImagesJose Mourinho has said of Mata: "Juan has to learn to play the way I want to play."
That process has been unexpectedly turbulent. A Chelsea striker is yet to score this season, while stubbled maestro Juan Mata has been left to smolder in the stands. Despite all the crisis talk of Mourinho leading Chelsea to "the worst start to a campaign in the Roman Abramovich era," the squad's dour 2-0 win against Fulham enabled them to ascend to the top of the table, albeit temporarily.

Mourinho will be well aware that Spurs have only won three of their past 42 Premier League games against Chelsea, and though five of Tottenham's past six league games have ended with 1-0 scorelines, the North London club have leaked more home goals, 38, to Chelsea than any other club. If Mourinho's team are to build on that record of dominance, he will have to hope some combination of Mikel, Frank Lampard, Luiz and even Michael Essien can resist Spurs' concussive midfield propelled by the punch of Paulinho and Demebele, while containing the penetrative play of the impressive Erik Lamela, a winger who is an eerie hybrid of the eyelined face of Adam Lambert and the dancing feet of Bruno Mars.

Despite the fact that Mata scored twice in three minutes to settle last season's parallel fixture, Chelsea's Player of the Year is not expected to start the game. His attacking talents may be obvious but Mourinho has elected to use the Spaniard as a human sacrifice to reinforce his cardinal belief: There is stylish football and result-driven football. The manager's focus has always been about the latter.

The Portuguese has shaken up his squad like an architect hellbent on transforming the fragile beauty of an ornate pavilion into an impenetrable fortress, slapping concrete barricades out front, bulletproofing the windows and turning the insides into a panic room, aesthetics be dammed. Villas-Boas may not want to make this game about himself. Mourinho has no such problems. For him, the coach is always the story -- the man who relentlessly mines his opponents for weaknesses and sets his players out to exploit them by any means necessary. As he once famously said when revealing his methodology to writer Simon Kuper, "If you have a Ferrari and I have a small car, to beat you in a race I have to break your wheel or put sugar in your tank."