An in-depth look at America's Premier League allegiances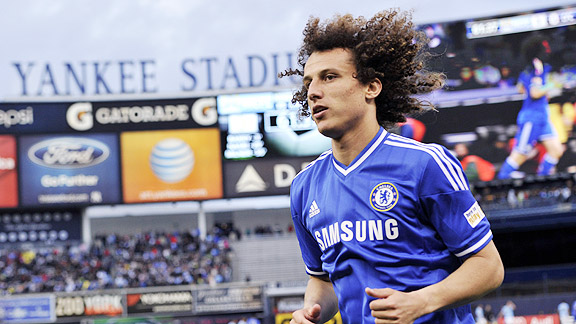 Timothy Clary/AFP/Getty ImagesDavid Luiz and Chelsea are a hit in the United States where they regularly play friendlies, such as last May in Yankee Stadium vs. Manchester City.
It is hard to believe just how many Chelsea fans there are in the United States. In England, the club has a complex brand that elicits conflicting "love or loathe it" emotions. Yet, after watching the Blues play twice in America this summer -- once during their "post-season" clash at Yankee Stadium against Manchester City, the second in their Miami grudge match against Real Madrid -- it was impossible not to be awestruck at the sincere, rapturous American support they drew. At both games, the team outdrew its opponents, especially against Manchester City.

Chelsea fans in the United States are a peculiar breed of American, unabashedly and un-ironically sporting their John Terry and Fernando Torres jerseys while patiently queuing up for their light beers and pretzels. Standing in their midst, I felt compelled to poll a gaggle of clean-cut college student Vampire Weekend lookalikes to uncover what first drew them to support Roman Abramovich's club. "An unrivaled history of success," explained one. "Because they are 'The good guys!'" exclaimed another. A third suggested "stylish football" with a broken-voiced sense of uncertainty that made it sound as though his statement ended with a question mark.

While there was no doubting their passion, the dubious veracity of these responses made me wonder: Does the object of their support, Chelsea Football Club, stand for something different to the (mostly newer) fans in America than it does to those London supporters whose families have filled the Shed End for generations?

As English Premier League clubs battle to dominate this fresh footballing frontier of the United States with their tours, commercial partnerships (and in Manchester United's case, opening a New York office), have they also seized the opportunity to remake their traditional brands and market themselves afresh, like Mark Ronson tweaking Paul McCartney's sound in the recording studio to make him more palatable to a new generation?

To validate the sheer size of Chelsea's American following, I turned to EA Sports (whose juggernaut FIFA franchise was released Tuesday morning, making it every football fan's version of Christmas Day and Hanukkah combined) since FIFA game play is one of the most accurate reflectors of football fans' pulse. Not only has the video game become one of the most powerful drivers of soccer fandom in North America, but as the real teams typically play only 90 minutes of Premier League action a week as opposed to gamers who average 57 minutes a day on FIFA 13, it is the venue where American soccer fans interact most often with their favorite teams, plumbing the tactical depths of their formations and forging the kind of deep allegiances that compensate for the absence of familial support running in the blood for generations.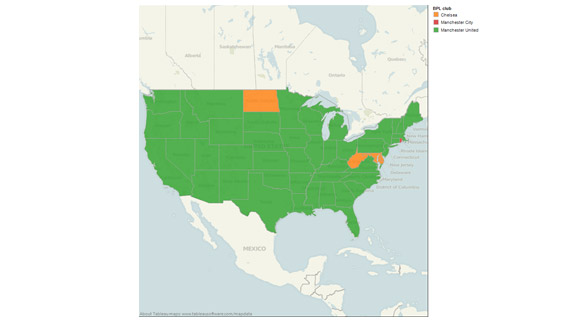 EA SportsManchester United are clearly America's favorite out of all Premier League clubs.
The statisticians at EA Sports were able to craft two maps of analysis using "Support Your Club" data reflecting the selection players make once they have fired up the game and are able to pick from any team offered from around the globe. In that definition, when it comes to the English Premier League, we are very much a "Green State" Nation -- and that Green State represents Manchester United. Chelsea edges out for support in West Virginia and New Jersey while, for reasons unknown, Manchester City has locked up Rhode Island. (My theory: Newport, R.I., was the first town to use gas streetlights in 1806, so perhaps they have a historic over-dependence on oil.)

Yet delving deeper into state-by-state pie graphs, it becomes evident that Chelsea has established a strong position as America's second team, chasing down Manchester United while being pursued by Manchester City as Arsenal and Tottenham Hotspur, as they so often do, attempt to close the gap.

In an attempt to gain a defter sense of how this exact order had come to pass, I broached this topic over Twitter, wondering aloud if any brand experts had studied whether clubs such as Chelsea stood for something fundamentally different in North America to the more in-your-face brand which pervades England. No comparative research could be found, but Noah Brier, co-founder of Percolate -- a technology company that brands and aids sports teams to create content for social media -- and also the same man who invented the Brand Tags concept, jumped into the breach.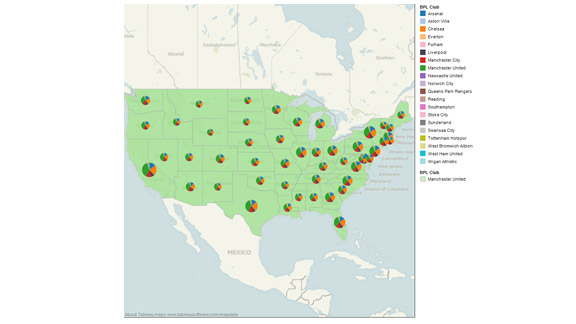 Courtesy of EA SportsA state-by-state breakdown shows Chelsea have a firm grasp as America's second-favorite club.
"The notion of brand tags was built on an idea that brands in general, and sports teams in particular, live in people's heads," Brier told me. "Brand tags is a mechanism that examines what a brand truly is by capturing people's first response."

Together, we set up an experiment with FootyTags.com to crowd source consumer brand sentiment, collecting more than 65,000 responses over the past week. The research is ongoing (please spread the word and participate) but here are six items of note from the first seven days of operation:

1. Chelsea: Living the American Dream

"Money" was the most-used gut response to Jose Mourinho's team, both in the U.S. and England, yet the term appeared to mean two very different things in each country. For the English, the other most-used terms were "Chelski," "scum" and a litany of derogatory phrases (no other team had more offensive entries, and seeing that the program uses a swear filter, the number of creative spellings employed was admirable) that combined to express a negative sense of disgust and resentment. Yet, in America, that tenor of disapproval ("Poor Man's City", "bought trophies" and "plastic fans") languished among the fewest responses, paling in comparison to "rich," "Oligarch" and "Abramovich," which were among the most dominant, suggesting that in the home of the "American Dream," the club's gilded status warrants only admiration.

2. Manchester United: Inextricably connected to glory

On both sides of the Atlantic, United are synonymous with "champions," "winning," "Ferguson" and "glory." American fans have taken that dynastic approach to victory one step further -- their top association for David Moyes' team is "Yankees." It's a responsethat will please neither the powers at Old Trafford nor the Bronx Bombers, who have actually partnered with United's rival Man City in the new MLS franchise, NYC FC.

3. Bad News for Arsenal: Piers Morgan may now mean more than the Invincibles

In England, present day preoccupations loom large in the form of "Ozil," "empty cabinet" and "8 years no trophy." In America, the drivers of the connection between fans and club were more to the fore. Among the leading terms were "puffy coat", "Piers Morgan" and "fever pitch," suggesting that for Arsene Wenger's team in America, the medium is the message.

4. Liverpool: A Tradition Like No Other

Americans connect the club to three main points of reference: Their owners ("Red Sox"), their reality television show ("Being: Liverpool"), (Envelopes!) and their rich past. The terms "history" and "you'll never walk alone" resonate, suggesting Americans connect this club to its past more than any other. English responses did the same though in a negative fashion. "deluded," "past," "victims," "self-obsessed," "arrogance" and "living in the past" all featured heavily as Liverpool staked out the status of receiving the most negative responses that were not knee-jerk insults.

5. Cardiff City: George R.R. Martin's Team

Among the strongest association Americans have had for the Welsh newcomers beyond "Vincent Tan" and "color change" are "dragons," "Game of Thrones" and "Khaleesi."

6. Buy American, and you will never be forgotten

From an American perspective, Everton's Tim Howard and super-loanee Landon Donovan loom large but the memory of Joe-Max Moore, who played 50 games for the club in the dark ages of the late 1990s, still lingers. The same goes for Fulham were the terms "Fulhamerica," "Brian McBride" and "Miss Dempsey" were extremely prominent.

The impact Jozy Altidore currently holds on American interest cannot be overstated. The "U.S. international" was the most used term by American fans but yet was not mentioned by a single English respondent. The fact he has not yet scored during his second Premier League spell did not prevent him from ranking as the top-rated most-commonly held Sunderland association. Altidore's popularity did not stop there. The striker was also a prominent Hull City tag (he had a largely miserable spell there in 2009-10), and the New Jersey native even cropped up as a popular American response for Southampton. While Altidore has no apparent connection to the Southern club whatsoever, Southampton's red and white jersey is vaguely similar to that of Sunderland.

The phantom Southampton-Jozy connection is an illuminating lesson, proving a point Brier told me before we began our experiment. "As much as companies try and control what they stand for," he said, "their brands live with their audience who define it on their own terms." Or to paraphrase a line of George Bernard Shaw: When it comes to the Premier League, are England and America just two football-loving nations "divided by a common language?"