Decoding Moyes and Pellegrini with David Peace
Bill Shankly, the obsessive Scot who is widely recognized as the British game's first true "modern" manager, had a very simple way to capture the total devotion and sacrifice it took to be successful at the elite level: "My life is my work, my work is my life."

Shankly became a messianic figure at Liverpool from 1959 to 1974 as he dedicated his personality, charisma and creative thinking to transform the club from a second division cellar dweller into a three-time Premier League champion and perennial European threat. That journey is now the subject matter of "The Damned United" author David Peace's new book, "Red or Dead."

It's a sprawling, experimental, yet intoxicating 714-page read that savors every detail of Shankly's 15 years in charge. Though it's all about Liverpool, the book, which delves into the intricacies of modern management, is a timely read ahead of this weekend's marquee Manchester derby. Why? Because it's a game in which the two box-fresh managers, David Moyes and Manuel Pellegrini, will not so much compete against each other as they will grapple with the challenge of imposing their mentality on their own teams.

Moyes has made a tentative start to the unenviable task of replacing the glorious legend that is Sir Alex Ferguson. Moyes' team have found Premier League goals hard to conjure, relying on a controversial penalty and a late free kick from the resurgent (yet temperamental) Wayne Rooney to dispatch 10-man Crystal Palace -- though the plunging Ashley Young was the main talking point. Thus far, Moyes has carried himself with the demeanor of a man who has one hand on the team list, the other on the spine of "Managing a Powerhouse Club for Dummies."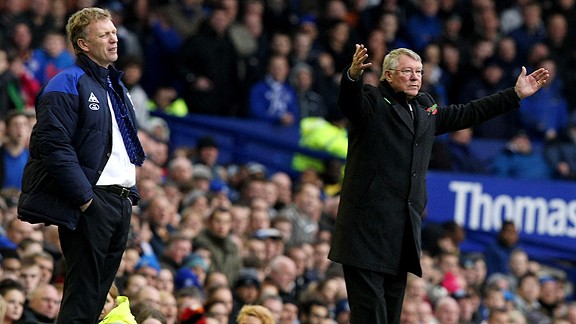 Matthew Peters/Man Utd/Getty ImagesDavid Moyes has an unenviable task in replacing Sir Alex Ferguson and has experienced considerable growing pains so far.

Manuel Pellegrini has overseen a similarly sluggish start at City. His squad have appeared ordinary despite the $160 million splurged on Jesus Navas, Fernandinho, Alvaro Negredo and Stevan Jovetic. Although the Chilean manager has shuffled his lineups in a bid to break the tepid tempo, he has been unable to muster a true collective out of the individuals at his disposal, leaving him with the appearance of a sophisticated man attempting to project a sense of calm whilst fumbling with a jigsaw in a dark room.

Sunday's game will be a clash of the two teams that have won the last three Premier League titles, yet the breathing space a win would earn either manager may be an even more valuable prize.

- Mooney: City's nerves on a knife edge
- Report: Howard Webb to ref the derby
- Read: Kompany 'in perfect condition' to face Utd.

I caught up with Peace at his home in Tokyo, Japan, to chat about Moyes' and Pellegrini's peculiar predicaments. The author is well-placed to discuss both. Shankly's tenure may have been long-serving but "The Damned United" famously focused on Brian Clough's doomed 44-day march of folly at Leeds United. Our conversation spanned the intricacies of management technique and the differences that may either allow Moyes and Pellegrini to empire-build in the style of Shankly, or simply ensure they are quickly spat out as an alien element like Clough.

Peace began by explaining why he has long been drawn to the narrative mysteries surrounding the motivations of the men on the sidelines. "The manager is that figure caught between the pitch and the terraces," he explains. "In a way, they are the isolated extreme supporter because there is an inevitable loneliness about their position."

That loneliness has been exacerbated by the invention of the technical area. "They stand there suspended between the anger or joy of the people in the stands as their players either fulfill their expectations or fail them on the field," Peace continued. "Although they are desperate to make the dreams of those supporters come true and can be hailed as magicians on a rare good day, they are otherwise condemned to be figures of scorn or hate. In modern culture, we simply do not have many people who choose to live out their professional lives like that."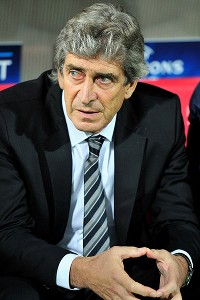 Lennart Preiss/Getty ImagesManuel Pellegrini is a tougher study given his tendency to keep his emotions hidden from view. Yet the expectations at Man City are no less daunting.

"Red or Dead" took Peace a year to research and another year to write. The author admits he became obsessed by the details of Shankly's narrative, charisma and ideas. "I honestly did not intend to write 714 pages, but like many people, I became swept along by all Shankly had done, not for himself but for the supporters of Liverpool Football Club. This was a man who stressed the notion of team, collective and community, and he played that bond up to the players and the supporters, most specifically the ones in the Kop."

Peace learned a lot about management technique in the process. "Shankly was the first modern manager as we know it now," he says, proceeding to describe his revolutionary monomaniac approach. "He did everything from picking the team, overseeing the training and handling the media in an incredibly savvy way. ... Shankly's obsession was total. His backroom staff pored over every scouting report, dossier, training technique and diet -- and this was at a time when the managers of other clubs, like [Peace's own] Huddersfield Town, believed players should not touch the ball during the week so they were still hungry for it on Saturday!"

Moyes as Shankly ... or Clough?

I ask Peace whether he sees Moyes as an echo of Clough's ill-fated stay at Leeds or Shankly's determined success at Liverpool, causing the author to equivocate.

"Clough's experience was a very peculiar set of circumstances," he says. "He had a lot of paranoia; there were elements in the dressing room who were against him. His predecessor, Don Revie, left a poisoned chalice that would have taken down most managers. It was a team that needed reinvigorating. It needed younger faces and fewer power battles among the players."

When asked if he sees echoes of this poisoned chalice in Moyes' present-day predicament, Peace laughs out loud. "There are so many parallels, including those between Shankly and Sir Alex, who used to play cassettes of the Liverpool manager making speeches for his players on the bus."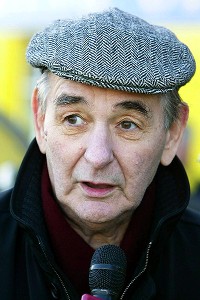 Mark Thompson/Getty ImagesBrian Clough is the classic cautionary tale of a manager who tried to succeed a managerial icon and failed. Might David Moyes suffer the same fate?

Some of those Moyes-Clough parallels are hard to ignore. "United may have won the Premier League last season, but I was never entirely convinced their squad was not one of the weakest they had built in a long time. It is not clear what has been handed over to Moyes -- especially that aged defense, which really needs replacing."

Yet Peace also believes there are obvious elements of Shankly in Moyes. Both men are Scots who have built their careers on dedication and hard graft. "Moyes references Shankly all the time in interviews," Peace says, "and it is to United's credit they picked someone who they believe has a similar background as Ferguson, but he never won anything at Everton and Sir Alex did at Aberdeen. ... If you have not won anything, it becomes extremely tricky trying to manage players that have."

Regarding Man City, the author admits he has far more trouble decoding Pellegrini. "You could write a book about Roberto Mancini, his personality and his conflicts and how he won the FA Cup and the League, but it was still not good enough. Pellegrini has not said much, so for a writer he is a blank page," he explains.

Peace's books are stuffed with poetic descriptions of England's grim landscape, from the terraces of Huddersfield to the tattered streets of Liverpool, and I ask how quickly he believes a foreign manager like Pellegrini can wrap his head around the peculiarities of England. "That struck me the other day while I watched Manchester City play Stoke," he says excitedly. "No matter where you have been or what you have done, when you go to Stoke -- and I feel sorry for Stoke, as they are good solid people and they are always singled out as an example -- but you would not fancy it. That is what makes this derby fascinating."

I finish by asking Peace if he believes the actor Michael Sheen has the range to play David Moyes one day, and the writer giggles: "That is an intriguing question, though I am trying desperately to work out who will play Shankly right now."

Truth be told, Peace sounds like a man whose obsession with football management has been barely satiated. "After Chelsea's shock loss to Basel, I realized the extent to which Mourinho is wrapped in mystery," he enthuses. "Why did he go back? Why did Chelsea have him back? Just look at how much Chelsea changed in his absence precisely to prevent a situation like he wrought in his first spell, but there he is, back again.

"There is so much huge dramatic potential there," Peace remarks. "With all these new managers, this could quite possibly be the best season for soccer novels ever."