Is there such a thing as a happy football fan?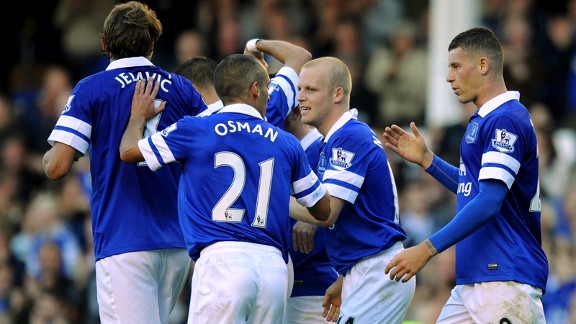 Chris Brunskill/Getty ImagesEverton players celebrate during the home win over Chelsea this month.
The Uruguayan writer Eduardo Galeano once declared "the goal is soccer's orgasm." Yet on Saturday, when Everton's Nikica Jelavic snapped his neck to waft the ball across the face of goal and create a chance even Steven Naismith could not help scoring, the initial rush I experienced as a lifelong Evertonian soon evaporated. No sooner had I punched the air and landed back in my seat than my stomach tightened, throat constricted and a cold sweat descended.

As Chelsea sought to restore the natural order in the second half with Samuel Eto'o and Andre Schurrle taking it in turns to hurl their uncalibrated efforts wide, my suffering worsened. Each one of the final 45 minutes felt less like a footballing march to glory and more how I imagine it feels to have your teeth cleaned by a dentist in Tirana.

At the final whistle, my dominant emotion was relief, the joy I experienced fleeting in comparison to the numbing "black dog" of a mood that cloaked me after impotent draws against Cardiff and West Brom in previous weeks. With Everton's victory came two realizations:

1. Against top-four teams, I feel more comfortable watching when the club I support have fallen behind 1-0 and are forced to chase the game as opposed to when they go ahead 1-0 and have to hold on.

2. The buzz of victory pales in comparison to the pain of failure and defeat.

Granted, part of the reason may be that Everton are a team that love their ties. No club has drawn more top-flight games (1,075) than the Blues. Over the past four seasons, Everton's 44 ties lead the league, and in 2012-13 the team salvaged 22 points after falling behind, with only Spurs (23) and Manchester United (29) recovering more.

That said, Howard Jacobson, the Booker Prize-winning novelist, captured my emotions when he memorably said that if Tottenham score in the first 10 minutes at White Hart Lane, 15,000 fearful Spurs supporters can be heard to whisper: "Too early ... it's much too early."

One of the joys of living in New York City is that a psychoanalyst is never too far away. Indeed, my neighbor Barry Stern is a professor of medical psychology at Columbia University College. After I had explained my predicament, he quipped, "I think New York Mets fans would have a lot to say about this," before launching into a psychoanalytical explanation in which "masochists" (his word) "turn passive into active" when faced by a traumatic experience over which they have no control.

"It sounds like you take control of the experience of disappointment by preemptively becoming disappointed," he told me. "You savor the anticipated loss when the team is down, a stance from which you can comfortably root for a win, without risking too much." Viewed like that, the 1-0 lead is inherently less pleasurable."Rather than enjoying your team being ahead, you manage the anxiety associated with them inevitably mucking up, negating the positive mood created through their lead … by spoiling it yourself. No more anxiety, just depression, and the familiar feeling of managing the weak sense of hope they might just pull this one out."

Having never previously considered myself to harbor masochistic tendencies, I sought a second opinion from Phil Banyard, a psychologist at Nottingham Trent University. Banyard has studied the impact of relegation on football fans' psyches. "Tell me about it, I'm a Nottingham Forest fan," he began by joking. "I think [football fans] are despair and misery junkies -- in the same way that people go to horror films to scare themselves or go on harrowing roller-coasters at theme parks. Even successful teams have unhappy crowds. Look at Arsenal ... The Gooners never seem to stop moaning."

Banyard attributes the unbearable tension of a 1-0 lead to "the Recency Effect." "If the opposition score in the last minute it feels like a defeat, but if your team equalize in the last minute it feels like a win. Same result, opposite emotion," he said. "You simply walk away with the most recent emotion.

"[There's] no such thing as a happy football fan," he added.

Eric Simons is a science writer who spent three years examining the driving forces of fandom for his book "The Secret Lives of Sports Fans: The Science of Sports Obsession," which included an entertaining chapter of his time spent with diehard San Francisco Arsenal fans, the Bay Area Gooners, a group who repeatedly wake up at 4 a.m. to be collectively disappointed.

Simons throws out a basic disclaimer, admitting that the human behavior of sports fans is not an area that has truly been explored by academics. "No one has sat down, studied Everton fans and come to conclusions," he warns me. "Yet classical behavioral economics loss-aversion theory tells us it is much more painful for us to lose than to win -- roughly three times worse in fact.

"Neuroscientists have discovered your brain learns the things you find pleasurable -- sex, music or food -- creating dopamine that makes you feel happy, and manufacturing pain and disappointment for when things go wrong," he continued. "Your brain is basically an oddsmaker. It predicts the odds of reward or disappointment so when you go ahead 1-0, your brain is defending you against what you have to lose. That fear of loss is always the greatest."

For Simons, the fleeting nature of victory is the cause of the short-lived buzz it provides. "Winning a game is good," he said, "but let me tell you, if Everton ever won the league, that would leave you feeling a whole more happy. Believe me."

Banyard is not so sure. "I think all fans are masochists," he suggested. "Even Manchester United fans are not going to be happy for long. First, it's not enough to win; you have to win well and with style -- that's Spurs' delusion. Second, as soon as you've won the league you worry about having the trophy taken away next season." The psychologist's conclusion was logical, yet jarring. "There is no such thing as a happy football fan, except neutrals watching a game they don't care about."