Roberto Martinez reveling in Everton's challenge
For his next trick, Roberto Martinez will attempt the art of alchemy. The Catalan manager arrived at Goodison Park this summer once his powers of levitation and escapology had ultimately failed him after four seasons at Wigan Athletic.

Everton have hovered agonizingly around the Champions League places for the past seven seasons under Martinez's stoic predecessor, David Moyes. A gutsy underdog team with a rich tradition, whose mighty past had been outrun amidst the stampede of the Premier League gold rush. Martinez claims he was drawn to his new coaching challenge for reasons both emotional and rational. "When you meet an Evertonian they transmit a desire to win trophies and become a top club in England again," he explains. "I want to find a way to do that in time and show a club with a different financial niche can do that."

Three draws in three games have set his Toffees' tenure off to a frustrating start. I caught up with the manager as he prepares to face Jose Mourinho's Chelsea on Saturday. Throughout our conversation, which ranged from tactical philosophy to change management, the Spaniard sounded like a man wrestling with ideals and reality, the present and the future, a style of play and cold, hard results. His battle to succeed might prove whether it is possible for a manager to create change within the money-driven hierarchy of the EPL, particularly when creativity and ideas are the only tools at his disposal.

"I always believe that to achieve things you don't need money," Martinez began. "There are other ways to be successful, but you need time. A large checkbook just enables you to accelerate the process. In football, you can compete against anyone if you are tactical, flexible, creative and have time to build."

The roots of this "tactical, flexible and creative" footballing philosophy lie in Martinez's personal influences. "I admired the style Johan Cruyff brought to Barcelona and the way he controlled games with attacking football, and I also loved what John Benjamin Toshack did with youth at Real Sociedad, where he enabled young players to fill big roles." Perhaps unsurprisingly, the maverick Marcelo Bielsa is the third name Martinez mentions. "I learned from the way he opened games up and had players take on their opponents one-on-one," he said.

The 40-year-old became so enthused by the theoretical turn of our conversation, I felt badly for having to reintroduce a dose of practical reality by asking for his sense of perspective on Everton's creeping start to the season. After three trying draws against Norwich, West Brom and Cardiff, I wondered if he emphasized the club's undefeated status or the fact that they have only mustered three points.

"A bit of both," he admitted. "The draws were more 'victories without goals.' I saw many good things in the possession and the chances created that will bring us a lot of points over the season, even though three points after three games is not the return we want."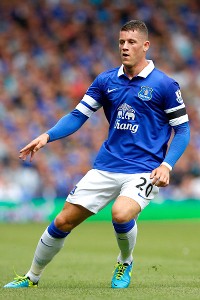 Paul Thomas/Getty ImagesYoung Ross Barkley is repaying Martinez's faith in youth by impressing for Everton and earning an England debut.

Martinez's answer is a reflection of this season's truth for Everton. At Goodison Park, the coach is not just managing a football team; he is managing change. "There is a way I believe the game should be played that is pure," he tells me, "and there is a process of how to change the mentality of a team to make sure the players feel confident enough to be in possession and dominant on the ball without losing their current strengths." This, Martinez admits, is his biggest challenge. "The players must take the ideas on board with losing their competitive edge."

So far, it's clear that the Spaniard has a defined change management process in order to transform his squad. "The first thing you focus on is the dressing room," he says. "You see the good and the bad, build a strategy to impact results and become as strong as we can straight away while developing a longer-term strategy to bring younger players in and build a competitive edge with youth -- Ross Barkley, John Stones, James McCarthy, Gerard Deulofeu, Romelu Lukaku -- who can be fused onto the experience of the squad."

Moyes was often reluctant to trust in youth, but the Catalan clearly revels in it. The average age of the five players Martinez has just named is 20 years, four months. I ask whether he would prefer to have 19-year-old Barkley or Wayne Rooney at 27 on his team, and the manager laughs. "Both of them!" he exclaims. "Rooney came through our youth ranks, and his achievements still get the youngsters excited here, but Barkley is phenomenal. He loves his football and has really matured, so he can play three or four positions with tactical flexibility. There are not many footballing talents like him in the English game."

The materialization of Barcelona starlet Deulofeu is another Martinez-inspired transaction that has conjured a sense of both astonishment and hope among Evertonians. "He is coming from a perfect environment at [Barcelona], where they expect 80 percent possession, and so he will need time to get to grips with the physicality of the Premier League." Should Everton fans expect the young Spaniard to start soon? "That has always been the thought," the manager reveals. "Gerard has learned quicker than we expected, and we will see his full potential in the next couple of months."

Juggling hope and reality

While there is much to be bullish about, the deadline-day loss of the imperious Marouane Fellaini has caused some to fear that Manchester United will return to pluck club talisman Leighton Baines in the January window. Martinez chose his words with care as he addressed that possibility. "I am delighted he is here to play in games ahead for Everton. … I can't think about the future. There are so many things that could happen like an injury, so I don't like to think that way. We are just elated he is wearing an Everton shirt on Saturday."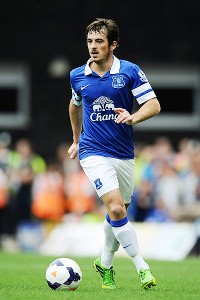 Tony Marshall/Getty ImagesMartinez was thrilled to keep hold of Leighton Baines but knows Man United might come calling again in January.

Despite the transition and turmoil -- both in terms of personnel and ideas -- Martinez believes there is evidence that the changes he desires are beginning to bed. "There is a difference between being good at what you do and taking points. We could have nine points from the Norwich and Cardiff games, and even more so against West Brom," he insists. "Now the transfer window is closed. Everyone can focus on getting results without the instability it inspires. I want this season to be special, and if you drop too many points early, it makes things difficult … But by January or February, I want this team to become stubborn, both in the way they play and in affecting results."

Mourinho's Chelsea will provide a bruising reality check on Saturday. Martinez has never faced the Portuguese as a manager, but his approach to the task will sound refreshing to Everton fans. "You always need to be aware of the opposition," Martinez confided when invited to reveal his strategy. "What won't change is our desire to be in control of the ball and do what we always do."

Under Moyes, Everton were often criticized for a lack of ambition in settling up for a draw against Big Four teams. When asked if he would do likewise, Martinez sounds aghast, as if the mere suggestion offended him. "No!" he says, revealing a change in style even more significant than the tailored blue suits he favors that have replaced Moyes' staid sweatshirts on the Everton sideline. "We will always go for a win. Going for a draw does not allow you to achieve what we want to achieve. Chelsea are a top-four team and that is what we want to be."

"We are playing at home. We have fewer points than we deserve. If we are to catch up quickly, we have to be ourselves."