Johannsson ready to step up for U.S. if asked
COLUMBUS, Ohio -- Aron Johannsson is late for our meeting because he has mislaid his passport. The Mobile, Ala.-born and Iceland-bred striker finally bounds into the coffee shop with a sheepish grin as I ask him if he located the key document.

"We found it," he beams. "No problem!"

I express my relief because he has located the crucial evidence we need that proves he is American, and the 22-year-old just smiles, even though my
comments are only half in jest. After all, the United States may yet come to depend on both the passport and that striker. The AZ Alkmaar talent has joined the United States men's national team at a crucial juncture. Not only is the team poised to play arch-regional rival Mexico, but is doing so at a time when Johannsson's one-time club teammate, Jozy Altidore, has been suspended for the match because of an accumulation of yellow cards.

Coach Jurgen Klinsmann has routinely demonstrated he is not afraid to throw a selection curveball. In a rivalry Johannsson has only just inherited, his natural goal-poaching instinct may prove crucial.

If the Icelander is fazed by the task at hand, he does not show it. Throughout our conversation, the lean striker exudes both a clinical confidence and a dry sense of humor, quickly establishing the discussion will be on his terms. When the word "soccer" slip out of his mouth, he checks himself and advises me that from here on in, "I am going to say football."

Full U.S.-Mexico coverage:
- Carlisle: Tale of the tape
- Gomez: Tena one and done as Tri boss
- Bennett: Is the U.S. poised to humiliate Mexico?
- Ramos: Columbus not a Mexico stronghold
- Watch: Mexico on its heels
- Sutcliffe: El Tri unlikely to innovate
- Ley, Keller: U.S. has holes to fill

However, there is one American term that Johannsson has quickly adapted to using. When asked how the U.S.-Mexico rivalry compares to the rivalry his club experiences with Dutch power Ajax, he uses the first person plural to answer. "It is a big deal ... the biggest game for us."

Such small details are important. The USMNT has a rich history of foreign-bred players joining its ranks. Some, like Earnie Stewart (now the director of football at AZ), embraced the core values of the team and flourished. Others, most notably David Regis at the 1998 World Cup, did not. With that in mind, I sat down with Johannsson to gain a sense of his relationship to both team and country. The striker moved back to Iceland when he was a young child, and he freely admits that most of his memories of his kindergarten years in Mobile, Ala., come from photographs and videos shot by his mother and father. The family has since built a backbone of active U.S. memories by vacationing in Orlando on a recurring basis. "A lot of Icelandic people have houses in Florida," he informs me. "We like to go and play golf with all the old people who live there."

But when I ask him if he watched the U.S. men before he joined the team for the recent friendly in Bosnia, his eyes light up. "I watched them more keenly and wanted them to win because I was born in America," he said. It's a truth he quickly proved by re-enacting Landon Donovan's thrilling game-winning goal from the moment the ball left Tim Howard's hands.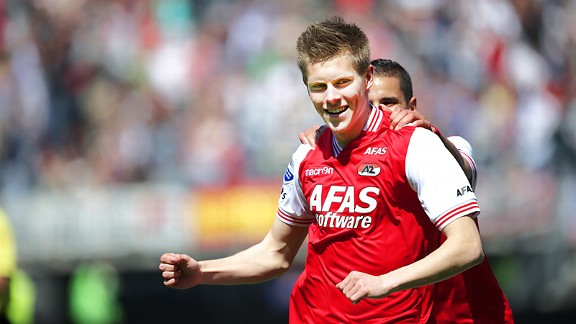 VI Images/Getty ImagesJohannsson appears anything but fazed by his rapid rise in the U.S. ranks, thanks in part to Klinsmann's careful pursuit.

At the time of the 2010 World Cup, Johannsson was a 19-year-old pro with Fjolnir in the Icelandic League. He watched the tournament at home with friends who ribbed him that he might one day play for the U.S. national team. "I never thought I would have that chance," he admitted. "Not in my wildest dreams."

That changed when Jurgen Klinsmann called him out of the blue 12 months ago. "One day I checked my voicemail and heard a message from a man who said he was Jurgen Klinsmann, the coach of the United States," Johannsson said. He needed to calm down before he could return the call, but his memory of his first conversation with Klinsmann offers a fascinating glimpse of the German coach's careful strategy when engaging young dual nationals in Europe.

"He told me he had been watching me and let me know he was open to me playing for the U.S., but told me it was my choice and told me to follow my heart."

Klinsmann's lack of hard sell engaged Johannsson, yet when pressed, the Icelander declined to prioritize the factors that contributed to his ultimate decision. Asked what was more important -- the chance to play for the United States, the opportunity to be coached by Klinsmann, or the chance to play in a World Cup -- the young prospect grimaced. "I don't even know how to answer that question. I chose the United States not for one particular reason but because it just felt right."

That decision was validated by Johannsson's sizzling 30-minute debut cameo in Sarajevo. "When I was given my first jersey in Bosnia," he says, "I felt so proud ... lining up and playing for a country that has 300 million people." Asked how he would respond to the cluster of American naysayers who have suggested he joined the U.S. only for practical reasons, namely the opportunity to experience a World Cup, Johannsson unconsciously scratched his arms furiously while composing his response with care. "If I am called upon to play, I will show them on the pitch how much I can do good for this team and help them win."

I first met Johannsson at baggage claim upon arrival in Bosnia when he nervously met his new international teammates for the first time. I admit to him that the moment made me feel empathetic and anxious, but he shrugs the memory off. "I am the new guy in the classroom. It takes some getting used to, but it is the same when you move to a new club," he says. "You have to be open and willing to talk to the new guys and make adjustments as soon as possible."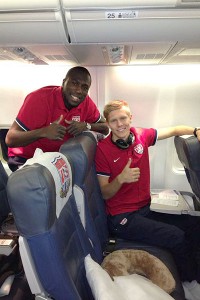 AllsportA former teammate of Jozy Altidore at AZ Alkmaar, Aron Johannsson now finds himself in the position of potentially deputizing for his suspended friend vs. Mexico.

Johannsson was at pains to underline just how warm the U.S. team culture is. "I knew Jozy from Alkmaar and Brad Evans was a really great roommate ... but all of the guys are really welcoming." This, even though the striker is trying to knock one of them out of a World Cup starting spot. When I point this out to him, Johannsson looks down. "That's life, you know," he says, with that steely confidence again showing through.

Like many strikers, Johannsson appears most animated when talking about his own strengths. "I love coming down to get the ball between the lines and make something happen, but I can also go deep, if a team is pressing us. ... I love that too," he enthuses with that ruthless smile. I ask whether Johannsson is patient in terms of this international career or whether he feels pressure to make a rapid impact. "I want to keep on being called in," he says in describing his approach. "My goal is to keep playing well, and to keep playing well for my club team. It is Jurgen's decision. I just have to do my best to make that decision hard for him."

I finish by asking if in his downtime in Alkmaar, Johannsson has caught himself daydreaming about Brazil 2014. The striker's smile instantly disappears as if aghast at the mere suggestion. "I don't think about it all," he says. "I take one game at a time, and right now I am focused on doing good for tomorrow."