Klinsmann relaxed about sizable U.S. task at hand
COLUMBUS, Ohio -- What the Mexicans once had in the heights of the Azteca, the U.S. has found in the flatlands of Columbus: their own vaunted fortress interwoven with a history of success. No heat, smog, altitude or magic tricks here. Just the gritty passion of the American heartland demonstrated by over 24,000 rabid fans who will bellow for their team until the final whistle.

And on Tuesday night, the U.S. may well need it.

Friday night's damp squib performance in Costa Rica has allowed a sudden chill to smother the feel-good warmth that had emanated from the team's recent 12-game win streak. A series of key absences enforced by injury and suspension, combined with the backfiring of Jurgen Klinsmann's tactical gambits, has catalyzed a jarring sense of uncertainty ahead of Tuesday's much-hyped clash against limping regional foe Mexico.

Michael Bradley's absence is issue No. 1 for the USMNT to contend with. Columbus' convention center is currently host to a Mountain Rescue convention, causing the downtown area to be flooded with tough-looking body doubles for the Americans' propulsive midfielder. Yet the only one who matters has been walking around gingerly with an ankle sprain. The sole role he will play on Tuesday night will be that of supporter.

"Missing Michael is not easy," Klinsmann admitted yesterday. "He has developed into a real leader." The German coach was tight-lipped about his plans to replace the midfielder along with the suspended duo, Jozy Altidore and the unfortunate "phantom tackler," Matt Besler.

Full U.S.-Mexico coverage:
- Carlisle: Tale of the tape
- Gomez: Tena one and done as Tri boss
- Bennett: Is the U.S. poised to humiliate Mexico?
- Ramos: Columbus not a Mexico stronghold
- Watch: Mexico on its heels
- Sutcliffe: El Tri unlikely to innovate
- Ley, Keller: U.S. has holes to fill

Klinsmann sought to soothe the uncertainty surrounding these key absences, suggesting that "in the last few years we have been through challenges with the roster and yellow cards ... we will find ways to balance it out ... the guys stepping onto field and on the bench will give everything they have. We have enough quality to win on Tuesday night."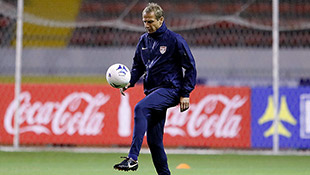 Kevin C. Cox/Getty ImagesU.S. coach Jurgen Klinsmann is relaxed about facing El Tri, confident in his squad's depth regardless of the injuries or suspensions.

Clarence Goodson, Kyle Beckerman and Eddie Johnson are widely tipped to be the squad players selected to act as spare tires. Klinsmann's message about his ultimate decisions was a brave one. "I am not concerned about switching things around," he declared. "The players know their roles when they come in. We have strong leaders guiding them. I feel very positive." All in all, a bold claim that makes Tuesday night a litmus test about the extent to which Klinsmann's holistic philosophy has taken root.

To his credit, Klinsmann seems at his best amid the turmoil and hype of the U.S.-Mexico rivalry. Last March, he took a similarly depleted squad down to the Azteca, where it stole a point without the injured Jermaine Jones and Goodson. The German has played in some of football's most animated rivalries, including the North London Derby and Milan's Derby della Madonnina. As he strove to place U.S.-Mexico in context, he ignored the flying bags of urine and the vitriol that traditionally embody the fixture when claiming that "there is a lot of respect in this rivalry" before adding: "[these] countries are striving for more ... both want to get into the top 10 in the world. Both want to get to the World Cup and go beyond the group stage so there is a lot of similarity, ambition and emotion."

The U.S. would clinch a top-four place with a win or a draw, and it was interesting to hear Klinsmann challenge his team to rebound so it can learn a crucial lesson before Brazil 2014. "A World Cup is all about how a team can physically get back to the top and mentally move to the next challenge," he said.

That message was reinforced by goalkeeper Tim Howard, who suggested the Costa Rican loss could serve as a wake-up call ahead of Tuesday night. "We got taught a few lessons on Friday but that comes as a fresh reminder about the things we need to put right," he said. "We want to punch our ticket, get this thing finished and wrap it up without having to wait for the next match days in October."

Luckily for Howard and the U.S., the Mexican team arrived in Ohio without a permanent coach and sitting outside of the automatic qualification places, wracked by its own psychological and tactical turmoil. When asked to comment on his opponent's predicament, Klinsmann relentlessly attempted to return the focus to his own team. "It is important we look at ourselves," he insisted. "That [Costa Rican] breakaway goal in the 78th minute hangs a little bit in the stomach," he admitted. "We need to look purely at our end and get the points."

Asked if a tie would be a good result for his team, the German subtly made his expectations clear. "I would rather have 3 points," he said with a smile.