Is the U.S. poised to humiliate Mexico again?
USA 4, Mexico 0. To the American players who took the field at RFK Stadium on June 18, 1995, the most lopsided scoreline a U.S. men's national team side has ever achieved against their potent rivals still feels less like a football match and more like a cosmic dream. The U.S. went ahead within three minutes courtesy of a rifled Roy Wegerle strike, causing veteran broadcaster Seamus Malin to sound genuinely lost for words. German-American pioneer Thomas Dooley doubled that improbable lead seven minutes later, muscling in on Jorge Campos in the Mexican goal, then spiraling away dramatically to dive headfirst toward the corner flag. A celebration which The New York Times declared was his way of proclaiming the U.S. were finally "safe at home."

The Times had reason to be gleeful. As it noted, the win was "only the seventh United States' victory and two of the previous six were awarded via forfeits." ESPN broadcaster Alexi Lalas, who led the back line that day, said that "we had huge pieces of white paper in the locker room on which all the possible game scenarios we had thought were possible were written out. At no time was a 3-0 scenario after 36 minutes up there."

Kasey Keller, then starting for Millwall in England's top flight and returning to the national team after a three-year exile, said, "Before this win, we experienced the rivalry far more than the Mexicans did because they used to embarrass us that badly. Our 4-0 victory pushed the needle because we proved to ourselves we were more than a one-trick pony who had emerged from the group stage at our own World Cup. This was the game which flipped the balance of power and allowed us to build a period of dominance."

That balance of power has rarely fluctuated more unpredictably than in the present, as the U.S. prepare to clash with their regional rivals in Columbus, Ohio, on Tuesday night. Over the course of the past year, the two teams have traded places in a way not even Eddie Murphy and Dan Aykroyd could begin to understand. Lacking a permanent manager after Jose Manuel de la Torre was fired Saturday, Mexico stumble into Crew Stadium having claimed just one World Cup qualifying win in seven while veering from one humiliation to another. Could there be a better time for the United States to repeat the 4-0 scoreline?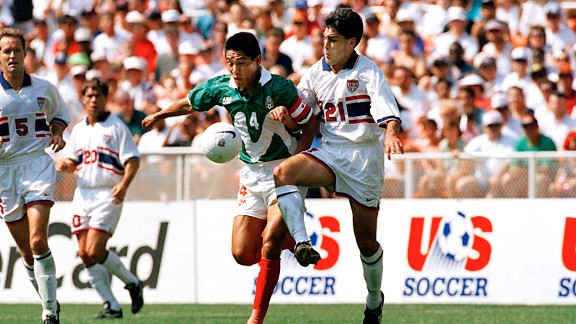 AP Photo/Greg GibsonFour to the floor: In 1995, Claudio Reyna was one of four Americans to get on the scoreboard as the U.S. earned its most lopsided victory over Mexico.
That question would have appeared unimaginable a year ago. Mexico won 10 of 12 games in 2012, beating Brazil to claim the Olympic title, their gold medals a symbol of their potential to make the leap from regional power to genuine world-class threat. "Just 12 months ago it felt like a massive gap had opened in Mexico's favor," Lalas said. 2013 began with six straight draws, triggering a tailspin of self-destruction in which they suffered 283 goalless minutes at home, contentious roster absences of Guillermo Ochoa and Carlos Vela, the lack of a settled formation and then the sacking of "Chepo."

Asked if they could remember a Mexico team more bedraggled and bereft, both Lalas and Keller were stumped. "They have never played with this sustained badness," Lalas said. "Everyone keeps predicting they are going to rebound, but they haven't." Keller described the team which wilted 2-1 on Friday against Honduras to sag into fourth place as if they had been defanged. "You used to fear playing Mexico, but now even the Azteca is not fazing teams," he said. "Now young Mexican-American players are even thinking it would be better for them to represent the U.S. Fifteen years ago they would never have dreamt of that."

When challenged to diagnose what he believed it would take for Mexico to overcome their challenges, Keller revealed the depth of emotion that bubbles behind the rivalry as he viscerally rejected the question. "Do you think I care to answer that," he said, laughing. "That's like asking me if I felt excited for West Ham to get promoted when I was a Millwall player."

Upon taking a minute to recover his composure, the Washington State native pinpointed the predictability of El Tri's play as their weak point. "If I am preparing to go in goal against Mexico right now, I am probably not going to have a lot to do," Keller said. "In the past, you would always expect to be battered by Mexico and have to make five or six big saves, see the ball hit the post a couple of times, and hope your defenders can make some big goal-line clearances. Now all I expect them to do is dribble the ball around a lot 30 yards away from my goal and do nothing."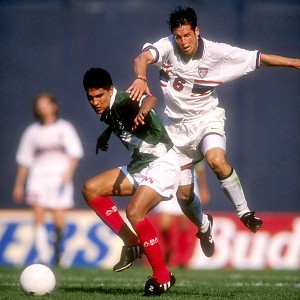 Getty ImagesJohn Harkes was the third scorer on the day, in the 36th minute. The others were Roy Wegerle (3'), Thomas Dooley (25') and Claudio Reyna (67').
Lalas believed psychological factors had caused the Mexican bubble to burst. "You can begin to believe you are invincible," he said, "but a Mexican team that is under pressure and backed into a corner is not something I want to face if I am a U.S. player because the United States have not faced that kind of Mexico before."

Lalas proceeded to reinforce this sense of warning. "The perception is Klinsmann's team will walk all over their opponents, but the form books get thrown out for any U.S.-Mexico game because history shows the fixture has its own ecosystem," he said. "[Interim coach Luis Fernando] Tena may not be able change the predictability of his squad's play, but that team can still click and score a slew of goals. Jurgen Klinsmann knows this is the kind of game the soccer gods set up looking so right only for everything to go wrong."

Indeed, after the U.S.' 12-game win streak was snapped during a damp squib of a performance in a 3-1 loss to Costa Rica on Friday night, suspensions and injuries to key players including Michael Bradley, Jozy Altidore, Geoff Cameron and Matt Besler mean Klinsmann has a slew of tactical questions to answer.

- McIntyre: How the U.S. can beat Mexico
- Depth test for U.S.
- Disaster for Mexico

Lalas predicts the game will be one of "tentative desperation from both sides." "Mexico needs to win," he explained, "the United States needs to erase the bad taste from Friday night and book their ticket to the World Cup."

Keller believes the American selection challenges make the game somewhat unpredictable but remains confident the United States has the ability to rebound and win this game emphatically. "How could you not be energized as an American player under these circumstances?" he asked. "A chance for redemption after a bad result in Costa Rica, knowing Mexico are on the block in a stadium you have had massive results in before. If some of the guys step up and seize the occasion ..."

Keller tailed off mid-sentence as if his mind had suddenly drifted back to 1995.

"Are you thinking about that 4-0 Kasey?" I enquired.

"That result sounds good to me," he said, laughing again.