Q&A: Bob Bradley keeps focus during tumultuous period in Egypt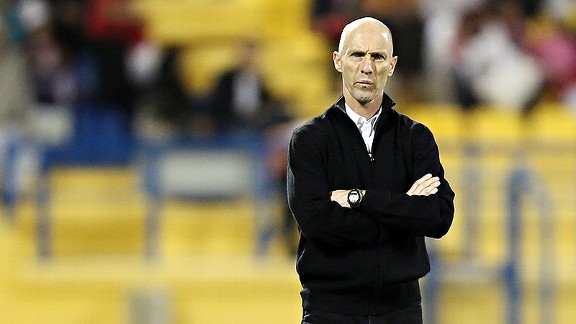 Karim Jaafar/AFP/Getty ImagesBob Bradley embraces the challenge of being Egypt's manager with a quiet nobility.
Bob Bradley looks like a holy man. The Egyptian national team coach arrives for our interview clad in black from head to toe. Gaunter than he was when coaching the USMNT from 2006 to 2011, the New Jersey native carries himself with a modest intensity as he describes the contours of his present, more unexpected role. Bradley has become a regional icon as he leads the Egyptians ever closer to their first World Cup qualification since 1990. No easy feat in a nation torn apart by revolution, which has caused the football league to be suspended indefinitely.

We meet on July 25, the day Bradley is taping "The Daily Show" with John Oliver. The coach, who was back in the United States for the first time in a year, seemed locked on his task with a calm focus bordering on nobility. Our conversation seamlessly ranged between geopolitics, the Middle East, football, family and coaching strategy. Egypt play Guinea at home on Tuesday behind closed doors. After that, they face a home-and-away tie against an opponent yet to be determined, with the winner qualifying for the World Cup. If Egypt emerge, Bradley will be one of the most fascinating American stories of Brazil 2014.

Roger Bennett: How did the Egypt opportunity rear its head? Did you ask your agent to look for something that combined football and the Peace Corps?

Bob Bradley: Not exactly. When I got fired by the U.S., I was thinking about the next challenge. And first and foremost was the idea that maybe I could find myself into a job in Europe. That's always been the goal. And I really would have enjoyed the opportunity to go a club team anywhere in Europe as a head coach or assistant coach. But when you get let go in July, the timing's not perfect. And a month later, we knew that Egypt was looking for a head coach and there was some familiarity in both directions because of what took place in the Confederations Cup in 2009, when U.S. beat Egypt 3-0.

Bennett: Listening to you, I hear the subtext of your story is if an American coach is to get respect, he has to go way outside the box ...

Bradley: That's true. American players and coaches all know it's not easy gaining respect around the world. I've seen many of our players fight to get opportunities in teams, and then I'll see the transfer list and the prices paid for some others and I'll think -- wait a minute. The American player is better than that guy. But it doesn't always work so easily. So you have to fight for respect. And it's the same for coaches. I really think that following my tenure with the U.S. if I had been born outside the U.S., if I was German, Dutch, Spanish, French, you name it -- there would have been opportunities to become a club coach in Europe for sure. But it doesn't do you any good to complain about that. You just have to take it as it comes.

Bennett: You have lived through food and fuel shortages, violence, sporadic revolution. Have they combined to make you more focused on the football?

Bradley: First off, when I originally visited and spoke to the [Egyptian Football Association], I knew it was going to be a total challenge. But what I didn't expect at all was Port Said [a February 2012 Egyptian premier league football match between Al-Masry and Al-Ahly clubs in which around 80 people were killed]. And so Port Said changed the landscape forever because the league stopped, players no longer knew if they had careers. And yet in the midst of all that the one thing that didn't change was the goal -- to get to the World Cup. And that was why I got hired. And that was obviously what we were thinking about every day. So we had to adjust. We figured out ways to have camps and friendlies when the teams weren't up and running, when players weren't getting paid.

We would say to the players over and over during that period in 2012 that when we play our first World Cup qualifier in June, "none of this matters. That on that day we're going to put 11 on the field -- Mozambique, they're going to put 11 on the field -- and the ref's going to blow the whistle and it's 90 minutes." And so what we've done is we've constantly tried to build a team where we as a group understand that it's on us, that we have this opportunity -- we talk about it being a special opportunity -- during a really tough period in the country. We can't let any of the trouble and the distractions take us away from this goal because the people of Egypt are counting on the team.

Bennett: You and your wife are probably the two most visible Americans in the Middle East. Do you see yourself in an ambassador role?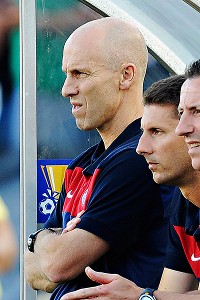 Kevork Djansezian/Getty ImagesBob Bradley, the former USMNT manager, doesn't see himself in an ambassador role as he tries to guide Egypt to the World Cup.
Bradley: No, I don't see myself in that role. But I understand that there are others that do. Wherever we've been, we do things a certain way as a family. We try to look around you. Be aware of people and situations. I could talk about things that I did in the U.S. but we were able to do them under the radar screen in a way that was private, which is for us the way we like to do things. But when you get there, nothing is below the radar screen. Because the recognition factor is through the roof, and at a certain point you accept it.

Bennett: As U.S. coach, you became renowned for how little about the squad you liked to make public. Has this been an easy adjustment for you?

Bradley: There's an element to the work you keep private simply because when you're trying to challenge players, when you're trying to get to know them and let them know what's expected, in this back-and-forth, establishing a trust, establishing a way of communicating, is easier when it's between you and the player. And it's not always going to work so well when it's out in the press. So I think sometimes I got this reputation like I was so guarded and that it was to cover myself, which is not the case at all. ... I think anybody around me over the years who knows me well, realizes that as a friend, as a coach, as a father, having real conversations is important. The idea that at times you can talk to someone and let them know how you feel and in turn get them to the point where they are also going to let their feelings out -- this is an important part of the work. And it's been no different in Egypt. So as much as I'm more public in some ways, the work with the players is still quiet.

Bennett: How crazy does CONCACAF seem now that you're in Africa's CAF?

Bradley: CONCACAF is a tough region and there are some crazy moments, but Africa is crazier, for sure. The world of football in Africa is still an amazing one: Qualification in Africa is difficult because of travel ... Egypt to Guinea takes 22 hours of travel! Conditions in the field, weather, referees, you name it ... but the experiences in Africa are truly incredible. The children that you see, the hope that they have in their eyes, the smiles that they have, they love football, they love being around the game, they love touching a ball ... but they are also just trying to survive.

When we played Guinea, we won an incredible, emotional game 3-2. We scored at the end after letting Guinea back into the match, and we got into the locker room following the game, and it was a little bit below the ground, but there were some windows above the lockers with bars -- that was sort of ground level with outside -- and as we're all sitting there -- you know it's hot, there's no air conditioning, we're just sharing the moment and now there's faces coming through these bars looking inside. And there's all sorts of juice boxes that they had given us for the game. And at that point, most hadn't been used. So we start handing these juice boxes to the kids. And then the next faces come through and you realize at that moment that a juice box is not something that most of those kids get very often. And how excited they are to get their hands on something. Some of the players at that point are passing their shirt or their shin guards out through the windows. And so you appreciate exactly what you have around you.

Bennett: How have you changed Egyptian football?

Bradley: It's important to say that the history of Egyptian football is great. My predecessor, Hassan Shehata, was a great player, and he coached teams that won three consecutive Africa Cup of Nations. But when I got there, all that anyone talked about was the World Cup because they had failed to qualify for so long. ... I don't know much Arabic, but I learned early that Kas el a'alam means World Cup. Because that's what people would talk about ... I do think that an outsider's perspective during this difficult period has actually helped. Because when things are bad there, the typical response is it won't work, and so I think the perspective that says, yes, things are tough right now but that doesn't change our opportunity and we can't let all this stuff get in the way of what we're trying to do. ... I've tried to use that focus and determination to create an advantage. And actually so far I think that's been part of our strength.

Bennett: How has it changed you?

Bradley: One of my best friends in football is Manfred Schellscheidt, and he has this expression, "It's the game that keeps you honest." I think my experience in Egypt has just done that. It doesn't matter what you did before. it doesn't matter whether you're Egyptian, American. Your opportunity at that moment to lead, to say the right thing, do the right thing, show players strength when things seem to be falling apart a little bit. It's a reminder that the there's a lot of things as a manager that you can control, but that important part that you bring every day -- that leadership that says, "Don't look back, this is what we're trying to do, let's go for it, let's not be afraid."

Bennett: What's next? A return to club football?

For sure. I did have a chance to speak to the great people at West Brom. I was very impressed with the way things were done. At the end of the day they hired Steve Clarke, and he is a great man, a great coach and he did a great job there this year. It didn't happen, but the [interview] experience was important. And I still believe the opportunity to work in Europe would be a good one. I'd like to think that there are people who see the work that I've done, the way I got about things, that would be interested to talk or perhaps give me an opportunity. So we'll see. But first and foremost now is in October and November. A home-and-away against an unnamed opponent at this point. It'll be another group winner. And the idea that in those two games we'll find out if this mission is gonna finish successfully and accomplish the goal of Egyptians to get to the World Cup. That's still the focus for all of us.

Bennett: Do you think we'll see an American coach in the Premier League in the next 10 years?

Bradley: I hope so. Again, you never know for sure because, let's face it, there are many talented football people around the world. And as Americans all we can do is continue to work to improve ourselves. Try to take advantage of opportunities and gain respect and hope that it opens up doors along the way.

Bennett: Would you look forward to a World Cup clash against U.S.?

Bradley: I'm not sure. At this point it's just a focus on what we need to do with the Egyptian team.

Bennett: Does the U.S. experience haunt you?

Bradley: There will always be things that stay with you. But I also felt very strongly about the work that I had done in the U.S., the results, so my decision at that point was to move on to new challenges. I never spent much time going back and making comments. I don't think anything that I have to say publicly at this time about the U.S. matters and certainly doesn't help those that are on the job now. Maybe along the way not everybody has shown me that level of respect. I know that. But at the same time, I made my decision that when the time came, I was going to move on, and that was it.

Bennett: But emotionally inside?

Bradley: It's normal that there are certain things that stay with you, but at the same time, when you get involved in new challenges it doesn't do you any good to spend too much time on any given day with what could have been or should have been. The message I give as a coach and as a father is there are never challenges every day. Feel good about what you've done in the past. Don't be afraid of tomorrow. Keep going. So I think when the time came it was important since I've been telling people that over the years and since my children have heard that more than anything else, it was important that I live that. I'm lucky, my wife, Lindsay, reminds me of these important things every day. We're lucky as a family for everything we have. We've moved on and we keep going.

Bennett: You are off to record "The Daily Show" tonight. You have quite a serious image. Who makes you laugh?

Bradley: I love George Carlin. In today's world, there's a part where everyone likes to show who they are and what they are every second of every day with everyone through Facebook and Twitter. That's just not me. But my family and some of my best friends know better who I am and what I am. And I've sometimes joked and said to them, "Don't tell anybody that I'm funny."