Reds' leadership trio firmly focused on top-four finish
BOSTON -- The American League East-leading Boston Red Sox are lolloping through their batting practice routine as co-owner Tom Werner ambles into a conference room with wide glass windows that provide a commanding view of baseball's jewel-box stadium. Werner has an unusually modest demeanor for a man who made his fortune in the entertainment business, and before the game, Fenway's is a genteel atmosphere compared to the ones he has encountered as Liverpool Football Club's chairman.

"I have learned a lot," Werner admits when asked to sum up his experience of three years in English football. "The first match John Henry and I attended at Everton, an unruly fan spat on us," he remembers with a chuckle. "It has been a wild ride."

At times, the 35 months since Werner and Henry added the Premier League club to their Fenway Sports Group portfolio have been a very wild ride indeed, a period of transition that has been thirstily decoded by Liverpool's passionate fan base, eager for signs of progress.

- How Will They Line Up? Liverpool vs. Man United
- Walsh: Transfer hand forced?

There are many reasons to feel optimistic. The Reds have begun the campaign with a brace of one-nil wins, their best start in five years. The quality and value of the squad is improving as Brendan Rodgers' philosophy of dynamic, intelligent football is taking root, propelled from back to front by the seemingly routine heroism of goalkeeper Simon Mignolet and surging confidence of striker Daniel Sturridge.

However, pessimists could point to the mid-table quality of opponents faced, the squad's thinness that has been exposed by Kolo Toure's injury, ongoing uncertainty surrounding the much-needed stadium redevelopment and the high-gambit risk of retaining malcontent Luis Suarez, whose wantaway antics have dogged the team like a piece of flapping skin.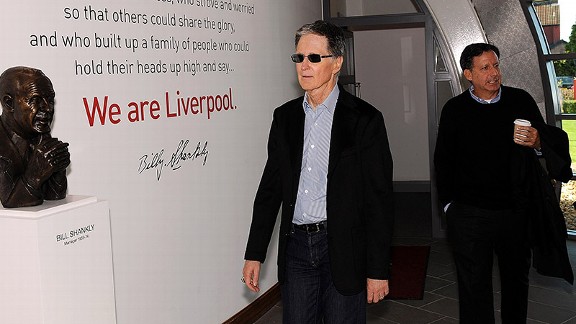 John Powell/Liverpool FC/Getty ImagesLFC owners John W. Henry and Tom Werner are happy with the club's direction though their frustration with FFP's failings is a daily concern.

Now, a marquee clash against Manchester United looms on Sunday, a game that will surely be hailed as a reality check by the relentless Premier League media cycle. Yet I have come to Fenway to gain a more in-depth appraisal of where the team are by talking to Werner, principal owner John Henry (in his idiosyncratic style, via email) and with managing director Ian Ayre on the phone to understand their progress, expectations and sense of pace. As we approach the three-year mark of their ownership, what is their leadership philosophy, and is it beginning to take root?

Two matches does not a season make

"Winning is always better than losing," Werner says, striking a note of cautious optimism as he assesses the club's strong opening to the season. "We got off to a bumpy start last year. I feel we are going in the right direction. Two matches does not a season make."

Over the past four seasons, Liverpool have endured league finishes of seventh, eighth, sixth and seventh. Has the club hit a glass ceiling that only oligarchs, sheikhs or teams with state-of-the-art stadiums can shatter? Henry admits the financial side of the league has been one of the toughest lessons for the American owners to learn. "The biggest problem [with] the Premier League, from my perspective, and from a few other owners I've spoken with is the failure of UEFA's Financial Fair Play rules," he says. "As I said the day after our acquisition of the club, we would not have moved forward with the purchase if not for FFP."

Tom Werner interview:
- Transfer window learning curve
- Talking Champions League, Man United
- Liverpool's financial philosophy
- Thoughts on Luis Suarez
- Full video

Werner suggests that finance has its uses. "Money is always going to allow you to make more mistakes," he says. "I think in the end having a strong manager, a strong football operations department and a team of people who are going in the right direction is the recipe to success. We see the possibility of not only being a top-four club but being the best team in the Premier League. I am not promising that it will be this season or next season, but one thing I have seen, and we see it every week, that it is a very unpredictable sport and it's very complicated to put together a winning club, and money is only one ingredient."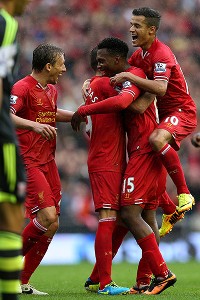 Clive Brunskill/Getty ImagesThe Reds' brain trust is rightly proud of the scouting network now in place, one that helped the club identify and acquire Daniel Sturridge and Philippe Coutinho.

I ask Werner which team's business model he is using as the blueprint to follow and deliver that success. Though I expect a response of Porto, Borussia Dortmund or perhaps even Spurs, Werner surprises me by aiming much higher. "You don't have to go much further than look at Manchester United. They not only year-in, year-out field a great club on the pitch but their commercial revenues are terrific. They have a great group of people who work around the clock on partnerships and sponsorships that are global, and we are trying to increase our footprint, not just in the United Kingdom."

Liverpool does not officially release commercial information for contractual reasons, yet sources within the club indicate the team had 18 partnerships at the time of FSG's acquisition in 2010 and will have over 30 in place for the 2013-14 season, from global partners Garuda Airlines to local partners like Honda Motorcycles in Thailand. Asked if the club measures success by revenue, points, Facebook likes or youth academy development, Werner is quick to answer. "It's everything ... it is a virtuous circle. The more revenue you bring in for the club commercially, the more we can use it to strengthen the squad, both the first team and the academy."

All three men are quick to highlight the club's record in development and recruitment. Ayre speaks proudly of the seven academy players who made their debut last season, while Werner becomes most animated when talking about the club's recent successes in the transfer market. "We have improved our scouting department," he says. "I am extremely proud of the transfer market targets we acquired last January, which people say is not a good time to strengthen your club. That's when we acquired Sturridge and [Philippe] Coutinho."

The discipline to walk away

Those savvy acquisitions are a stark contrast to the ones FSG made upon first taking over the club in 2010 when they splurged $134 million on targets such as Andy Carroll, Stewart Downing and Charlie Adam. "I don't want to analyze all of our decisions but some of them worked out and some of them did not work out," Werner says when looking back on that time.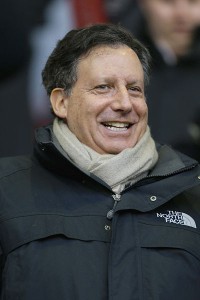 Mark Thompson/Getty ImagesTom Werner recognizes that Liverpool's squad needs more depth and knows there's still time: "We haven't shut the window. We will all know more shortly."

"I will say that we do assign a value for our targets as opposed to certain clubs that are financed by the state or by an oligarch ... and if a target goes for more than that value we have to have the discipline to walk away, but I would say that in the end our fans would be happy if we are running a competitive club that is sustainable," he suggests. "The best thing for the club in the long term is to be self-sustaining."

Liverpool's summer has been marked by close encounters with elite attacking talents including Henrikh Mkhitaryan, Diego Costa and Willian, none of whom ended up at Anfield. Ayre insists each case should be understood on an individual basis. "One of those players did not go anywhere [Costa]. With Mkhitaryan, we put our best foot forward and were at the level of the other teams. When he made his choice [to go to Dortmund], whether that was because of the Champions League or money we will never know," he admitted. "Willian, we made our own decision not to stay in that at the end when it escalated to the level it did. The value compared to the opportunity were miles apart."

Making Luis happy

Though Liverpool fans may be frustrated by the absence of a new marquee attacker, many will also be astonished by the continued presence of Suarez, who remains at the club despite announcing his desire to leave. Henry was direct in explaining his hardline stance on the matter. "Clubs generally try to accommodate players, as they should, but there are certain specific times when a club's interests have to be paramount if events line up in a particular way with a key player." Ayre was willing to elaborate. "We had agreed with the player if we did not make the Champions League we would act in good faith to consider options should they come in, but we have only had one football club make two offers for the player and we turned both down."

Werner explained the club's thinking. "We were very challenged to improve the club when Fernando Torres left and we made a decision very quickly to replace him with Andy Carroll. And I think one lesson learned there is we will do what is in the best interests of Liverpool. And if we can improve the club we will do so, but as the window got closer to the end of August it was going to be even more difficult to consider any sort of offer [for Suarez]."

Ayre was quick to suggest that he did not expect Suarez's presence to unsettle the squad's chemistry. "We are very fortunate we have Brendan Rodgers, who manages well. There have been occasions in the last couple of weeks where he has had to sit with Luis and explain what it means to be a Liverpool player -- that he has a contract and needs to knuckle down, but Luis is a professional. He will do his best for Liverpool Football Club."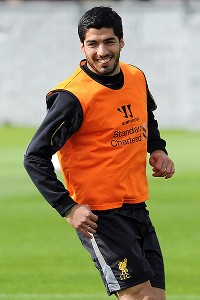 Andrew Powell/Liverpool FC/Getty ImagesFor now, Luis Suarez appears to be back on track with Liverpool management and should contribute immediately upon his return.

I ask Werner how long he expects Suarez to be a Liverpool player and he chooses his words with care. "Let's take this one campaign at a time. It would be a felicitous day if next May we were one of the four clubs who will move into the Champions League, and I think that would be a day that would make our fans happy and make Luis happy."

Few things would make Liverpool fans happier than a new signing. Asked whether one may still appear before Monday's deadline, Werner says, "We haven't shut the window. We will all know more shortly." Laughing as he points towards his iPhone, he says "I'm waiting for this to ring."

Above all, Ayre validates a sense of imminence. "We definitely are still very busy looking at our options for this summer. A big transfer means a lot of things. For us it is about finding the right players in the right positions that fit with our aspirations. We have some irons in the fire and I expect us to complete some further business."

Champions League beckons?

I ask the men to reveal the goals they have set for Brendan Rodgers this season after his honeymoon last year. "We believe we will fight for a Champions League spot this year," Henry says. "That is certainly a goal, but the larger goal is to build a certain type of team and organization. We are doing that."

"This club is renowned for European football. Our aspiration has to be for European places," says Ayre. "Brendan's success will be measured on the progress made towards that journey. We feel that in the short time he has been here, we have made progress in terms of style of football and bringing in the kind of footballers who can play it. That is what the history and basis of the club is founded on and what the fans expect."

Before I leave, I read Werner the description that Irish outlet Back Page Football recently used to describe the Americans' ownership, declaring them to be "stubborn and determined rulers." I ask the chairman whether he finds the description apt.

"To be successful you have to be focused, and being focused is being stubborn and determined," he says, before reflecting upon the 100th anniversary of managerial icon Bill Shankly's birth, which will be marked this weekend. "Shankly is probably the most important figure in the history of Liverpool. If someone called him stubborn and determined, he would have said 'Absolutely!' so if we can be in that company, that's good," he says with a smile.