Already, Man United and Chelsea playing for more than points
When Manchester United host Chelsea in this week's blockbuster game, there are so many parallel subplots, machinations and scores to settle, it is hard to believe there are just three points on offer for the winner. Yet with the season not yet two weeks old, how much dare we read into the result of a single game?

In the 1980s, before the Premier League marketing juggernaut was conceived, most newspapers did not calculate the league table until the season was a month in. With so few matches played, the evidence was deemed too scant to bother. However, with both of these powerhouse clubs in transition -- new managers in David Moyes and Jose Mourinho, both eager to enforce their will, and the two sides caught in a tug of war over the services of a rejuvenated Wayne Rooney -- this early-season battle, though premature, bears a symbolic power that could still be felt after the final score is long forgotten.

Mourinho's return is currently the most complex and eagerly awaited reunion in sports. The 50-year-old Portuguese manager has set out to repair his own reputation by restoring Chelsea's impregnability. This second coming began amid rhapsodic scenes of welcome from the Stamford Bridge faithful as Chelsea brushed aside a fearful Hull. Yet Mourinho's squad was threatened by Aston Villa's self-confidence midweek, struggling to conjure balance between attack and midfield. Only a series of compliant referee decisions prevented them from dropping points.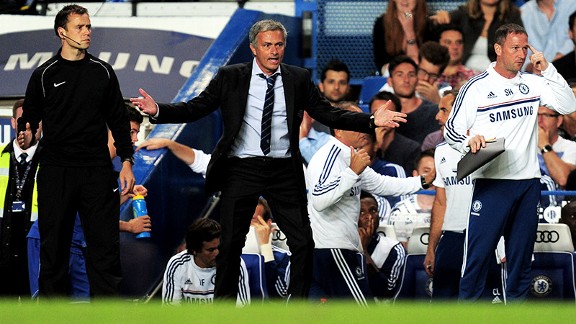 Jamie McDonald/Getty ImagesJose Mourinho returned to Chelsea to restore his image and that of the Blues. Beating United early in the season would keep him on track.

As emotional as Mourinho's ecstatic return appeared, it was also proof of football fans' cognitive dissonance. The Portuguese was widely believed to have coveted the opportunity to replace Sir Alex Ferguson only for the United hierarchy to feel the heat of the scorched-earth policy he employed at Real Madrid. David Moyes, the man who will fill the home technical area on Monday, was preferred as the safe, conservative hire.

Although Mourinho has since protested too much by claiming he never wanted the Old Trafford job in the first place, the truth remains he was also Roman Abramovich's second choice for Chelsea behind Bayern Munich-bound Pep Guardiola.

Meanwhile, Moyes has recent history of his own to confront. Throughout his decade in charge at Everton, the Scot struggled with Chelsea's challenge, winning just four times in 32 meetings (W 4, L 18, D10) and never toppling a Mourinho-managed side. Though his new team defused the creative threat posed by Swansea on opening day, the phrase "David Moyes' United" still sounds like an oxymoron to many. The ruthless Robin Van Persie and Danny Welbeck had surplus talent to expose the Welsh side's defensive disorganization, but Moyes will find Chelsea's backline less charitable. Furthermore, United's unforgiving schedule promises little respite with visits to Liverpool and Manchester City ahead. A loss on Monday will ensure that lingering doubts about him being out of his depth at a club so large that it even has an official integrated telecommunications partner for the Republic of Benin will cling to him like a pungent mist of Drakkar Noir.

Despite their 100 percent records, the fact that both teams have such obvious weaknesses is where this game becomes truly intriguing. Van Persie's and Welbeck's striking potency cannot mask the reality that Moyes has inherited United's long-term problem -- the persistent lack of a midfield gut. Chelsea, in contrast, are overstocked in the midfield yet lack a striker within Demba Ba, Fernando Torres and Romelu Lukaku that Mourinho clearly trusts.

As a result, Rooney casts his stout shadow across the fixture. With Chelsea poised to unleash a "final" bid for the England forward, United fans have been forced to decode every visible symbol to parse his intentions. Rooney looked miserable when captured by Swansea City's "TunnelCam" (translation: he's leaving!) yet voluntarily attended a team-building dinner on Tuesday night (translation: he bleeds United Red). When Rooney last threatened to decamp to a rival, United supporters threatened their fallen icon for his lack of loyalty; this time round they have elected to shower him with applause.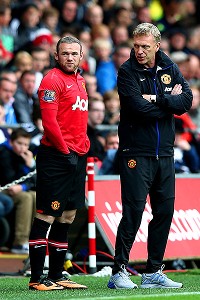 Michael Steele/Getty ImagesWayne Rooney's future looms large over Monday's battle with Chelsea. If anything, Rooney's potency up front is the one thing the Blues lack.

Rooney's approach to this fixture may trump any action that takes place on the field of play. He can elect to follow the path of Newcastle midfielder (and Arsenal target) Yohan Cabaye and not take the field, or he can maintain the professional stance he assumed as a substitute against Swansea when he set up two goals while pouting like a belligerent teenager who had been sent to his bedroom. In a World Cup year, the talented yet petulant Liverpudlian must choose between the coaching equivalent of an unforgiving disciplinarian stepdad or the allure of an exotic uncle who promises that only he can restore the fun and swagger to the game they both love. Rooney will know that the wrong decision may leave him washed up like the kind of bloated, English David Hasselhoff figure he portrayed in this Nike commercial. With the imperious Juan Mata still rumored to be offered in return, any move could also determine the fate of this season's title.

Moyes' transfer dealings thus far can only be described as constipated. As he prepares to grapple with the mind games and reality of the Rooney relationship in the run-up to Monday's game, he would do well to heed the advice of his predecessor, Sir Alex Ferguson, who described his first impressions of a young Mourinho after the wily coach shocked his United team in the 2004 Champions League.

"He was certainly full of it, calling me 'Boss' and 'Big Man' when we had our postmatch drink after the first leg," he said. "It would help if his greetings were accompanied by a decent glass of wine. What he gave me was paint stripper."