Special or not, Jose Mourinho's still got it
I catch the self-proclaimed "Happy One" on a day that he's more like the grumpy one. In fairness to Jose Mourinho, Chelsea had flown back to their U.S. base in Washington, D.C., at 2 a.m. Their new coach enters the room with bags under his eyes. Keeping his movement at a minimum, he proceeds to sit, legs wide apart, feet crossed and with hands in lap, never moving, like a giant Portuguese Buddha.

Ground down and low on energy he may be, but the bedrocks of Mourinho's charisma and confidence remain, two peerless skills success may depend on as he returns to Stamford Bridge for his second coming. His decision to rejoin Chelsea is easily the most eagerly awaited transition in a new season of wholesale managerial change.

Reunions can go well (see: Steve Jobs) or badly (see: Rihanna and Chris Brown). Seven managers -- of the permanent, temporary and interim variety -- have come and gone in the five years and eight months since Mourinho's 2007 exit, but the Portuguese coach insists that it is a "good feeling" to return.

• Watch: Full Mourinho interview
• Mourinho on Bale
• Clip: Jose's legacy
• Worrall: Hopes for Sunday
• CFC season preview

"It's different to moving in and going to a new club," he says. "I have history here, [but] I don't want to rest on that history. I want to use that history to push me and to press me, to do more."

Can Mourinho do more? When he first arrived in English football, he led Chelsea to the Premier League title in his maiden season. Having turned 50 this year, his hair is grayer and his jowls more defined. With the disappointment of his recent Real Madrid experience still fresh, the oft-cocky coach has the experience to adopt a management expectation strategy of underpromising and perhaps overdelivering. "This is not a team to win tomorrow," he repeats like a mantra. "This is a team of kids ... a team where the best years are to come. The best year is not this one or the next one," adding that his squad is "maybe too young for such a big responsibility to play for a big club."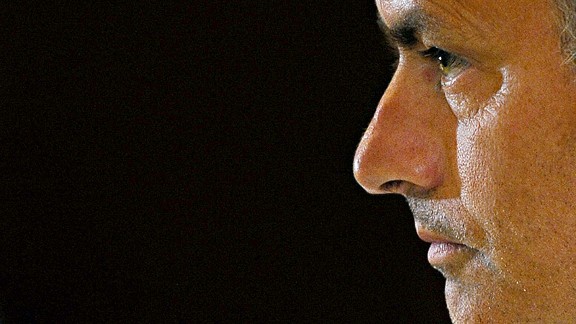 Getty ImagesPressure? If there is any on Jose Mourinho, he's not letting it show.

Mourinho manages to articulate his big-picture goal while simultaneously laying claim to every success Chelsea have enjoyed since his departure. "The same way I built [a team] that lasted for seven or eight years," he says, "that was the Chelsea team for the last decade. What I have to do now is the same thing -- to build with the fantastic talent I have now, the young talent, to build a team for the next decade."

This ambitious goal raises the question of what impact any coach, even one blessed with Mourinho's charisma, can actually bring to bear on a club. I broach Giovanni Trapattoni's classic quote -- "A good manager makes a team 10 percent better, and a bad manager makes it 30 percent worse" -- and Mourinho smiles as he calculates his response.

"Trapattoni's fantastic. I'm not sure about the 10 and the 30," Mourinho says with a grin before setting out his gambit for the season. "I am going to improve [the squad] individually and collectively. Support my old people in the last period of their career, make them live again to three good years of their career, and the young boys, I want to support them. I want to help them to grow up."

If the game plan is to fuse the slow-footed experience of John Terry and Frank Lampard, the fast-maturing talent of Juan Mata, Eden Hazard and Oscar and the potency of Andre Schurrle and Romelu Lukaku, there is plenty for Chelsea fans to feel optimistic about. Yet Mourinho returns after an implosive spell at Real Madrid that ended in locker-room acrimony and a trophyless season. The fallout from that debacle still lingers.

I lay out two possible scenarios for Mourinho's return. Win, and he will cement his reputation as a Chelsea great. Fail, and he risks being seen as a manager in decline.

I ask Mourinho if he feels a sense that his legacy is on a knife's edge. The question causes the coach to snigger, his attempt, perhaps, to show contempt for the idea that, despite all of his career success, he returns to Chelsea with the need to vindicate himself once more. "No!" he exclaims. "Because if I lose and I'm a manager in decline -- imagine all the others, and there are thousands of them, without 10 percent of what I did in my career, so I don't believe in that."

Mourinho's thick skin of self-assurance is a human wonder, a tool he uses as a weapon as well as a shield. When asked at what age he realized the power of his own self-confidence (a question I foolishly imagine may jolt loose some kind of revealing story about running a bookmakers ring, at age 11, in the schoolyard of Setubal, Portugal) the coach resists offering a personal answer, seizing the opportunity to talk about the origins of his coaching experiences. After all, it's a tangent that will allow him to settle scores. He refers to coaching Pep Guardiola as a "player" and Ronaldo as "not this one [Cristiano]. The real one, the Brazilian Ronaldo."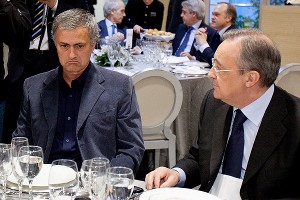 Pablo Blazquez Dominguez/Getty ImagesJose Mourinho's time under Real Madrid president Florentino Perez ended badly, but the new Chelsea manager isn't concerned about any such trouble with Roman Abramovich.
Management is a confidence game, but even in that context, Mourinho's self-belief is astonishing. He does not so much as blink when asked if he faltered at all during the bedlam of his demise at Madrid. "No, because I know Madrid is a special club," he says. "Madrid is politics. Madrid is not about football."

Chelsea could hardly be described as apolitical under Roman Abramovich either, but for now, Mourinho appears eager to focus on football. He is quick to deliver a vote of confidence for both the bewildered Fernando Torres and the risk-taking David Luiz. "Fernando is a man of depth, a man of movement. He likes to go and get the back of the defenders, so this is Fernando. If you can adapt our game and give him what he needs, I think he will get success again."

Mourinho has typically coveted defenders who defend, but his comments describing Luiz are revealing: "Big self-confidence, big self-esteem, coming from the back with the ball and the team has to use that. After that, can he improve defensively? I think of course he can."

His comments are always illuminating when analyzing others, but less so when talking about himself. I close by wondering if the 50-year-old manager had any advice to give to his 37-year-old self who embarked on a coaching career.

"I would change nothing," he boasts. "My career is almost unique in terms of experience. I coached in my country. After that, I left. I went to the mother of football, and after that, I went to the mother of tactics, and after that, I went to Spain to compete directly against the best team in the world in the last four or five years."

I wonder if there is not even one mistake that he has learned from and could pass on. "Failures? Every day," he claims, as disingenuously as a job applicant telling his interviewer his only weakness is that he works too hard. In that moment, I realize Mourinho's exhaustion may come not from jet lag but rather the sheer human effort it takes to project such an immensely confident front, settle scores and drag his team to glory on an eternal basis.