Lessons learned as win streak continues for U.S. team
SARAJEVO -- Tonight, the U.S. men's national team stepped into the rickety cauldron that is Sarajevo's Olympic Stadium and silenced it. The high-flying Bosnia-Herzegovina team leapt out to a 2-0 halftime lead after a delirious sold-out crowd welcomed them with a Tifo that screamed, "Sweat and blood you are spilling; We do not forget it!" Yet, the U.S. refused to be intimidated, and propelled by a second-half hat trick from potent "moneymaker" Jozy Altidore, demonstrated character, leadership, and belief to escape with a memorable 4-3 victory.

• McIntyre: Jozy Altidore is in the form of his career

Although the game was a friendly with no trophies on offer for the winner, the lessons learned could arguably be more important for Jurgen Klinsmann's team than those from the Gold Cup. Before the game, the German coach had suggested the Bosnian challenge would provide a "reality check" for his team. When asked to assess that reality, he attempted to remain grounded. "First and foremost we proved we can come back from a 2-0 deficit and give opponents a real game, which is what we discussed at halftime when I told the team we should have had a penalty and we could have scored," he said. "We kept our rhythm and moved the tempo higher which tells us we are maturing in our process, so from a belief and confidence perspective this was huge."

Altidore, who became the first American to score in five straight games, was humble in his postgame comments, suggesting the second-half turnaround was simply a result of "everyone buying into Jurgen and his method. Everyone has finally responded to trying to play football from the back which is how you create chances." The Sunderland striker revealed the U.S. locker room retained a sense of optimism at halftime despite the 2-0 deficit. "We were not that frustrated. … We said we can beat this team if we put more passes together and play more confidently," he said. "The team is now coming together at the right time with the World Cup on our horizon."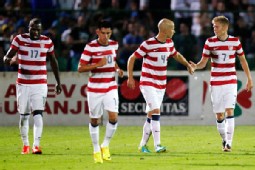 REUTERS/Dado Ruvic Jozy Altidore score a hat-trick to help sink Bosnia and Herzegovina.
It was a mere 10 months ago that Klinsmann had left Altidore out of his squad, publicly demanding the striker give him more. Asked what has changed since then, the German coach said "Jozy is just going through a maturing process … he now understands his role and what he has to give to this team. He has this energy and presence and he has always had his instinct for scoring. I think just that now he is becoming more and more a complete player."

This U.S. squad was a hybrid, fusing some of the more experienced European-based players with a cluster of new faces. Klinsmann was eager to praise both ends of that spectrum. "We showed tonight we have guys like Michael Bradley, Tim Howard, Jermaine Jones and Altidore who have the leadership to guide the process and give us the confidence to play our game."

The coach added praise for young German-American debutant John Brooks, who played center-back with confidence. "He's 20 years of age and this was his first cap but he looked like he has been with us for nine or 10 years," he suggested before singling out Icelandic-American substitute Aron Johannsson by declaring, "His presence and way he created chances for himself showed us we were right to fight to bring him over to the U.S. team. This is fun to see for us, it is part of our job to bring in the young generation."

With the Bosnians currently ranked 13th in the world, I asked Klinsmann what he thinks the win says about his team's place in the global order. "We would like to break into the top 15," he admitted, "but we are not thinking about the ranking. We don't want to just defend and have to react. We want to start to play our game and make the other team play the ball and dictate the tempo."

Klinsmann had suggested before the game that the team's record breaking 11-game winning run was 'inconsequential'. I asked whether the 12th straight win really mattered. "We enjoy the moment," the coach said with a grin, "but we know the next game is always the most difficult one and now comes a real difficulty in Costa Rica where we have never ever won a world cup qualifier so this is what we want to do now, because we would not mind if there is a 13th."