Jurgen Klinsmann demands more, wants Clint Dempsey to know it
SARAJEVO, Bosnia-Herzegovina -- It is a muggy 91 degrees in Sarajevo, a city of cabbage rolls, fruit-flavored brandies and Ottoman buildings. The sound of a muezzin calling the faithful to prayer rolls across the valley. The Old Town is bustling all around him, but U.S. coach Jurgen Klinsmann is in a relaxed yet candid mood ahead of Wednesday night's friendly against an impressive Bosnia.

-- Dempsey reflective, happy to be home

The U.S. team arrived on the back of an 11-game win streak, but the German is quick to label it "totally not important."

"It just happened that way," he said. "We are very pleased, but it could be over tomorrow."

This approach should not come as a surprise. It is a reflection of one of Klinsmann's favorite mantras, which he alludes to several times in the course of our conversation: "In football, you can never rest because the next game is always the important one."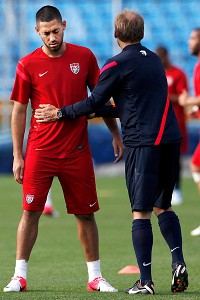 AP Photo/Moises CastilloJurgen Klinsmann insists he's OK with Clint Dempsey's move to MLS, as long as the player continues to challenge himself.
Simply put, with Klinsmann the next challenge is always the one that counts. It's a feisty approach that informs the German's core philosophy, dictating the relationship he prefers between coach and player, the individual and team. This is also a timely topic to explore in the wake of U.S. captain Clint Dempsey's stunning return to MLS from the English Premier League -- a move the coach refers to as "a big surprise to all of us."

On Monday, Dempsey said he had not consulted Klinsmann before making his decision. I asked the German what he would have said had his captain asked for an opinion.

"I would have told him it is his personal decision and he has to do what is right for him," Klinsmann said. "Every time you make a decision in life, you make it based on what you see today, so you don't see the future. So we all hope that, by going back to MLS, his own level is not dropping because he is going from the Premier League, one of the best in the world, into a league which is trying to improve every year. It is improving, but it is not the same level and he knows that.

"[Clint's] job will be to keep his level the highest possible. My job is to help push him to that level and when I am not happy to tell him to his face."

It is less than seven months since the Wall Street Journal published Klinsmann's infamous "[Dempsey] hasn't made s---" interview. I read the coach one of his quotes from that piece, in which he declared, "There is always another level. If you one day reach the highest level, then you've got to confirm it, every year," and asked him to revisit it in light of Dempsey's transition.

"I respect that move from Clint as a move he makes for his life and his family with a very big financial opportunity there as well," Klinsmann said before seizing the opportunity to broaden the topic. "I always said if Landon [Donovan] decides to stay at the Galaxy and not challenge himself in Europe, that is his decision, but at the same time, it's my job to tell them what the next level is or could be and challenge them to get there because that is what sports is all about, measuring yourself against the best. Because the guys we are going to meet in Brazil 2014 are the best in the world, and I need to prepare them for that."

In Klinsmann's world, just because the player makes his decision, the coach can still dare them to aspire for more. "I will tell them where the global benchmark is," he said. "I can tell them that because that is where I spent most of my life."

This is not a theoretical conversation. The contracts of both Donovan and his Galaxy/USMNT teammate Omar Gonzalez are nearing the end. I asked Klinsmann what advice he would offer the duo. "I would advise them to go to the next level," he said with a smile. "My own personal feeling is always 'give me the next level' because that is what I am made out of."

My attempts to challenge the coach's line of argument proved futile. I offered Dempsey's candid admission that "the grind" of the Premier League wore him down. "I love the grind because you can never rest. You can rest after your career," Klinsmann said with a laugh. "Take [the grind] as a positive, a challenge and see how far you can go."

The coach also refuses to believe an American accent is a disadvantage for players at the elite levels of the game. "There are 11 spots," he said. "You just have to be ready to fight."

From his first news conference as U.S. coach in August 2011, Klinsmann has consistently emphasized the crucial role he believes European league football plays in strengthening the U.S. side. Despite that, the national team's MLS core -- which now includes Dempsey alongside Donovan, Gonzalez, Graham Zusi, Matt Besler, Brad Evans and Eddie Johnson -- has become central to their success. "What has happened over the past 18 years with Major League Soccer is a fairy tale," Klinsmann said. "The league is getting stronger ... but as a coach, you have to ask what are the differences to the Premier League to Serie A, Bundesliga, Spain, Brazil or Argentina and evaluate where your players are at."

It was in MLS that Donovan scored a fine hat trick this weekend. I ventured to learn whether the exiled star may return to the USMNT squad come World Cup qualifying in September. "There is a very high probability we will see him," Klinsmann said with a wry smile that is as good as a yes. Donovan's return to form has been so startling that I wondered if Klinsmann would consider giving his entire squad a 10-day break in Cambodia before the World Cup and the German chortles. "No break at all!" he joked. "We are rolling toward Brazil. ... Sports is all about showing what you can do at the highest level you can -- and that is the World Cup."