Dempsey reflective, happy to be home
Clint Dempsey can readily summon the emotions he experienced as he stole aboard the flight that would take him from London to sign with MLS and the Seattle Sounders after six-and-a-half years in the English Premier League.

"It felt so good to be at peace for myself," he says, before transcending soccer and adding a human qualifier that anyone can relate to: "While it was important for me to get over to England after the 2006 World Cup and test myself against the best players in the world, I realized there was something selfish in just following my career. There are a lot of things that are important to me -- soccer is one of them, but so is my family."

WATCH: Dempsey on reuniting with former coach
VIDEO: Dempsey didn't consult with Klinsmann

Family is a repeated motif when Dempsey talks about what he has described as "an itch to come home." As he giddily talks about his reasons for returning, the Sounders striker sounds like Benjamin Franklin in cleats. "I missed Thanksgiving dinners with my... brothers, sisters, grandparents and cousins. A real Christmas. Bass fishing in the summer with my Dad. Great Mexican food... having my kids play T-ball or hide and go seek with their cousins." He pauses for breath. "I could go on all day about things I missed when I was in England," he says. "Basically, I wanted my kids to be able to enjoy many of the happiest things that were such a massive part of my upbringing."

The game had also begun to wear the American down. "Towards the end, it kicked in with the stress over the way things ended at Fulham, the grind of going to a new team and trying to fit into a new system and style of play," he admits. "I did not get to the numbers at Spurs I had done in my last season at Fulham (where he scored 15 league goals and finished fourth in Player of the Year voting) but I was still the team's third-most productive attacking player and I scored goals in big games, but over the last two years it felt like a grind," he says. "At Fulham I had to deal with five different managers and prove myself over and over again to each one."

GettyImagesFamily was key to Clint Dempsey's decision to head home.

Yet Dempsey admits the timing of his return to MLS, which was cloaked in secrecy, was even a surprise to him. "To be honest, I thought I was going to be at Tottenham for two more years before coming back because I always wanted to come back while I still had the ability to impact games," he explains. "But then an offer I could not refuse [Ed. Note: reported to be a $4,913,004.00 base salary] came through and I grabbed it."

When asked if he feels he is a paradigm changer for returning while he is still in his prime, the U.S. captain bristles. "I do me," he says quietly but firmly. "I don't focus on what other people have done in the past."

After years of pushing himself on a late-blooming upward trajectory into the Premier league and towards his stated-dream of Champions League play, Dempsey rejects the notion that a return to MLS is freeing. "I don't feel a release," he says. "I got other expectations to deal with from others and myself because I don't want to come back here and chill, I want to come back, do well and grow the game here by getting back to my roots, taking more touches on the ball... being more creative and playing the game the way I fell in love with it in the first place."

Dempsey speaks with a genuine enthusiasm while listing the ways MLS has changed since he left it in 2007 -- a world away in time, back when the now-ebullient Seattle Sounders franchise did not play Major League Soccer. "There are soccer-specific stadiums, more fans pushing the game, television rights deals about to get done, a greater education about the game, academies where kids don't have to pay to play so they can engage players from all walks of life, an improving quality of play, and individuals who are really making a name for themselves... and challenging European-based players for U.S. international places."

Like many American-based players, Dempsey is not in Bosnia for Wednesday night's friendly but, when asked if the move back to MLS will in any way change Dempsey's self-perception or his place within the U.S. hierarchy, the captain dismisses the idea with surety. "I know exactly who I am and what I am capable of," he says calmly. "I've shown I can play against the best in the world."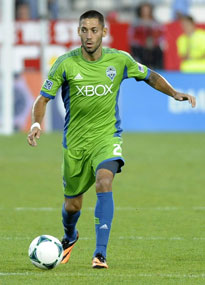 GettyImagesDempsey is enjoying playing with greater freedom in the MLS.

Indeed, Dempsey admits that he did not consult U.S. coach Jurgen Klinsmann, a man who declared publicly back in January that "Dempsey hasn't made s**t."

"To be honest, I just talked to the people I always talk to any time I am faced by a big decision -- my family," he explains. "For me it is about making it right with them because they have known me since [I was] a little kid and know my dreams."

Dempsey returns to America with a glut of ecstatic memories. "I loved my time in the Premier League, especially my first goal -- that came against Liverpool and really helped Fulham fight relegation -- or the winner I scored for Spurs which gave them their first win in forever at Old Trafford."

Though he talks about his time with love, he returns eager to re-ignite his passion.

"I am just ready to get back on the field and play soccer in the way I did as a kid," Dempsey exclaims, scoffing at those who suggest he has lost his ambition. "Everyone has to do what they think is best. For me, it is about working hard and enjoying what you are doing, to be able to look at myself in the mirror and say I am happy with the decisions I have made in my career."

He pauses, then adds a note of self-knowledge. "What is important to me is I have always done my own thing."