Man City keeper Joe Hart calls it like he sees it
Joe Hart has a habit of littering conversation with the phrase "to be honest." Few words could be more redundant because the Manchester City and England goalkeeper is a straight-talking truth teller, traits which make him the somewhat rare footballer who speaks a lot of common sense.

- Curtis: Eternal sun fails to set
- Mooney: Eastlands ten years on

The 26-year-old may be in the midst of preparing for the new season under the watchful eye of recently arrived manager Manuel Pellegrini, yet the disappointment of last year's damp squib of a campaign still lingers. Asked which hurt most, City's failure to defend the Premier League title, impotent Champions League challenge or stunning loss to Wigan in the FA Cup final, Hart's response is instantaneous.

"All of it hurts," he declared, "but you have to understand, even when we won the league, the experience did not last too long because you immediately have to focus on the things you need to improve. I'll admit it was tough last year, but right now, we are focused on the future."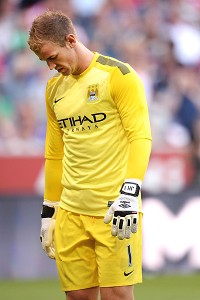 Stuart Franklin/Bongarts/Getty ImagesManchester City keeper Joe Hart is blunt when assessing his performance last season: "It was not a brilliant year for me."
Hart pauses to process his response before adding a qualifier which sheds light on Manchester City's self-perception as a club still in the midst of a radical overhaul, nearly five years after its takeover by Abu Dhabi-based Sheikh Mansour. "This is all new for us," he admitted. "It's not like we have been hunting in the league for many, many years ... we have only been in the Champions League twice, so we are still learning.

"Having said that, we can't settle for it anymore."

The goalkeeper is similarly candid when asked to assess his own performance last season. "It was not a brilliant year for me," he said. "When you get to the top of the game, you reach a point where you are under a lot more scrutiny but I am used to that now. You have to make it drive you on as a player."

In City's title-winning season, Hart had appeared as a defiant safeguard. Last year, his consistency slipped. The vision of a frustrated Hart patiently explaining his errors to the media became an all-too regular one. "I'm not proud of making mistakes," he explained, "but they happen and you cannot lie when millions of people have seen it so you have to be big enough to own up. At the same time, know I would prefer not to be standing there talking about mistakes. I would prefer to be talking proudly about my performances."

When strikers confront a dip in form, they often talk about the need for "confidence" that will lead to the return of the goal-scoring touch which has deserted them. I asked Hart if goalkeepers feel likewise. "It is different for us," he said. "In our position, you can play amazingly and lose 5-0 or you can play badly and win 1-0 in a game where the ball hits you in the face in the last minute and you look like a hero."

Hart will approach the campaign with a new goalkeeping coach, Xabier Mancisidor, and his panacea involves retaining focus -- a challenge which sounds all the more demanding this season with the World Cup looming. "Brazil will be amazing to be involved in, but there is so much going on at our clubs," he said. "The focus always has to be on your next game so you are always locked in on the present."

Under the departed Roberto Mancini, the expensively assembled City squad was perceived to be ability-rich but lacking in collective cohesion, a notion which Hart rejected. "We do have loads of talent but there's a lot of good spirit in this group. Sometimes the league is hard and does not go your way," he explained. "It is really tough week in and week out. We did not win games when we needed to. It is that simple ... sometimes, you realize you are not going to win every fight."

The $152 million the club have invested in reinforcements including the potentially dazzling combination of Jesus Navas, Fernandinho, Álvaro Negredo and Stevan Jovetic, have encouraged most bookmakers to install City as title favorites. Hart is quick to manage expectations. "We have to get to know the (new players) and they need to learn what the club stands for and how it works so they respect and understand what we expect from each other in order to do business and feel like we are all here for the same purpose."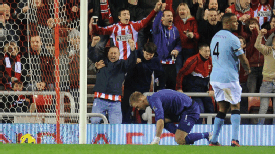 PA PhotosJoe Hart endured some shaky moments for Manchester City last season.
Asked if he experiences the weight of expectation, the goalkeeper's response was enlightening. "It is always going to be heavy. It has been for years. That is football at the top. You want people to want you to fail. It eggs you on."

City are not the only team in transition in the season that lies ahead. Last season, Hart had referred to Sir Alex Ferguson's Manchester United team as a "killing machine." Asked if he expects that to continue in Ferguson's absence, the goalkeeper's answer is blunt. "They will be the same old thing. United are United," he declared. "Sir Alex was a big deal but life will go on for them. Their foundation has been laid. They have bought in a good manager. David Moyes has come in and will not just be looking at winning the league but to take over Europe again, We must get in the way. That is our job."

A straight talker he may be, but we wrap up by testing Hart's ability to forecast the future. Asked to predict what the Premier League table will look like come May 2014, Hart takes a deep breath and hesitates before responding for the first time since our conversation began. "Hopefully, it will end with us on top," he said before taking a second deep breath, "We have a lot of hard work between now and then."