In Klinsmann and others, U.S. has Gold talent
The 2013 Gold Cup is a strange beast. Second-string squads abound as regional minnows and powers collide. The more dramatic battles are often the most subtle -- those within the squads, as individual teammates compete and audition for a coveted A-team spot as the World Cup looms ahead. None is more competitive, perhaps, than within the United States team heading into its Sunday quarterfinal against El Salvador.

This week, I sat down with USMNT coach Jurgen Klinsmann to get his read on the CONCACAF tournament as he encounters it for the first time. I was particularly interested to find out which he would select if forced to choose between winning the final or identifying a couple of players he could rely on in the crucible of Brazil 2014. The German coach clearly has lost none of the competitive edge that marked his play as a World Cup-winning striker.

"You want to win the trophy," he declared. "You want to win the competition because it could get you to the Confederations Cup in 2016, and those are the competitions you badly need in order to grow."

The coach waited a beat before adding an intriguing kicker. "I'm more than confident that more than three players out of this roster will be in the World Cup roster."

Glimpsed through that prism, the Gold Cup suddenly becomes more exciting, a bit like a footballing version of a dance-off scene in Breakin', in which individual American players seek to shine within the confines of a collective game. The joy of watching the U.S. line up against El Salvador (FIFA ranking: 94) lies in guessing which player will pass the Gold Cup audition and be rewarded with a place on the next World Cup qualifier squad in September. What are the chances these three, with their differing paths and story lines, will be among them?

The Late Bloomer: Chris Wondolowski
The scourge of Guatemala, Belize and Cuba has become the USMNT's new goal-scoring machine. In truth, his haul of six in four games has been a long time coming. The San Jose striker failed to score in his first nine games for the U.S. "It's been frustrating," he said when asked if he thought the international opportunity had slipped away from him. "You always try and reevaluate yourself and are always hoping for that chance, that one opportunity you can make the most of."

At age 30, Wondolowski knows this all too well, as his international career arc has aped that of his club career. With just four goals in his first six MLS seasons, he exploded to blast 67 in the past three. "My confidence has really kind of snowballed," he explains simply. "If you have confidence [as a striker] and you believe in yourself and you have great teammates that can put the ball in the box. It's a good recipe."

Watch: Wondo on the record

When asked if the fact his goal glut has come against inferior teams takes the shine off, the MLS star demonstrates his hunger -- "when you get a goal, it doesn't matter who you play" -- yet is realistic about whether he believes he deserves a starting place and where he stands on the depth chart. "We have a very deep team," he said. "A lot of the guys are really chomping at the bit and really want the opportunity to prove themselves so I think we'll definitely be mixing up some lineups, but I'm hoping to whenever I get out there just to make the most of my opportunity."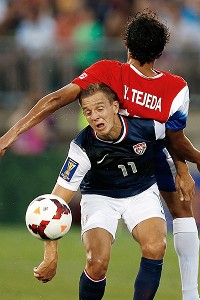 Jared Wickerham/Getty ImagesStuart Holden's fought hard to get back into the U.S. mix and shows no signs of backing down.

Klinsmann beams when asked about "Wondo." "First of all, we are thrilled for Wondo that he scores goals. He was waiting a long time for that," he says, before putting the achievement into clear perspective.

"Is the benchmark Belize and Cuba? No. And he knows that, he's realistic, too," Klinsmann said. "His benchmark is now coming up in the next couple of games."

The Comeback Kid: Stuart Holden
Stuart Holden is the kind of human being who makes the world feel like a better place by simply entering the room. His return to the national team after suffering a pair of brutal injuries is a story that transcends football. Yet after making his first start for the U.S. since October 2010, his focus once again lies purely between the lines. "It's a great feeling to put on the national team jersey again," the Bolton midfielder said. "It's something that was motivating me throughout my rehab and to be back fully healthy now and really feeling like I'm getting back to my best is a great feeling all around."

Few players are more patriotic than Holden, a man unafraid to Instagram his Stars and Stripes underpants before key games. Despite the fact the U.S. midfield is clogged, he sets his sights high. "I'd like to push for a starting position in the center midfield," he said with relish. "I know that Michael Bradley and Jermaine Jones and Geoff Cameron stepped in there the last camp and obviously there's a lot of talent. I want to play every minute."

Watch: Holden on his U.S. aspirations

Holden completed his first full game against Costa Rica and though he struggled to impose himself at times, he admits that he has drawn confidence from his interactions with Klinsmann. "He's a great motivator. He gets the best out of you," he said. "For him to fly over [to Bolton] and watch me play in a reserve game was a confidence boost in itself. Just to know that he saw me as a part of his plans ... but it's up to me at the end of the day. To put myself in his plans firmly ... it's just a matter of seeing how far I can push it."

Klinsmann readily agrees. "With every training session he's getting more confident, more his old personality where he wants to get the ball wherever he is," he says. "We will see a lot more from Stuart Holden in the upcoming games and hopefully we can send him off back to England with a trophy and with a clear signal to his club that he's back."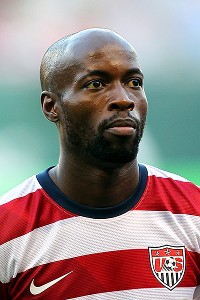 Jonathan Ferrey/Getty ImagesDaMarcus Beasley may wear the captain's armband for now but the veteran is under no illusions as to his fight for a World Cup spot.
The Man Who Came In From The Cold: DaMarcus Beasley
Beasley is a player who was written off as a discard. Like the Betty White of the USMNT, the 31-year-old hasn't just fought his way back into the spotlight; he's now the Gold Cup captain.

"I knew in my mind and my legs that I just needed a chance to play football again and to catch the eye of Jurgen," he said. "I knew that it was a new team he was going to be building the first couple of years and he would be looking at a lot of new players so I just wanted to put myself in that group of players to hopefully be picked from."

Beasley, who recently signed a new contract with Puebla in Liga MX, has experienced three World Cups in his career, won more than 100 caps and has now grabbed the captain's armband. It is easy to glimpse what he brings to Klinsmann's squad when he explains what still motivated him. "I still find things that I can get better at in my game as a player, as a person. It's an ongoing process for me. I'm never satisfied. And I think that's why the guys on my team look up to me because they know that I hate losing," he said.

Despite the versatility and experience Beasley has recently demonstrated during World Cup qualifying, the Liga MX veteran says he is not letting himself dream about Brazil 2014. His honest assessment proves just how competitive the race for a USMNT A-squad place feels right now.

"As of right now I'm not really looking at the World Cup because I'm still one of the guys that needs to make this team," he said. "Yes, I'm the captain and I've been in Jurgen's eyes since March, but at the same time I'm just like the other guys. I want to play every game like it's my last."