Lucky Spain through to "World's Derby"
FORTALEZA, Brasil -- When Sergio Ramos roofed his penalty kick during Thursday night's tense, tight shootout, you could see how much this game meant to the Spanish team. After struggling through muggy conditions, and 120 minutes of play in which the Brazilian crowd jeered every La Roja pass, cheering "Italia! Italia!" throughout, Ramos blew a kiss to the fans and then silenced them.

• Spain set up final against Brazil
• Report: Spain-Italy

The world champions have now played four times in this tournament. A stadium full of Brazilian football fans has unsuccessfully willed them towards defeat on every occasion. They will have one more opportunity as Vicente Del Bosque's side prepare to confront the Brazilian team in the vaunted Maracana. A marquee showdown between the myth of Joga Bonito and the purveyors of Tiki-Taka. A match which Iker Casillas referred to as "The World's Derby."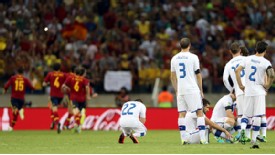 GettyImagesItaly fell agonisingly short in the Confederations Cup semi-final against Spain
This was not a vintage Spanish performance. Italy reverted to their 3-5-2 formation to summon their most spirited and tactically precise football of the tournament, nullifying Spain's intricate midfield movement and enforcing their vision of the game on their opponent - a fact Spain's coach Vicente Del Bosque was quick to admit after the game.

"They were better in first half, we took the second, and though we were stronger in extra time we were lucky in the penalty shootout," he said.

As the United States had at the same stage in the 2009 tournament, the Italians faced the Spanish without fear. "They opened the field with their play," Del Bosque explained. "Giaccherini, Candreva, and Marchisio created situations we had difficulty in controlling … but we were physically stronger and that allowed us to overcome them."

The Spanish were under no illusions of how close they came to elimination. As goalkeeping hero Casillas admitted, "It could just as easily have been an Italy-Brazil final." Asked to explain the secret of Spain's winning DNA, the captain said, "We have played together as youth champions and now Euro and world champions which has allowed us to learn how to play the ball in a special way that had been forgotten in Spain. That is what allows us to win titles." A night like this, when the midfield and forward line failed to click, yet the team emerged victorious, the ultimate mark of true champions.

An exhausted Italian coach, Cesare Prandelli appeared crushed after witnessing the hardship of an exquisite yet painful penalty kick defeat, knowing his team created enough chances with the hard-charging Bologna striker Alberto Gilardino filling in courageously for the injured Mario Balotelli. "We wanted to compete with Spain on a technical level and I want to continue like this," he said, attempting to put a positive spin on an evening of disappointment. "We have the right quality to play that way … we missed Balotelli's technical ability and power, but from the perspective of overall balance, Gilardino replaced him in the right way."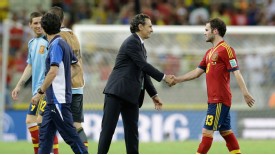 APDefeated Italy coach Cesare Prandelli congratulates Spanish players after the game.
The key to the game for Prandelli was fitness and conditioning. With the temperature a muggy 85 degrees at kickoff, the Italian effort flagged as the second half progressed. "The Spanish team had great fitness so we suffered more than they did," he rued while vowing to address his squad's physical conditioning if Italy qualify for the World Cup proper.

Giorgio Chiellini was defiant in defeat, telling Italian television "if there was a team that should've won tonight, it was Italy. We should have been 2-0 up by half-time."

As is his way, Prandelli took a less bombastic approach. Aware his team will have learned important lessons which will benefit them come World Cup proper, he said, "We can go home having earned the respect of our opponents on the pitch and the realization we can play well."

Spain head to Rio for their first Confederations Cup final. Del Bosque expressed reservations about the amount of time his team had to rebound from the unforgiving conditions that made a mockery of this being the Brazilian winter. "While we have to work out how to recover in the next three days so we can stand up to Brazil in the Maracana," he said grimly. "We have 72 hours while others (the Brazilians) have longer," before morphing into a more lachrymose version of Don King as he attempted to pump up the fight. "Of the four World Cup winners in the tournament, two are left," he said. "Brazil have won five times, we have only won once so we feel a sense of inferiority."

Sunday's final pitches Spain's world-record run of 29 unbeaten competitive games against Brazil's proud record of being undefeated in 56 straight competitive home games, stretching back to 1975 -- 17 years before their young star Neymar's birth. Del Bosque looked forward to the game with a genuine relish. "It will be great to play Brazil on their home turf," he said. "This is the first time they will play a team with higher ball possession than them so we will see who has the initiative." For the first time all evening, the Spanish coach then smiled. "The players should feel as happy as kids to play in the Maracana. They have won a lot, but they will feel excited to play there."