Spain beat Italy on penalties to set up final against Brazil
FORTALEZA, Brazil -- Here are three quick thoughts on the finely balanced semifinal at the Estadio Castelao, which ended 0-0 with Spain beating Italy 7-6 on penalties to advance to its first Confederations Cup final.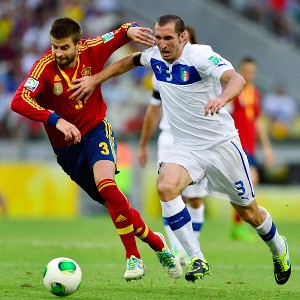 YURI CORTEZ/AFP/Getty ImagesSpain won the war of attrition against Italy under hot, muggy conditions. Next up: a dream final versus Brazil.
1. Limp and languid Spain still need their striker
Ahead of the game, the Spanish camp emanated a not-so-quiet complacency. Almost all of their media pack had booked flights and hotels in Rio for the final. I could not find an Italian journalist who had done the same.

In a languid performance against Italy, Spain did little to justify their confidence and forward planning, trotting around the field without the menacing off-the-ball movement which typically exhausts their opponents physically and mentally. As the Italians pressed and smothered, Spain's decision-making was uncharacteristically poor. La Roja were unable to muster a shot on goal until the 58th minute, and when they did make chances their shooting was wildly uncalibrated. With Fernando "Golden Boot" Torres largely anonymous, the World Cup and Euro champions continued to progress without solving the question of who can play up front. As Italy tired in extra time and Javier Martinez replaced Torres, the best chances fell to Sergio Ramos and Gerard Pique. Spain still crave a "Jozy Altidore-esque" finisher. When Jesus Navas rolled the ball across the face of the goal in the final minutes, there was no Spaniard close to tap it in.

The game went to penalties -- a repeat of the Spain-Italy shootout in the quarterfinal of Euro 2008 with the result the same. Spain advance. And FIFA, for whom so much has been a surprise over the course of the past two weeks in Brazil, gets the final it wanted. The hosts will play the world champions in Rio on Sunday.

2. Italy blew their chance
The Brazilian crowd bellowed "Italia! Italia" as it had "Uruguay!" "Tahiti" and "Nigeria!" And while the Italians' performance was valiant, the current score sits: Spain 4, Brazilian-crowd-masquerading-as-fans-of-other-teams 0.

The Italians had their chances. For all they missed in the raw power and bravado of the injured Mario Balotelli, they gained with replacement Alberto Gilardino, whose physicality, hard work and movement provided a consistent outlet and focal point.

The Italians sat deep in their 3-5-2, permitted Spain to flit and probe, then smothered them and flung the ball toward the flanks. Their game was direct yet effective -- enabling them to win 60 percent of possession in the second half and allowing them to create eight first-half chances to Spain's solitary one. Gilardino scuffed a chance wide, the excellent Christian Maggio spurned two gilt-edged opportunities, Daniele De Rossi misguided two headers within a minute, and Emanuele Giaccherini hit the left post in extra time with Iker Casillas -- who kicked, punched and stifled everything he could -- a beaten man.

By the end of the game, the stadium resounded to cries of "Italia! Italia!" once more. This time, the Brazilian crowd was not intending to wind up Spain, but to salute the Azzurri's performance.

Even though Leonardo Bonucci skied his penalty to lead to Italy's downfall, coach Cesare Prandelli will know his experimental lineup will have learned from this experience -- lessons he will employ when the World Cup proper kicks off in June 2014.

3. Some winter ...
This may be wintertime, but Brazil is more a continent than a country and in the northeast, especially in beach town Fortaleza, winter has yet to be invented. The temperature was a muggy 85 degrees at kickoff. Before the game, Prandelli had declared, "With the heat of Brazil, you will need 23 athletes next year, not just players." As extra time beckoned, both Italy and Spain knew there was only one true winner of this game: the Brazilians. Watching their opponents run for 120 minutes with their feet up while benefiting from an extra rest day before Sunday's final.